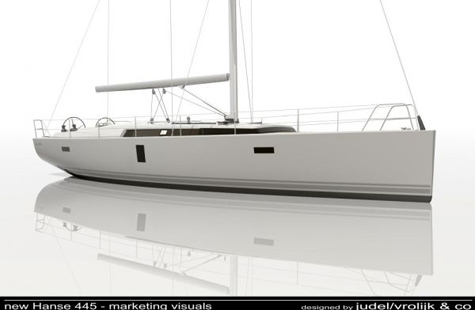 The Sailing Yacht Hanse 445 will be the latest creation for 2010-2011 for the famous builders Hanse Yachts, out of Germany. There is going to be some new changes, as well as the sailing performance you have come to expect with this builder. This as well as other creations by Hanse Yachts will be the design of the Judel-Vrolijk and Company, and the 445 is expected to be more comfortable, have stronger sailing abilities, as well as incorporate interesting and trendy ideals to make sailing and living on board much easier than ever before. It is hoped that this will be the new flagship for the next generation of Hanse interior designs.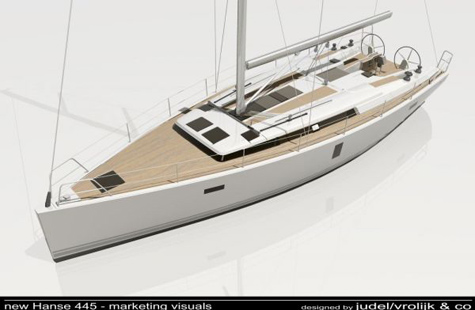 Judel-Vrolijk designers have take some of the features from this smaller counterparts, as well as from it's larger ones and incorporated them into an all new different model with the 445. There will be a more trendy loft design layout, with modern furnishings to optimize living space, without compromising comfort and luxury normally expected from this designer. Some of the new interior features will include fifteen percent more living area, six hull windows, including two large panoramic windows where the saloon is. There will be a coach roof design, similar to the larger model, the 545. There will be a much bigger owner's suite, taking up much of the bow area, with the possibility of four more double cabins, depending on the owner's request. There will be better access to the yacht's technical systems, and more equipment options.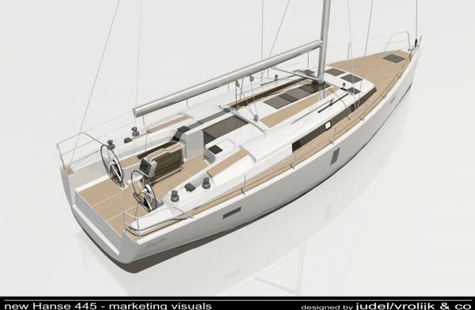 There will be exterior improvements as well. The first thing you will notice is that it has a longer waterline. The sail drive is positioned as far aft as possible, for better maneuvering, especially in tight spaces. It will have a self tracking, integrated jib track, plus a double spreader rig. There will be easier access to the forward storage area, as well as the helm controls. There will be oversized wheels, for easier steering. In addition the swimming platform will be much larger than other models.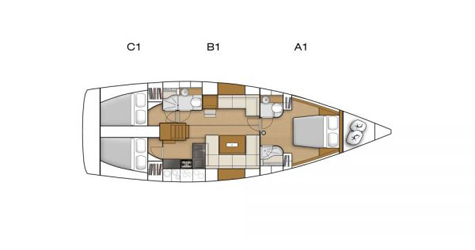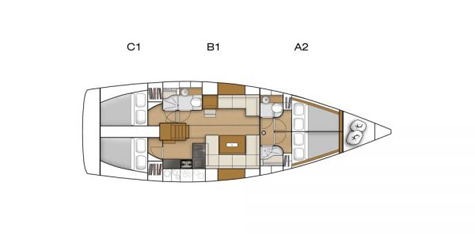 Even for times when there isn't any wind, or conditions prevent sailing, It will be powered by a Volvo 40kW 55Hp motor, with an optional 55/75 motor if you need the added power. The Hanse 445 has an over all length of 13.4 meters, is just over 12 meters wide, and a beam of almost 4.5 meters. It is has loaded draft of 2.2d meters, with an 11 ton displacement.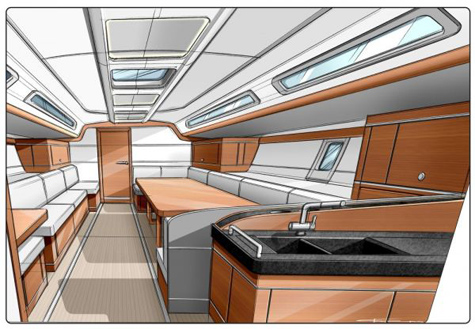 You can find many websites that feature the Hanse 445 Sailing Yacht, one in particular gives you some of the concept pictures of what it will look like, as well as video of it's sister yachts, to give you an idea of the what the layout options will look like. Hanse has their own websites, where you can see all the ships this company has put out, and can even order one for yourself. It isn't hard to see why this company is one of the top of the line manufacturers of luxury sailing yachts.
Specification of the Hanse 445:
Length over all: 13,40 m
LWL: 12,20 m
Beam over all: 4,38 m
Draft: 2,25 m
Displacement: 11,3 t
Ballast: 3,8 t
Engine: Volvo 40/55 kW/Hp (55/75 Option)
Mast above WL: 20,30 m
Mainsail area: 58 m²
Jib area: 49 m²
Self tacking area Jib: 41 m²
* * *
Related links:
Hanse Yachts
Judel-Vrolijk
Photo: judel-vrolijk.com