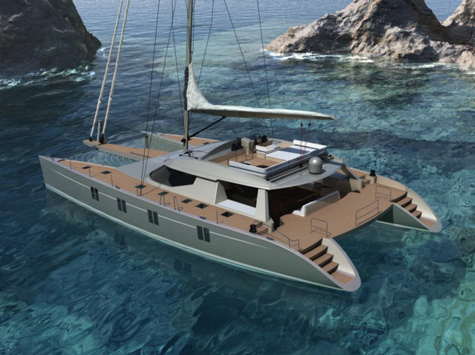 With over two decades of experience producing aluminum yachts, France's Alu Marine has proudly introduced the Havana 72, the very first of a new series in the Havana range of sailing catamarans.
Sturdily built for superior performance and designed for cruising on the open waters, the Havana 72 is extraordinarily seaworthy thanks to her aluminum deck, hull, and structural bulkheads. The aluminum construction will add to the catamaran's longevity and superior stability making her ideal for long distance cruising in terms of not only speed and performance, but also great luxury as well.
Comfort abounds aboard the Havana 72 with an interior intricately designed with the utmost care given to detail by Berret Racoupeau Yacht Design, a renowned company with more than 30 years of experience designing the most innovative and luxurious vessels.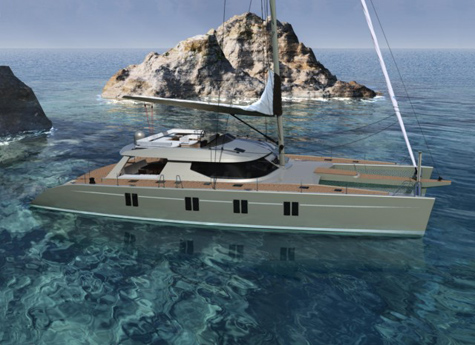 Elegant lines and the highest quality materials are used throughout this first Havana catamaran including rich woodwork, comfortable seating in two separate areas, in the cockpit and also on the flybridge, and also indirect lighting that creates a calming atmosphere for guests to enjoy. Even specially designed portholes that offer the maximum light have been included to enhance the ocean experience offering spectacular views of the vistas ahead regardless of where you are on the boat.
Located portside hull of the Havana 72 is the incredibly functional galley with convenient access to the saloon. In the saloon, guests will find wide open spaces and telescopic tables that help convert the area from a comfy lounge into a relaxing dining area. Guests will also find roomy sunbeds and tables on the flybridge to sit, lounge, or entertain.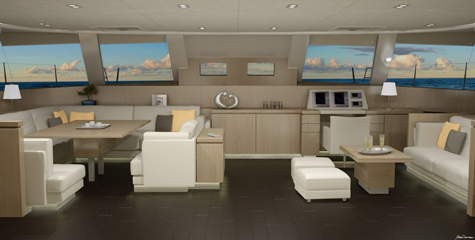 In terms of accommodations and the actual layout of the interior, the Havana 72 is available in three different versions that can be tailored to the buyer's unique specifications. Spacious cabins are included and the aft portside cabin features a double bed that quickly converts to twin beds if needed.
A large steering wheel, excellent visibility from the helm, and carefully placed navigational instruments all combine to create optimal comfort and ease for the helmsman to guide the Havana 72 effortlessly through the waters.
The Havana 72 will be showcased by Alu Marine at the 2010 Cannes Boat Show from the days of September 8th to the 13th and then again at the 2010 Monaco Yacht Show later on in the month from September 22nd to the 25th.
Specifications of the Havana 72:
LOA: 22.45 m / 73'65"
Hull length: 21.30 m / 69'88"
LWL: 19.85 m / 65'12"
Beam: 11.37 m / 37'30''
Draft: 1.65 m / 5'41''
Light displacement: 39.70 t
Engine: 2x 230 CV / 2x 230 HP
Water capacity: 2,000 l / 454g al
Fuel capacity: 3,900 l / 885 gal
Mast height over water: 33.27 m / 109'15"
* * *
Related links:
Alu Marine
Berret Racoupeau Yacht Design

Photo: alumarine.fr