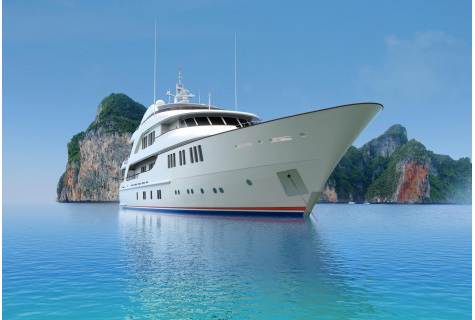 CMB Yacht company out of Turkey with collaborations with the Diana Yacht Design company, just a month ago released their latest project, the 45 meter (148 foot) superyacht Mystic. After a routine test run of all of her systems, she will be turned over to her owners, who will take her from the Eastern, to the Western Mediterranean, and will port somewhere in France for the rest of this Summer.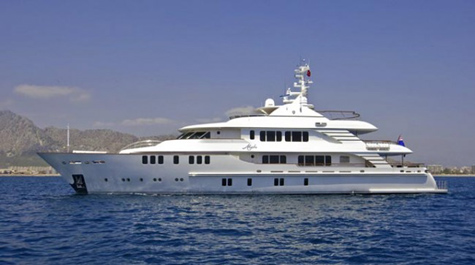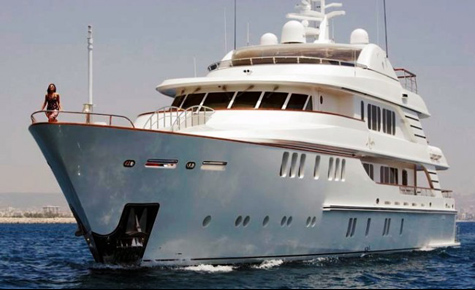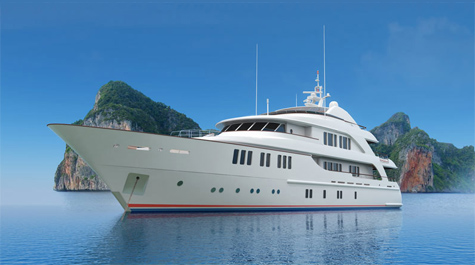 The Mystic is the first completed yacht by CMB Yachts, and the largest composite body yacht constructed in Turkey yards as of this date. Birgit Schnaase designed the interior, with a master suite, two double suites, and two twin cabins, with the capability to accommodate up to 12 guests at a time, plus crew. The layout of the Mystic is also more unique than most luxury motor yachts. Instead of the master suite being located on the main deck, it envelopes what would normally be the sky lounge, giving the owners a spectacular view of the surrounding ocean or port.
Instead of where the owner's cabin would normally be, there will be a gym, as well as a movie theater area, which will be large enough to accommodate the guests, but small enough to give a cozy setting and atmosphere. The all of the rooms are light and airy, with simple features, hard woods, and gracious elegance. From the cabins to the main dining and entertainment areas, the Mystic will make anyone feel like they are at home away from home.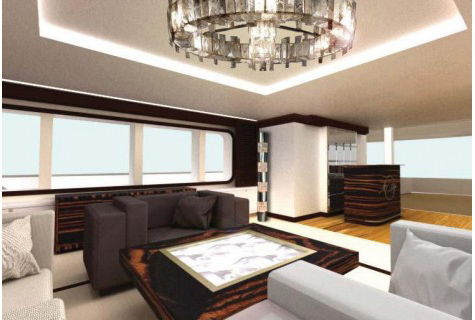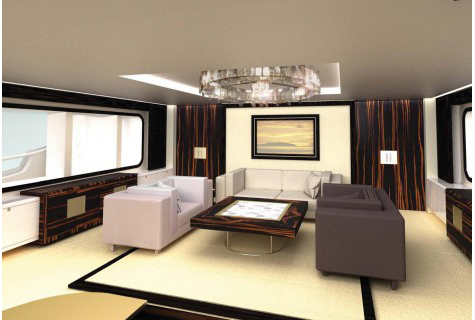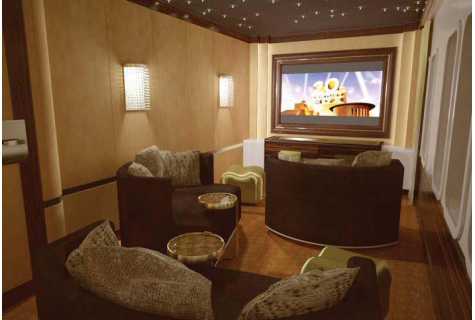 The Mystic will also incorporate many products that are from famous brand names. All the galley appliances will be from Miele, with Ralph Lauren as the furniture maker. There will be real gold door handles, and silk carpets from Mewes. The timber parquest are imported from Macassar, the flameproof skin, Rivestimento. The bath walls, and some of the lamps will have Bisanza mosaics, from Porta Romano, and Terznani, as well as from award winning designers like Hansa, and Axor. These are just some of the top quality brands you will find throughout the Mystic.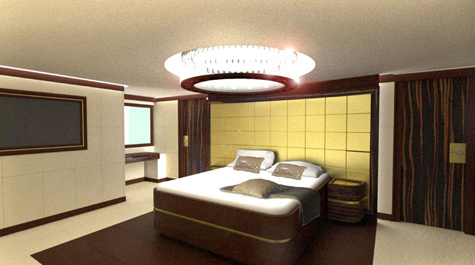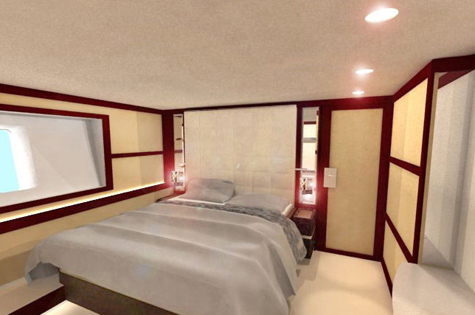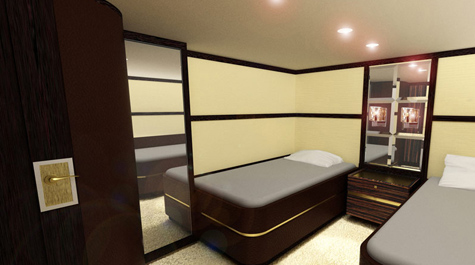 The Mystic is powered by twin MTU 12V 2000 M72 diesel engines, with twin screw propulsion. It has a maximum speed of 17 knots with a cruising speed of 13 knots, giving it a range of four thousand nautical miles. It has a fuel capacity of more than 17,000 gallons, and more than a 2,600 gallon fresh water tanks. It has two 105KW Northern Lights generators, as well as a smaller 55KW generator as well for back up power. It has a fully loaded displacement of 300 tons, and a waterline length of 40 meters.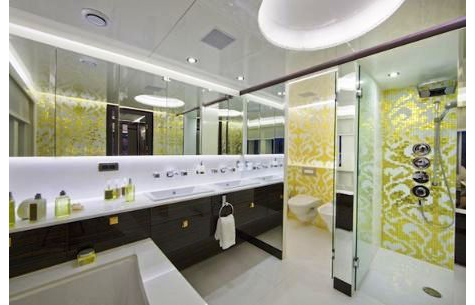 Specification of the superyacht Mystic:
Length Overall: 45.00 m/ 147.64 ft
Length Waterline: 40.00 m/ 131.23 ft
Beam: 9.00 m/ 29.53 ft
Draft: 2.28 m/ 7.48 ft
Hull Material: GRP
Superstructure: GRP
Displacement: 280 t
Engines: 2 x MTU 12V 2000 M72
Max Speed: 17 knots
Cruise Speed: 13 knots
Total HP: 2,900
Total KW: 2,163
Fuel Capacity: 67,000 l/ 17,701 gal
Water Capacity : 10,000 l/ 2,642 gal
Guests: 12
Crew: 8
* * *
Related links:
CMB Yacht
Birgit Schnaase
Diana Yacht Design

Photo: cmbyachts.com