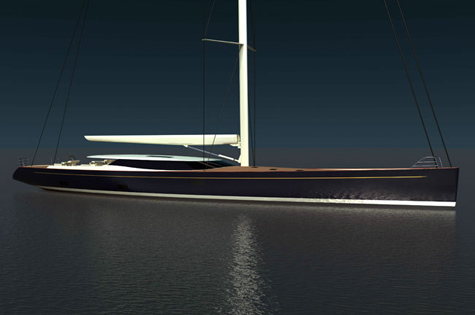 Fitzroy Yachts out of New Zealand, while a relatively new company, has made quite an impression. Starting with their first yacht, the Spirit of Fitzroy, created in 1997, they now have 11 high class sailing yachts under their belt, seven that are more that thirty meter world class super yachts. Later this year they will be launching their largest and boldest project, the fifty meter Magnificent X50.
Right now they are collaborating with Dubois Naval Architects and the owner to create what is currently named Hull 16, a fifty meter fly bridge sloop, with is schedule for delivery sometime in the year 2012. The client, a European owner who wishes to remain anonymous at this time, wanted Fitzroy Yachts to construct his latest vessel for many reasons. They have the expertise, a reputation for excellent work, and they are very pleasing and easy to work with.
Even many clients live closer to other competitors, they still come to Fitzroy Yachts for their super yachts, which is in itself the highest praise any ship builder can have. This just goes to show that Fitzroy is cut above the rest when it come to the care and quality they put into every ship they build, and this is often scarce in today's world. Even with the world economy the way it is today, this company is growing by leaps and bounds.
While the Dubois Naval Architects are designing the exterior of Hull 16, the clients will be designing the style of the interior themselves, and this is still under wraps. However, this hull will give Fitzroy the chance to build another super yacht that continues to put the limits of engineering, sailing and navigation systems, and luxury that has become synonymous with this company. They also worked with the Dubois Naval Architects on many other projects, the internationally nominated 45 meter Salperton IV, as the soon to be released yacht Zefira, and fifty meter sailing ship.
Fitzroy Yachts is also currently securing other contract builds as well, and some of the their projects will be featured and many of the important super yacht Regattas, including the Monaco Boat Show, scheduled for September, which will actually show the Salperton IV. Some of the other super yachts under their belt are the Inmocean, a 134 and a half foot classic sailing sloop, the first Salpterton, a 144 foot fast sailing ship, the Helios, now under the name Ludynosa G, as well as the Ganesha, formerly the Zulu.
If you want more information about this company, what other super yachts they are proud to call their own, or want to order a new construction for yourself, they have their own website. There is also some information about Hull 16 here, and from other yachting sites, but much about this particular model is unknown at this time.
* * *
Related links:
Fitzroy Yachts

Photo: fitzroyyachts.com