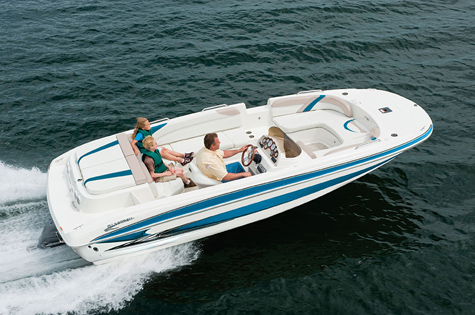 Recreational Boat Group, the owner of the Glastron brand, has announced that production at their Cadillac Michigan plant is going well. The factory was moved from Little Falls, Minn. In February 2010 and is now in full operation in Cadillac. The very first boat has been completed on the new production line.
The first boat produced was a 2011 DS 205 deckboat. Roch Lambert, president of Recreational Boat Group said that they are achieving their objectives and staying on target for their business plans and their investments. Included in their plans is the release of their 2011 model product line that will be launched by early July.
Lambert made sure to inform the dealers that they are putting a great deal of energy and resources into the 2011 models and that he is very excited about the future of Glastron. He looks forward to creating great new business relationships with Glastron's sales network and to giving their consumers the best possible on water experience that they could possibly have on board a Glastron boat.
There are several different models of boats that are produced by Glastron. They range in size from seventeen feet long to twenty eight feet long. The Four Winns, Wellcraft, and Glastron models are distributed and manufactured by the Recreational Boat Group which is a division of Platinum Equity affiliate Project Boat Holdings LLC. Project Boat Holdings also has a fishing boat division that produces the Champion, Ranger, and Stratos brands.
* * *
Related links:
Glastron
Photo: glastron.com