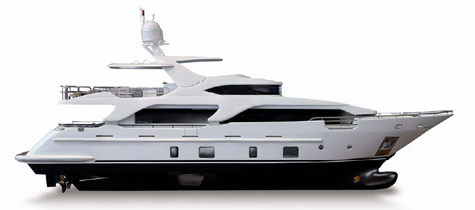 The Benetti Yachts company has been around for many years, and the Delfino 93 brings a little nostalgia to the scene. The first Delfino model Benetti introduced at the Genoa Trade Fair, forty years ago in 1969. The 93 footer will be the first of the new Benetti Fleet Class, and will be launch sometime this Summer.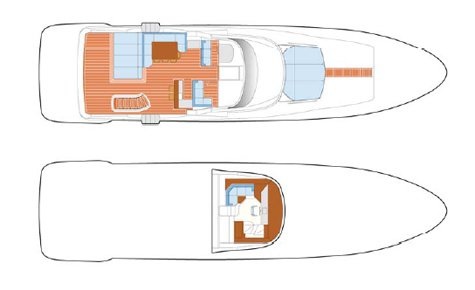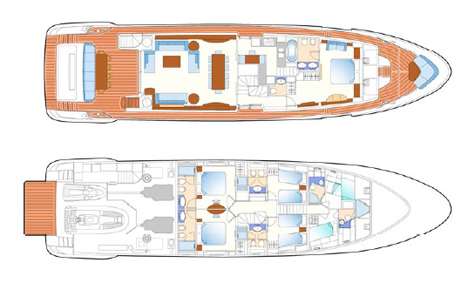 There are many unique features about the Delfino 93. It has a 7 meter wide midship, giving larger more comfortable cabins and living spaces even in the lower decks. They are new more compact dimensions, which utilize all available space, better and more practical technical equipment, and living spaces that are seen in more larger yacht designs. In addition to the owner's cabin, there is two more grand VIP suites, as well as two smaller guest cabins.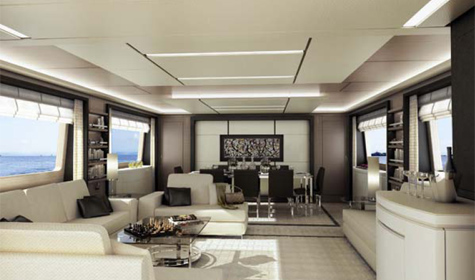 Exterior designer Stefano Ringhi has also created an innovative style to the outside of the Delfino 93. With larger, continuous windows, this gives the owner and their guests the ability to enjoy a larger expanse of ocean views. The Galeazzi Studio, which designed the interior spaces, offers two different styles. One of them is a classic style, the other more modern and contemporary, yet both offering loose furniture, and highly detailed elegant details that you would come to expect with the Benetti name.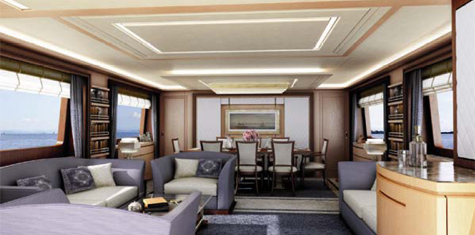 The same is true for the upper deck areas, including the wheel house. There are large vertical windows, offering 180 degree views, and this area is designed as a shuttle between the wheel house, and the sun deck area. With modern technology employed in the controls, as well as state of the art electronics, even the owners themselves would have no trouble steering an maneuvering the Delfino 93. the service and control areas are easily and pleasantly separated, so there will be perfect relaxation, whether you are just cruising along, or steering into port. The sundeck is balanced between living space, with relaxing chairs and a bar area, and there is also an area that is exclusively for sunbathing, or enjoying the jacuzzi.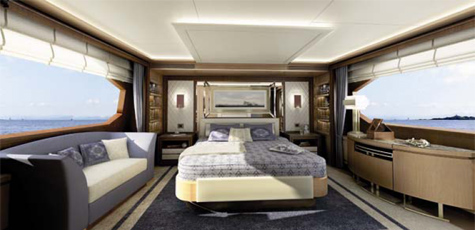 It isn't hard to see why the Delfino 93 is a truly remarkable super yacht, and sure to set the standard for the new Benetti Fleet Class. There isn't a whole lot more information about this super yacht. The new Benetti service boatyard was established in 2005, in order to provide maintainance, upgrades, and refitting of any boat their clients may own, included for free during the their warranty period. These services are not Bennetti yacht exclusive, and anyone who wants the quality and service that is expected from this company can come here, regardless of the make or style or even length of the vessel, including mega yachts.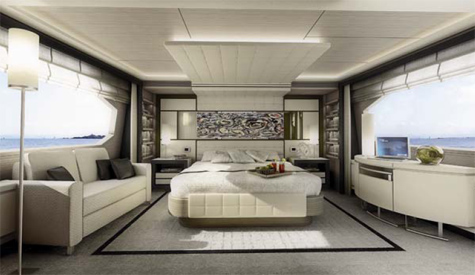 Specification of the Delfino 93:
L.O.A.: 28.5 m
Building length: 23.98 m
Beam: 7.03 m
Draft: 1.81 m
Displacement: 121 t
Fuel capacity: 16000 l
Fresh water capacity: 2600 l
Maximum speed: 14 knots
Cruising speed: 13 knots
Generators: 1 x 40 Kw Kohler + 1 x 33 Kw Kohler (2 x 40Kw option)
Exterior styling & concept: Stefano Righini
Interior design: Carlo Galeazzi
* * *
Related links:
Benetti Yachts
Photo: benettiyachts.it