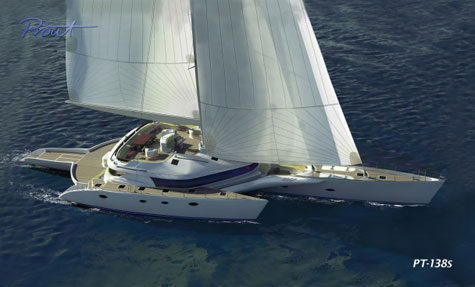 According to Prout International reports, the work on the world's largest sailing trimaran, the PT-138, is proceeding productively. The three hulls have been successfully joined and are sitting in the build tent. Also the decks have been completely infused and are soon going to be joined.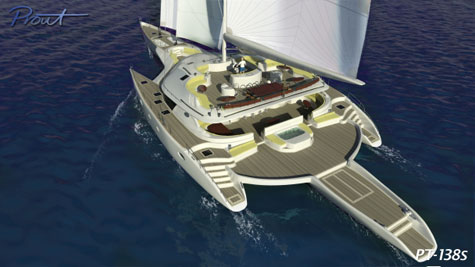 The Prout PT-138 is designed and constructed as an all-composite shallow draft sailing trimaran operated by a professional crew. The 138 feet trimaran will offer a 46 ft beam with a very small draft (only 1.52 m).
The trimaran is intended to conduct extended offshore passages but can be also used for charter purposes.
Specification of the Prout PT-138:
LOA: 138 ft
Beam: 46 ft
Displacement: 32,767 kg
Draft: 1.52 m
Rigging and Sails:
Mast Height: 43 m
Mainsail 257 m2
Genoa: 259 m2
Gennaker: 271 m2
Water Tank: 3,785 l
Fuel Tank: 15,142 l
Engine: 625 cv
* * *
Related links:
Prout International
Photo: proutinternational.com