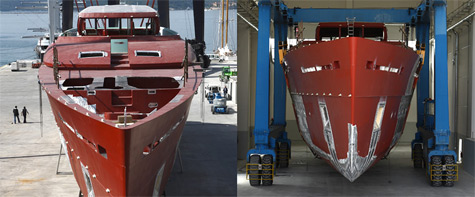 Picchiotti-Vitruvius Explorer, the first unit of three motor yachts sold to date by Perini Navi Group, will be launched in the beginning of the July 2010. At the end of May the first Perini Navi motor yacht was transported from the shed to the square outside, where she now prepares for the launch.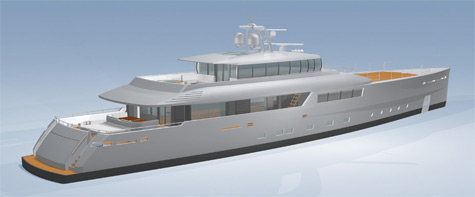 "It's a moment of great pride and satisfaction to see the first motor boat in the history of Perini Navi with the Picchiotti brand completed and ready for launching… For Perini Navi, this is another important milestone achieved and confirms the uniqueness and quality of the 48 sailing vessels launched to date by our Group", - said Giancarlo Ragnetti, CEO of Perini Navi Group.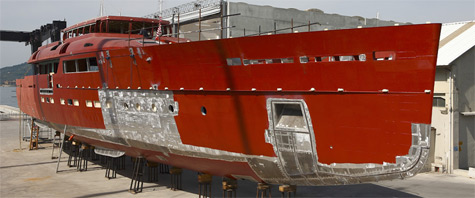 The 50 metres motor yacht was designed in collaboration with renowned French naval architect Phillipe Briand. Briand was inspired by the hydrodynamics of sailing yachts in which their lines, distribution volume and weight are optimized to achieve the highest possible level of efficiency.
The motor yacht has two decks. Her interior spaces are open to each other and through that extensive glazing also visually open to sea and scenery surrounding the yacht, thus connecting passengers to the surrounding spaces and their environment.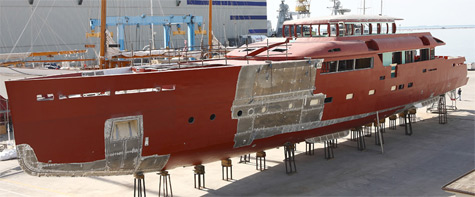 The Picchiotti-Vitruvius Explorer features Briand Optimised Stretched Hull (BOS Hull) which gives her a maximum speed over 15 knots and a cruising speed of 12-14 knots with an installed power of 2 x 970kW. The range of the yacht exceeds 4,500 Nm@12kt.
Specification of the Picchiotti-Vitruvius Explorer yacht:
Length overall: 49.50m
Waterline length design: 49.00m
Beam (max): 9.50m
Draft full load (approx.): 2.55m
Max displacement (approx.): 430T
Max speed: 15 knots
Fuel capacity: 75,000 liters
Fresh water: 14,000 liters
Range @ 12 knots: 4,500 Nm
Hull and Superstructure: Aluminium 5083
* * *
Related links:
Perini Navi
Picchiotti
Photo: picchiotti.net