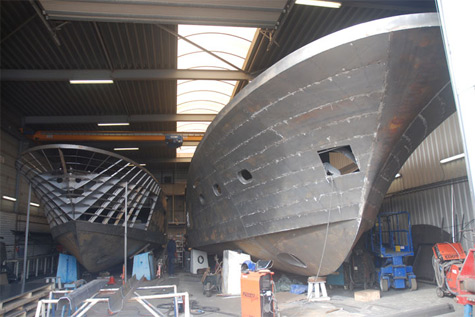 Dutch boat builder Van Der Heijden presents the two new projects Superior 2400 and Superior 3300. The first one is currently under construction in the Netherlands and the second – is in the stage of designing.
The Superior 2400 looks similar to the previous 2000 model. The yacht has the steel hull and alloy super structure. Project weight is an estimated 48 tons, which is light considering that this is less to a similar sized and powered glass fibre yacht.

In spite of small size of the Superior 2400 (only 24 metres), the yacht features five guest cabins and a single two person cabin aft. The 2400 Superior follows again the smaller 2000 sister in hull design and engines with a similar hard chine shape below waterline, and twin 825 hp of power. Estimated speeds are of 18 knots of max.

The Superior 3300 continues the modern looks of the Superior range. She features two and a half decks and a comfortable raised pilot station. Her specification hasn't been promulgated so far.
* * *
Related links:
Van Der Heijden
Photo: vanderheijdensteelyachts.se