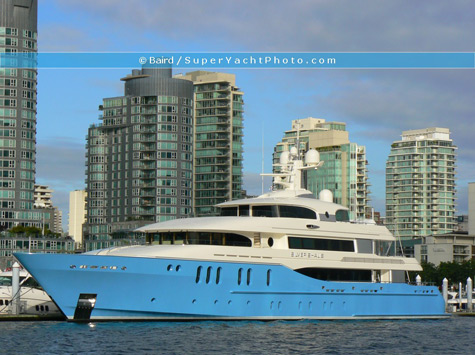 There has been much secrecy surrounding this year's launch of the superyacht Silver Shalis from Delta Yachts, who knows why. First marked at just "Project 175038″, the Delta Design Group has taken a fresh approach to designing this one, with a focus on an Asian inspired interior, which is supposed to be as distinct as it it exquisite.
The interior architecture will be of minimalist design, in order to show off the furnishings. They will be made from a combination of textures, tone and elegance, with natural fibers, the highest quality leather, and other textiles that are going to be indulgent, but also for every day living, since the owners will be cruising for extended periods of time. No matter where you are inside, there will be many straight wood grains, as well as a mix of Zen earth tones with monochromatic colors. The interior was designed by the famous Jonathan Quinn Barnett, and the outside by the popular Langan Design Associates.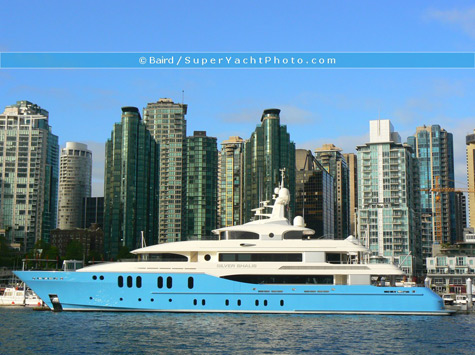 The hull design will be of the semi-displacement kind, with an all composite body, which will make this 174 foot (53 m) superyacht have a sleek and stylish look, as well as cut through the water at top speeds of over 20 knots, with a cruising speed of 15 knots. She will be able to go over 3,000 nautical miles at 12, with a fuel tank that will hold 14,000 gallons, with a 2,000 gallon fresh water holding tank, there is no telling how far she will be able to go without the need of a port.
The Silver Shalis, at half load will have a draft of just seven and a half feet, and a displacement of 335 tons. What powers this superyacht? The engines are two MTU 16v4000′s, with 2,100 rpm at 3,650 hp, as well as Quantum QC 1800 Zero Speed Stabilizers. Two Northern Lights 99 Kilowatt generators will supply all the necessary electrical needs for the whole ship.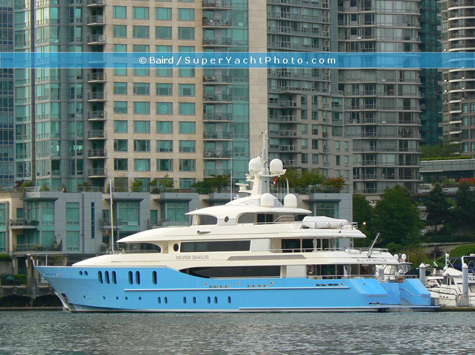 Recently, the Silver Shalis has been spotted cruising around the harbor in Seattle Washington, with it's new duck egg blue paint. It was seen alongside such other luxury superyachts as the Northcoast 125. She has been being put through her paces, being carefully inspected, put through a series of open water testing, before being released to her owners later on this year.
You can find out more information on the Silver Shalis, as well as Delta Yachts online. There are many different websites to choose from, and Delta has their own site, with a showroom of their many accomplishments, including yachts like the Gan Finale, Katya, and Mr. Terrible. Located just a few minutes for the Boeing Field near the Seattle-Tacoma airport in Seattle Washington, Delta Yachts is an 18 acre shipyard. They do much more than new construction, they are also one of the leaders in repairing and refitting superyachts, and one of the few in the United States. When Delta starts building a super yacht, it's owners can watch it unfold from project plans to completed ship.
Specification of the superyacht Silver Shalis:
Length Overall: 53.00 m/173.88 ft
Hull Material: Aluminium
Superstructure: Aluminium
Engines: 2 x MTU 16V 4000 Diesels
* * *
Related links:
Delta Yachts
Jonathan Quinn Barnett
Photo: superyachtphoto.com