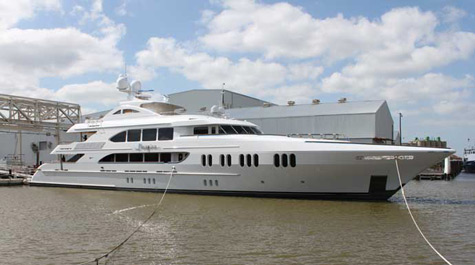 The superyacht Imagine was recently launched by Trinity Yachts, a ship yard in the United States along the Gulf Coast. Building yachts up to 400 feet (123 meters) long, using both aluminum as well as steel construction materials, this company emphasizes European quality, and has produced some of the most luxurious yachts, making them one of the world's truly elite custom builders.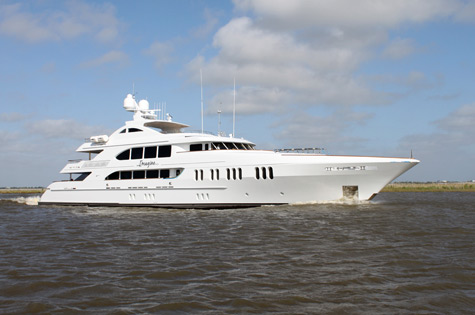 Their facilities included 38 acres of waterfront, as well as a 284,000 square foot construction building. There designers and builders have a mission to bring an new series of superyachts, and to be the leader of all others for the next millennium. They have so far accomplished this goal, with the production and manufacturing of such luxury superyachts like Lady Linda, Big Easy, White Star, Bacarella and now Imagine, just to name a few.
Their most recent achievement, the Imagine, it a 164 foot luxury superyacht. This motor yacht is hull number T053, is constructed to ABS Maltese Cross classifications and it MCA compliant. The naval architect is of course Trinity, and the interior design was made by Sylvie Charest. Able to reach speeds of up to 20 knots, she has a cruising speed of 18, and can travel 4,000 nautical miles with her twin Caterpillar 3512B, 2,250 horse power engines. The hull and main superstructure is constructed of aluminum, making her lighter than many other of her caliber. Her tri-deck design includes a top lounge deck, complete with lounge and bar area, a bathroom, plus a hot tub. The main deck features the captain's quarters, control room, as well as a saloon area. This also gives access to a forward skiff.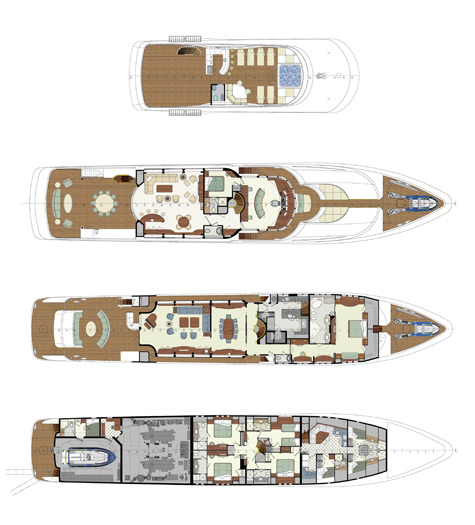 On the main deck, you will find the galley, dining and main living areas, as well as a luxurious owner's cabin. This cabin features a seating area, walk in closest for both the owner and spouse. It also has a separate office area. The master bathroom features both a shower as well as a tub, two commodes and a double vanity. There is also a aft outdoor lounge area in this deck.
Below this you will find the crew and guest quarters, including a private engineer's suite, as well as the engine room, and aft skiff compartment. There are three single crew cabins, with their own galley and dining areas. There are four guest rooms, three with one large bed, and one with two twin beds. Each of these has a private bathroom, complete with showers, as well as ample storage areas. Crew quarters, as well as the engineer's cabin have separate entrances from the main cabin areas.
Imagine, being fairly new and just launched this year, may still not be ready for sale or charter. Before a boat can be used or sold in this manner, a full battery of testing has to be performed, to make sure they are sea worthy, as well as tie up any loose ends, make adjustments, as well as other routine inspections.
Specification of the superyacht Imagine:
Length Overall: 49.90 m/163.71 ft
Hull Material: Aluminium
Superstructure: Aluminium
Engines: 2 x 2250 HP Caterpillar 3512 B Diesels
* * *
Related links:
Trinity Yachts
Photo: trinityyachts.com