The key feature that has always brought distinction to the Ferretti Yachts is innovation in design. For more years than you can count Ferretti has brought to bear on their yachts innovation in the realms of design, style, technology and a great deal more. This has served to equate the name Ferretti with quality and style in the boating industry, but also as a key player in Italian industry of all types.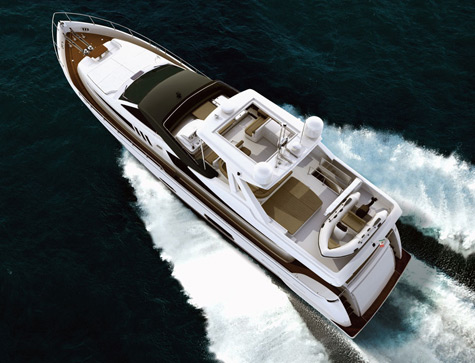 The word innovation, in combination with the Ferretti attention to detail and their classical style of design has destined Ferretti to influence the trends of future yacht making in the industry.
Architect Gianni Zuccon from Studio Zuccon International Project and Ferretti Group's AYT (Advanced Yacht Technology) followed this same approach when he designed the Ferretti 800, combining the original designs of Ferretti with new concepts in both planning and design. The end result was a yacht that brings wide open spaces in the interior, and a classic layout that is seen primarily on much larger yachts. It features sleek lines which have been made richer and bolder by the use of clor and the use of the Ferritti characteristic larger glazed type surfaces.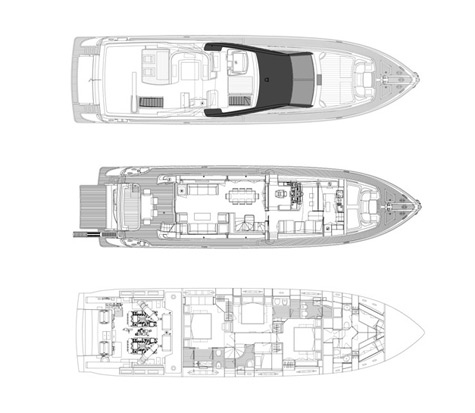 Two things are new to the Ferretti 800, those being the bronze colorthat is seen on the dome and the nearly sinewy curves and clean lines of glazing that feature sharp cuts. The deck is nearly covered with windows, offering you maximum viewing pleasure, while the lower deck offers some new features as well.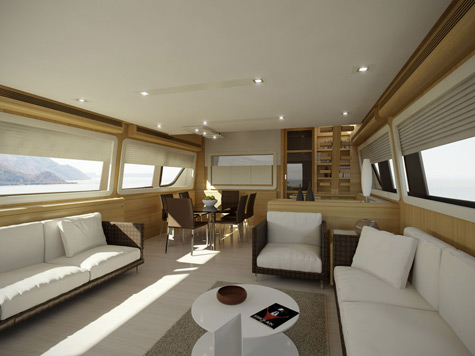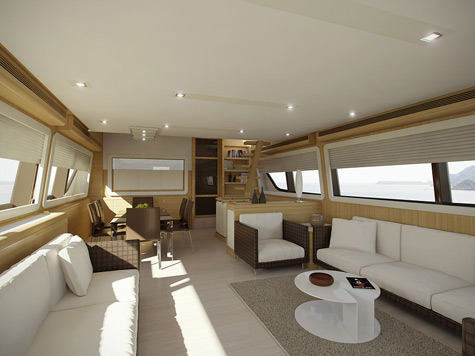 In order to bring you maximum lighting availability below decks, the open view windows which were characteristic of the Ferretti yachts have been made larger, with two more added to the mixture that were added to the guest area. The external view brings a glimpse of sleek Italian design, elegance combine with a sporty look that can only come from Ferretti.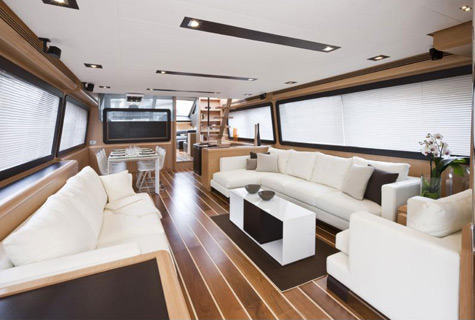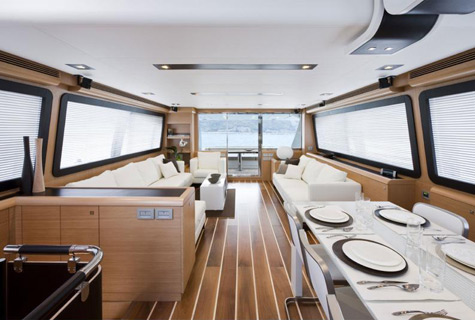 Elegance is reprised inside the Ferretti 800, where the cockpit, a bit larger and roomier than before brings you authentic teak floors and a sundeck that offers reclining seats, complete with relaxing armchairs. A small stairwell takes you to a large dining area which offers an innovative U style table as well as a grilling area. On the stern side you will find a large sundeck.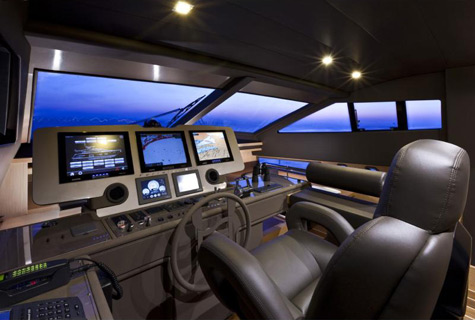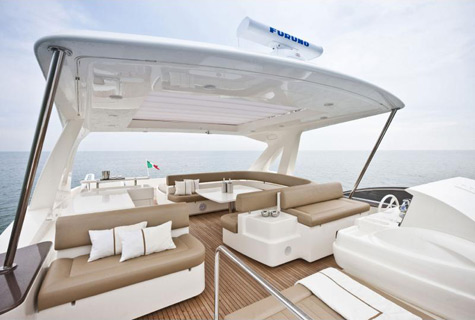 The Ferretti brings you a very comfortable living arrangement, large tables, adequate seating and allows for your desire for privacy by maximizing the space for owner and guests, while providing adequate space for crew quarters in the extreme bow.
Aside from the master cabin, sumptuous and well laid out, you will find that there are two VIP areas or cabins, featuring double beds, one of which can be separated. Each VIP cabin features outstanding viewing and natural light due to the inclusion of a new window arrangement.
On the main deck your salon will bring you outstanding natural lighting that creates a feeling of warmth and charm to the area, while the space has been managed in an innovative way to offer a level of continuity that isn't normally seen. L-shaped sofas and chaise lounges complete the elegant look, while on the same level you will find an exquisite dining area complete with crystal table.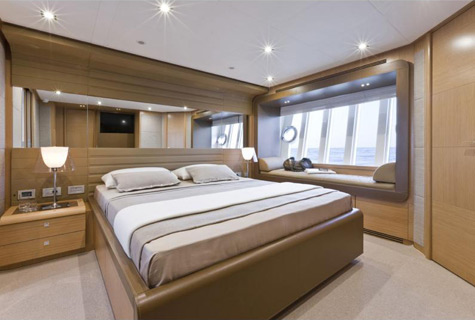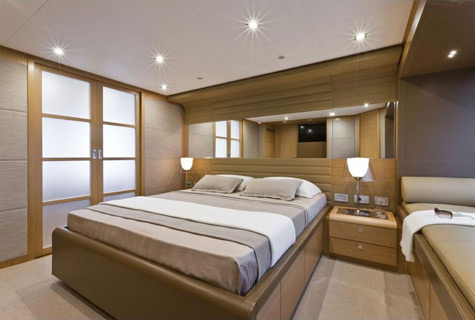 Innovation in style, design, in classic looks and in integrating the old and the new has been a hallmark of Ferretti for years. This new model does not break that longstanding tradition.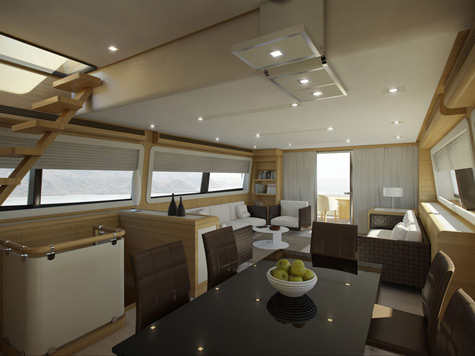 Specification of the Ferretti 800:
LOA: 24.73 m
Hull length: 23.98 m
Maximum beam: 6.28 m
Draft: 1.88 m
Construction materials: multiaxjal fiberglass
Displacement unladen: 64.55 t
Displacement laden: 74.83 t
Fuel tank capacity: 1320 l
Maximum number of people on board: 20
Cabins: 4
Bathrooms: 4
Crew cabins: 2
* * *
Related links:
Ferretti Yachts
Studio Zuccon International Project
Photo: ferretti-yachts.com