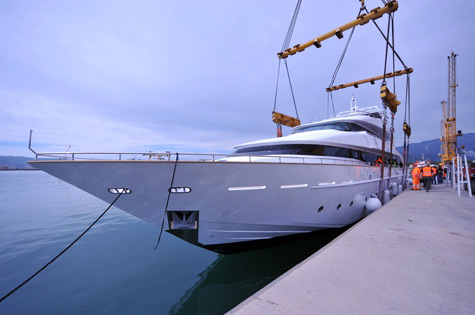 Tecnomar, one of the world's leading yacht designers, has done it again, with last weeks launch of their newest flagship, the 45 meter Talal. This Maltese Cross and Rina Charter class superyacht was constructed entirely from the ground up. Built in the shipyards in Viareggio Italy, this is the latest in luxury as well as style, including a private elevator to the owner's suite on the bridge deck. Yes that's right, an elevator on a ocean class yacht, one of a kind for this class.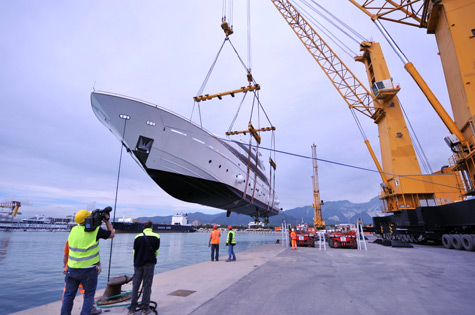 With an interior designed by renown Study Luxury Projects, as well as the owners and the yard, the interior is the epitome of classic elegance. There are many different materials used, from different exotic hard woods, to marbles imported from the Middle East. Together with other styles like woven carpets, Swarovski Crystal and hand made glass, this super yacht is truly a one of a kind project.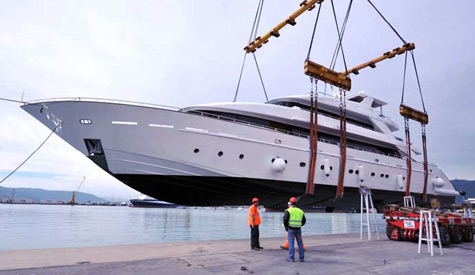 Powered by twin 3000hp MTU 16V 396 TE94 diesel engines, it will have a top speed of 28 knots, and cruise at 23, with a screw propulsion. It's fuel capacity is almost 5,000 gallons, and a fresh water tank of just over 1,000 gallons, giving any owner the ability to go to just about any destination in the world.
Unfortunately, there is just not a whole lot of information on this luxury yacht, and this is for good reasons, as the owners are private and don't want to be disclosed. The shipyard Tecnomar specializes in one of a kind yachts, with each creation unique, from the materials, interior, and exterior designs, to the latest in state of the art technologies. Each creation is custom designed around the specifications of the owner. Their shipyard was founded in 1988 in Viareggio Italy, and is one one of the Italian leaders in building yachts over 27 meters long. There yard in Massa, Tuscany, is a production center that spans over 11,000 square meters, and is capable of creating just about any kind of yacht design a person with fine taste desires.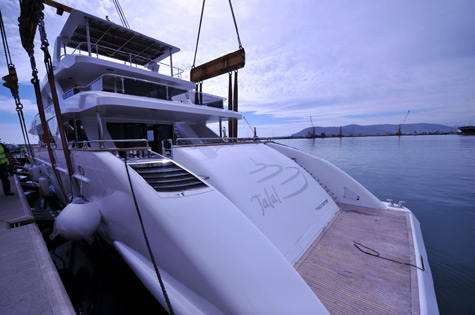 So if you are interested in a truly one of a kind yacht, one that is custom made to your own specifications, then you need to have to very best designer. Tecnomar is the one to choose. They have a website that is not hard to find online. One look and you will be hooked. They have a fleet of yachts in their own personal catalog to choose from, to give you an understanding of what this company is capable of.
Specification of the superyacht Talal by Tecnomar:
Length Overall: 43.00 m/141.08 ft
Beam: 8.20 m/26.90 ft
Displacement (medium load): 115 tons
Fuel tanks: 25,000 l
Fresh water: 5,000 l
Construction material: GRP
Engines: 2xMTU 16v 396 TE94 3000 hp
Maximum speed: 28 knots
Cruising speed: 23 knots
Guest cabins: 7
Crew cabins: 4

* * *
Related links:
Tecnomar
Study Luxury Projects
Photo: tecnomar.com