Alloy Yachts has practically completed the construction of the superyacht Imagine II, the elder sister of the Imagine I, a very successful yacht, which was launched in 1993.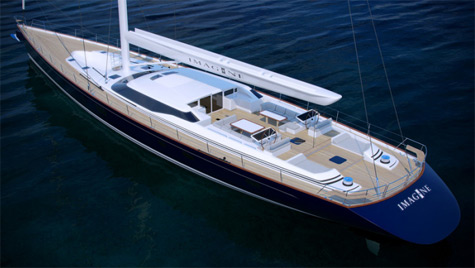 Imagine I was designed by Dubois Naval Architects. Both Alloy Yachts and Dubois received global recognition after its launch. Imagine II is the upgraded version of the previous sloop. She will boast new technologies, and the same creature comforts that the owner has always enjoyed with his first Imagine.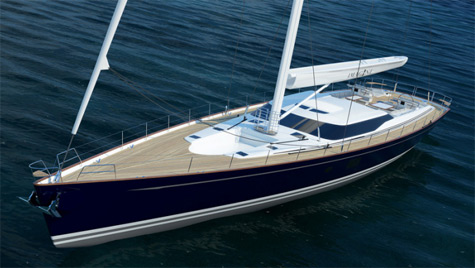 Imagine II is a very modern yacht in terms of hull form, keel and rig design, performance and interior layout but her style, while still modern and up to the minute, harkens back to her famous forebear. The interiors of the yacht will be done by the Alloy Yachts Interior Design team. The yacht will have an owner's suite, three guest cabins and three cabins for crew.
Construction of the yacht started in 2008. She will be launched later this year.
Specification of the Imagine II:
LOA: 43.5m. (142.7′)
DWL: 36.95m. (121.2′)
Beam (maximum): 9.35m. (30.6′)
Draft: 4.2m. (13.7′)
Displacement: 250 tonnes
Engine: 1x Cat 3406E (800bhp)
Construction: Aluminium
Fuel capacity: 22500 lt.
Fresh water capacity: 9000 lt.
Builder: Alloy Yachts
Naval Architect: Dubois Naval Architects
Propeller: Hundested Variable Pitch
Electricity generation: 2 x Northern Lights 55 kW
Thrusters: 90 Hp vertical retracting thrusters (Bow and Stern)
* * *
Related links:
Alloy Yachts
Dubois Naval Architecture
Photo: alloyyachts.co.nz