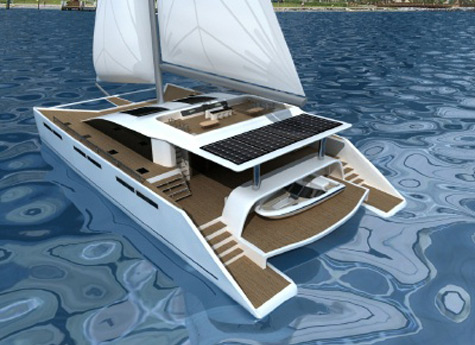 SeaBoater is a company that stands out when it comes to catamarans. They have several models to choose from, including the Catamaran 63. This luxury catamaran is one of the top of the line models ever made, boasting performance, comfort and style, and your more that 30% cheaper than other manufacturers models. This company has also made the Catamaran 63 one of the most popular for charter companies, because of it's fast and economical construction, and the fact that they can customize one to fit just about any need.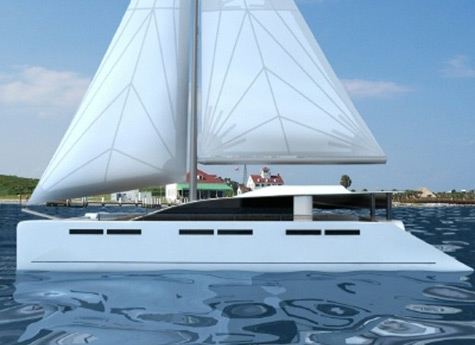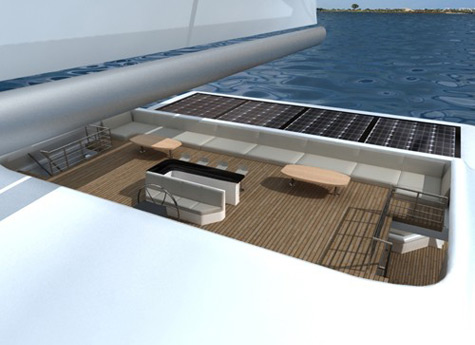 One of the more diverse things about the Catamaran 63 is that it is available in three different propulsion options. There is the standard diesel motor, but you also have the solar hybrid, which combines solar electric with diesel back up, and the regular hybrid, combining electric generators with diesel. These choices in propulsion systems are only offered by the SeaBoater Catamaran models.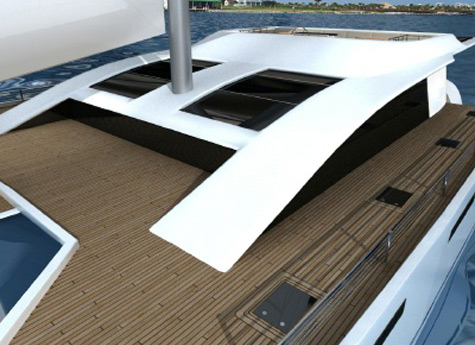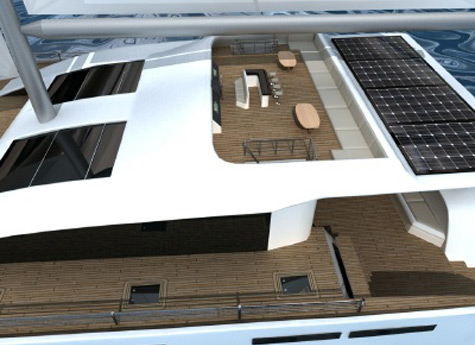 You also have four different versions to choose from. The standard, which has the catamaran look without a hard top, the long top version, with a large area to maximize solar power systems. There is the short top classic, that has a practical look, and the short top modern.
SeaBoater Catamarans also offer three different hull materials, carbon, aluminum, as well as a glass-epoxy-composite materials, so you can have a catamaran that is strong, as well as deep sea worthy. This company really take pride in their work.
There are four different floor plans available for the SeaBoater Catamaran 63. The upper deck features ample seating areas, and a large area for the operator, with easy to navigate controls. The lower deck is available in a four bedroom classic addition. The large queen sized bedrooms are located in the catamaran hull sections, with a shower bathroom combination on each side. The middle section is where the galley and dining area is located, with steps going to the upper decks on each side. This floor plan is available in three different styles. There is also a larger three bedroom plan, as well as a five bedroom plan to choose from. The five bed plan has a queen bed, as well as a single berth in one room. All plans have a centrally located galley and dining area. All of these plans have ample storage, as well as large bathroom layouts, with the three bedroom version even having a full bath tub.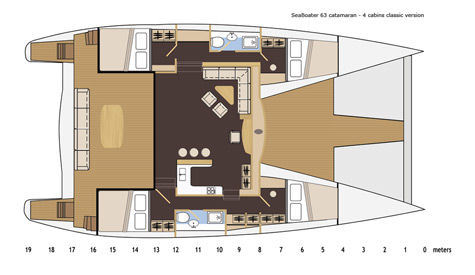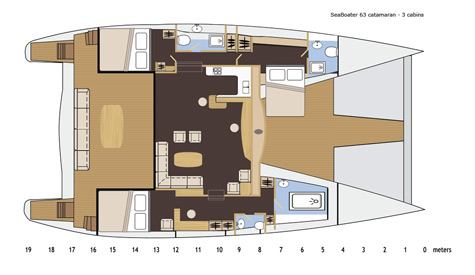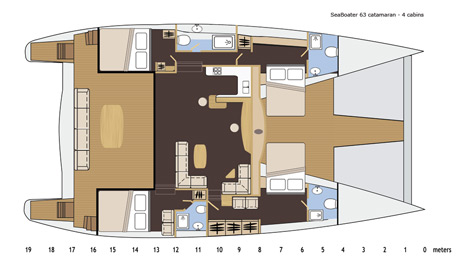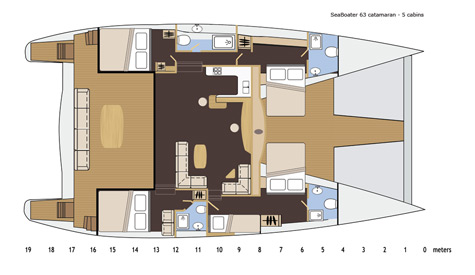 You can find out more information about the SeaBoater Catamaran 63, as well as the Seaboater company online. They have shipyards in Australia, two in Croatia, Poland, as well as the Netherlands, so you can have one made and delivered anywhere in the world. With SeaBoater, you are assured the highest quality as well as durability in all their catamarans, and luxury yachts, at an affordable price.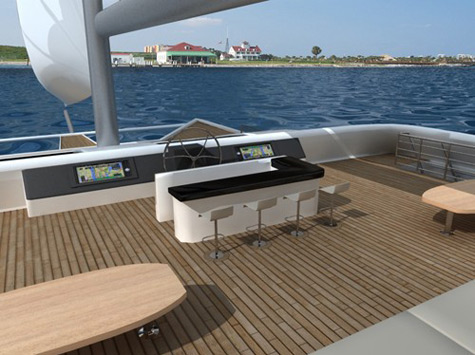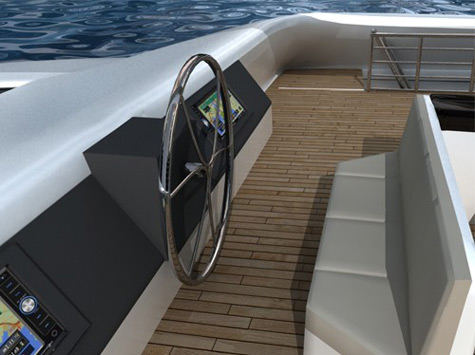 It is important that you find the very best, and in order to get it, you really need to consider this company. You can find details about them, and read reviews from real customers who have contracted their services. You can download an abundance of information about the company itself, as well as their full product line, so you can look through it all at your leisure.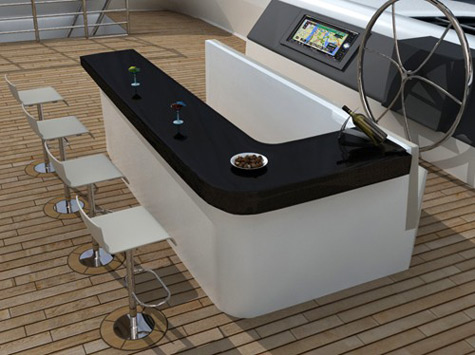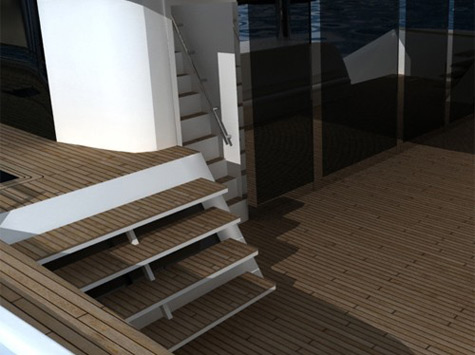 Specifications of the SeaBoater Catamaran 63:
LOA: 19.20 m/63 ft
BOA: 9.9 m/3.01 ft
Sail Area M+FT: 212.5 sq.m
Displacement: 28 t
Hull Draft: 650 mm
Engines: 2 x 110 HP
Berths: 6 to 14
Hybrid Version: Yes
Solar Version: Yes
* * *
Related links:
SeaBoater
Photo: seaboateryachts.com