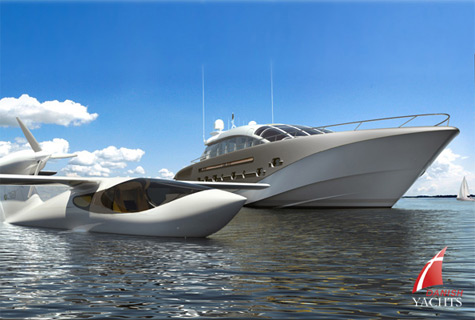 From world renowned yacht builder Danish Yachts comes the yet to be named Project 116, a 38 meter superyacht built of carbon fiber for both the ultimate in style and speed. Set to be launched in the summer of 2010, Project 116 is said to be a pioneer in the new world of powerboats.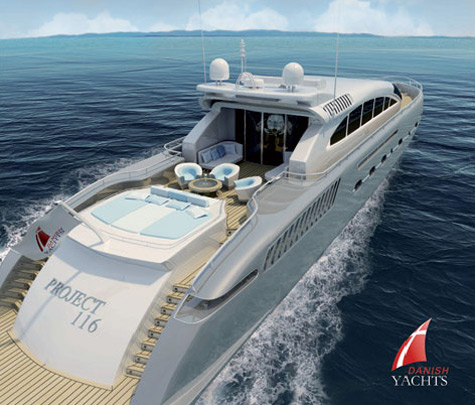 For the ultimate in speed, both the hull and superstructure utilize an infusion technology that uses a CNC created mold with epoxy carbon and a Divinicell foam core, which equates to a twenty-five percent savings over conventional building materials. And with power coming from dual diesel engines, Project 116 will be able to reach speeds of just over 50 knots and thanks to jet propulsion she will also be incredibly easy to navigate through the ocean waters.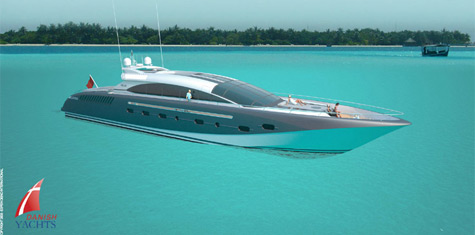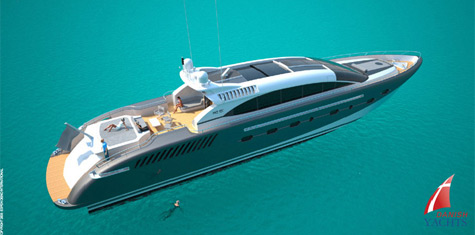 Located in Skagen, Denmark, Danish Yachts is committed to creating yachts with a minimal impact on the Earth's environment from the beginning of the design process until each project is ready for launch. The yacht maker also puts each of its projects through a strict research and testing process to ensure the optimum weights and measurements are used. Project 116 will even include reflecting glass that has been specially tinted to eliminate any energy loss.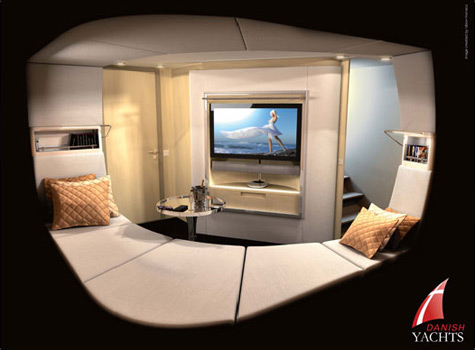 No expense was spared in creating the sleek and sporty interior of Project 116 designed by Espen Oeino with its comfortable and spacious quarters. A Bang & Olufsen entertainment system with central controls is included in the yacht and it also features an air conditioning system with custom made ducts and dual core frequency controlled air handler twin semi-hermetic compressors.
Project 116 will also feature several tenders including an Akoya aircraft made from light carbon fiber material from LISA Airplanes.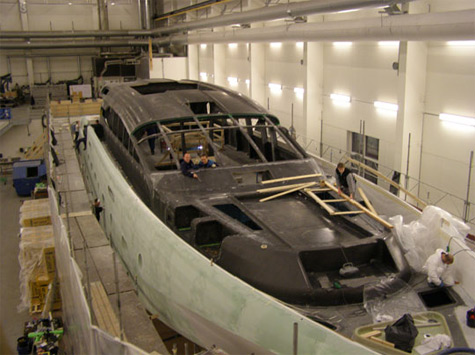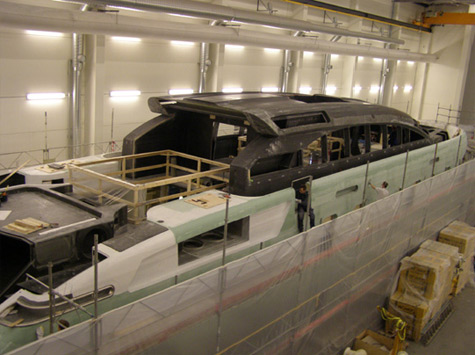 During the last days before her debut launch, Project 116 is being outfitted with a few final touches including a passarelle starboard side with infrared controls, the woodwork details, and all of the electronic cables.
Sea trials for the speedy superyacht by Danish Yachts are also slated for the early summer of 2010.
Project 116 by Danish Yachts Specifications at a Glance:
LOA: 38 m
Breadth: 7.50 m
Draft: 1.35 m
Placement Light Ship: 112 tones
Main Engines: 2 x MTU 4000 16v M92L @ 34,400 KW each
Speed: 48 – 52 knots
Range: up to 900 nautical miles
Fuel Capacity: 20,000 l
Fresh water capacity: 6,000 l
Black and Gray Water Capacity: 4,500 l
Sludge Tank: 1,500 l
* * *
Related links:
Danish Yachts
Espen Oeino
Photo: danishyachts.com