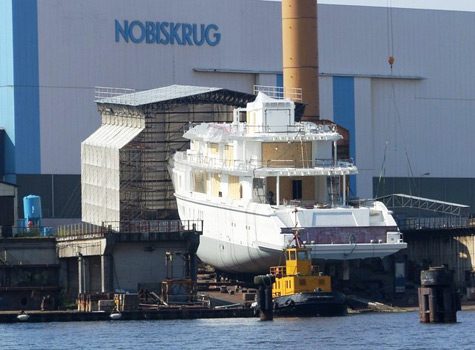 The megayacht named Graffiti was launched at the end of April 2010 by the Nobiskrug Yachts shipyard located in Rendsberg, Germany and received quite a warm welcome from the mayor of the town, the yacht's owners, and several other guests who were there for the grand celebration.
At the yacht's launch, many speeches were given by those who worked on the hull including project leaders and the yacht's anxious owners themselves as everyone spoke of the incredible cooperation and the great success of hull 783. Then, the Graffiti was slid gently from its slipway into the waters of the River Eider where she will remain on the shipyard's west pier until it's time for the final touches such as the interior outfitting. Graffiti will then be presented to her owners in all of her regal glory with an expected delivery date of early 2011.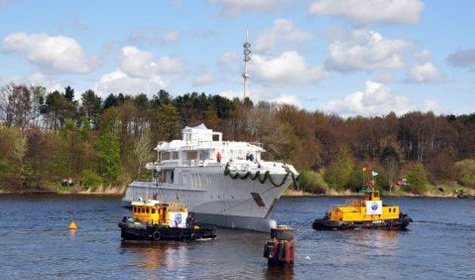 Nobiskrug Yachts is renowned for having more than one century of yacht building experience and their fine quality German craftsmanship certainly shines through with the Graffiti. A leader in the mega yacht market, Nobiskrug delivers exceptional, custom built yachts ranging from 60 to 200 meters.

This 74 meter megayacht features a rather spacious interior including a 12.5 meter beam, a huge saloon and cinema area, an equally roomy sky lounge, beach club, and gym for guests to enjoy. Both the interior and the exterior of the Graffiti were designed by UK based Reymond Langton Design and Kristal Waters was responsible for managing the build.
Nobiskrug remains quite busy as the sister ship of Graffiti, or Mogambo (hull 782), was also recently built and its official launch will occur in 2011. With an already strong presence in the yacht building market, Nobiskrug intends to expand even more as the company recently announced an upcoming partnership with Messerschmitt Yachts and currently has several projects in the works including the 73 meter motor yacht named the Sapphire and the 68 meter Sycara V.
Graffiti Specifications at a Glance:
Length Overall: 73.50 m/241.14 ft
Beam: 12.5 m/41.0 ft
Hull Material: Steel
Superstructure: Aluminium
* * *
Related links:
Nobiskrug Yachts
Reymond Langton Design
Photo: nobiskrug.com