Heesen Yachts unveiled the revolutionary 65-metre all-aluminium design based on the Fast Displacement Hull Form (FDHF), whose tank testing has been completed at the Wolfson Unit in Southampton (UK).
The innovative concept of the FDHF was developed by naval architects Van Oossanen & Associates. The concept is based on a number of standard features which are not entirely new to ship or yacht design, but, when combined in a special, well-balanced, state-of-the-art design, a surprisingly efficient hull form is obtained.
Tank tests have shown that in comparison with traditional hard chine and round bilge hulls, FDHF improves the efficiency of the vessel by around 30%. The slenderness and special form of the hull result in a very low wave profile over the entire speed range, while also improving its sea-keeping and manoeuvrability.
As a consequence, it has a very positive impact on the cost of running the yacht, while also lowering its environmental impact in terms of engine emissions.
The exterior design of the Heesen 6500 FDHF superyacht was created by Dutch designer Frank Laupman of Omega Architects. Notable design features include a touch-and-go helipad forward and a semi-shaded area surrounding the swimming pool on the main deck.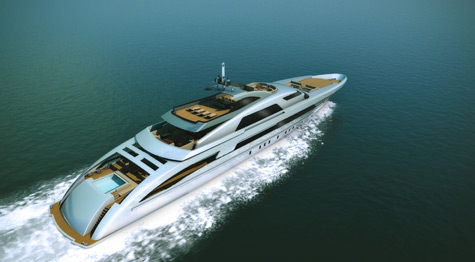 On the lower deck is a vast beach club area, whose design incorporates bar, sauna and hammam. In addition to the large transom platform, there is a side balcony that opens from the hull to the port side to provide the owner and his guests with an even closer connection to the sea.
Heesen Yachts will present this innovative 65-metre design to the yachting community on September 22nd 2010 at the Monaco Yacht Show.
Main Characteristics
Length over all: 65,00 m
Beam over all: 11,40 m
Draft propellers max: 3,05 m
Displacement (half load): approx. 550t
Fuel capacity: 90 m3
Fresh water capacity: 30 m3
Speed maximum (at half load): 27 knots
Speed – cruising (at half load) 24 knots at approx 75% engine power output
Range at 14 knots: 4.500 nm
Class: ABS A1 Commercial Yachting Service, AMS, Large Yacht Code 2
Guests: 12 guests
Crew: 13 (including captain)
Main engines: 2x MTU 20V4000 M93L, each 4,170 kW at 2100 rpm
Gearboxes: 2x ZF 23560C
Propulsion: Stainless steel shafts with 5 blade fixed pitch props
Stabilization at zero speed: 5x Seakeeper gyroscopes, M21000
* * *
Related links:
Heesen Yachts
Van Oossanen & Associates
Omega Architects
Photo: Heesen Yachts, oossanen.nl