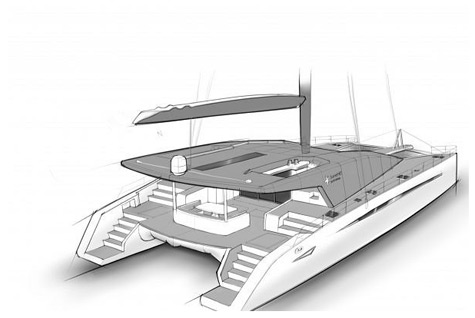 Sunreef Yachts, the leader in the design and construction of luxurious multihull-yachts, launches a new range of performing fast cruisers from 80 to 150 feet. Sophisticated and elegant Sunreef 80 Ultimate will be the first yacht  from the range to be constructed.
This carbon fibre yacht will have thin and sleek marine hulls with reversed bow and integrated stepped hull chins which is essential for the yacht's high performance. The superstructure will be shorter and more minimalist than on a conventional leisure catamaran which will add to the boat's lightness and streamlined look.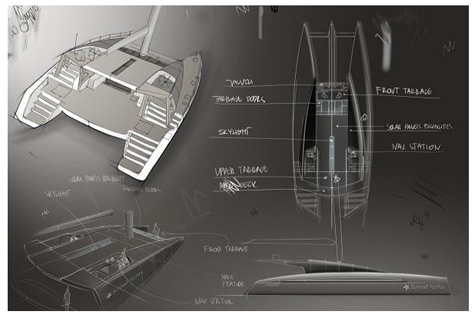 Both hulls and entire forward section of the superstructure will be covered by glass panels which will make this vessel luminous and provide the guests with breathtaking and delightful views.
Two vertical retractable wind generators will be installed on each hull. It is possible to mount solar panels on the hulls. They will provide the yacht with natural solar energy that can be used in the water heating system.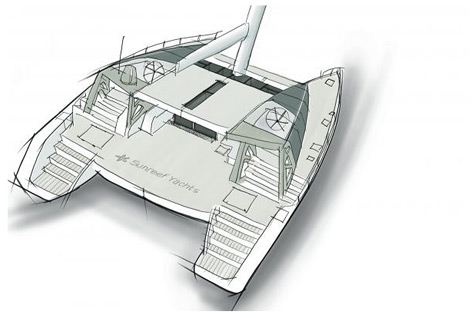 The interiors of the Sunreef 80 Ultimate will be created according to the owner's wishes. Two options are possible: leaving the saloon as an open, undivided space, or accommodating it with the galley, dinning and lounge. In both scenarios, the owner suite will be located on the main level in the forward section.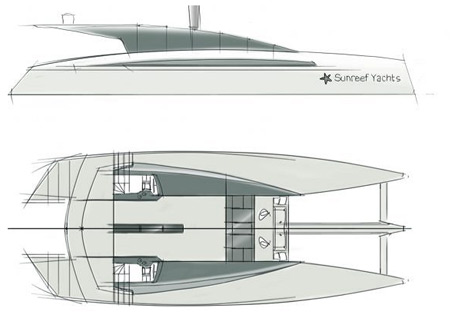 The top speed of the Sunreef 80 Ultimate is calculated to be about 20 knots.
Specification of the Sunreef 80 Ultimate:
LOA: 25.00 m
BOA: 11.20 m
Draft up/down: 1.5 m/4.00 m
Displacement: 40 T
Sails upwind: 375 m²
Sails downwind: 590 m²
Engine: 2 x 240 HP
Cruising speed on motors: 12 knots
Max speed on sails: 20+ knots
* * *
Related links:
Sunreef Yachts
Photo: sunreef-yachts.com