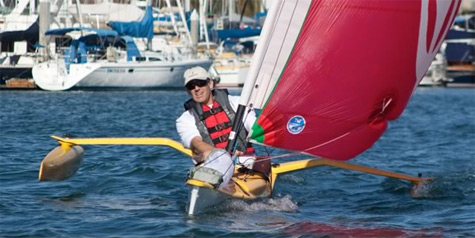 Are you ready for your first solo sailing expedition? If yes, you will certainly like Triak – a single seat, composite personal sailing trimaran.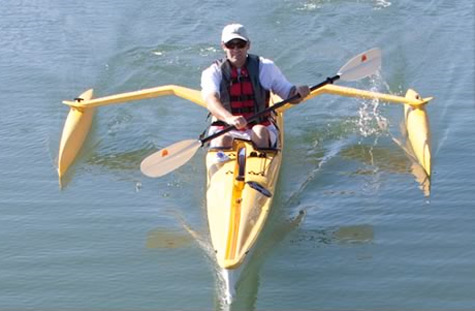 Designed by Morrelli & Melvin Design and Engineering, the Triak has exceptional all around sailing performance. It can easily be converted to a kayak with 20 cubic of dry storage and it can be easily stored and transported.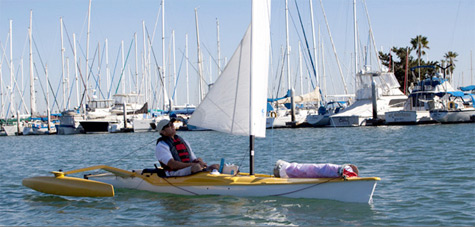 The new trimaran is stable, safe and fan, its sails are stowed in seconds while sitting in the cockpit to convert between performance sailing and kayak-like paddling.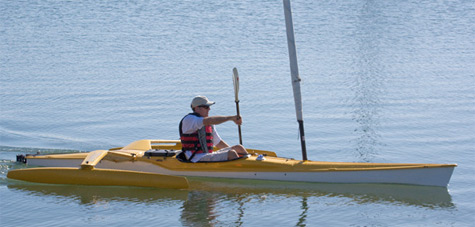 The sleek, narrow composite hull is incredibly efficient through the water providing equal paddling and sailing performance. The "shoe-horn" join of the deck and hull provides strength and rigidity and stiffness translates to speed under sail by eliminating flex found in kayak-conversions that dissipate the energy from the sailing rig.
Video: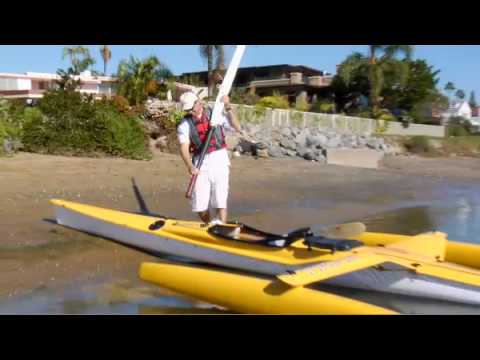 Specification of the Triak:
Hull length: 5.5 m
Hull beam: 53.3 cm
Assembled beam: 3.1 m
Centerboard draft: 83.8 cm
Mainsail Area: 2.96 m^2
Spinnaker Area: 4.36 m^2
Capacity: 204 kg
Dry Storage: 0.566 cu.m
Hull weight: 17-18 kg
Boat weight: 29.5 kg
* * *
Related links:
Triak
Morrelli & Melvin Design and Engineering
Photo: triaksports.com