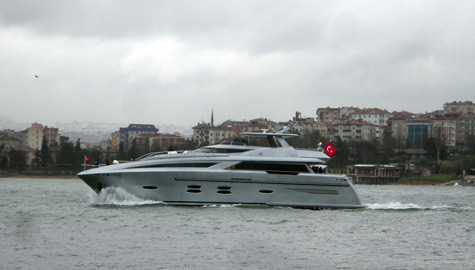 Produced by the world famous shipyard in Turkey, the Logos Marine has now launched the new superyacht Meya Meya. Once extensive sea testing is completed, this luxury yacht will be ready for pick up sometime in June.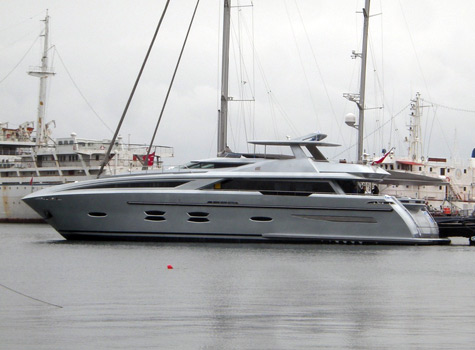 Meya Meya means one hundred percent, and this is what this Yacht has to offer, 100% luxury. It's custom design is 35 meters long and 8 meters wide, with a maximum speed of 25 knots, and a cruising speed of 22. It can carry a fuel capacity of 16,000 liters, with a 2,500 liter fresh water holding tank. With it's tow Idromar water makers, it can turn salt water into fresh water at 10 tons a day if needed. This Yacht has a 15′ Nautica jet boat tender, as well as many smaller canoes and kayaks, for many different water adventures. It also includes enough diving gear for your whole party.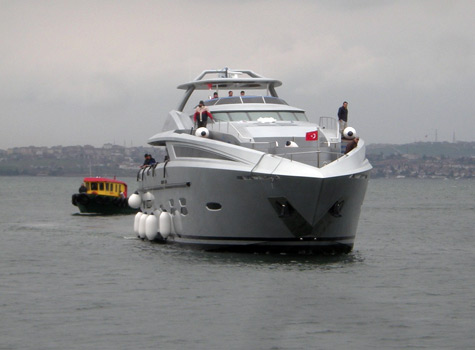 In addition to having a crew of up to seven, there is plenty of room for up to 12 guests at a time. With the H2 Yacht Design, this ship is fast, sleek and still capable of handling the roughest seas. It has a two full master suites to choose from, one on the main deck, as well as one below deck. These suites offer generous space, with neutral tones, and teak and Tabu timber. The VIP accommodations features a spacious desk area, sofa, and a double bed, plus a private bathroom. Other guest rooms have ample storage spaces. There are five state rooms, and four cabins for crew quarters.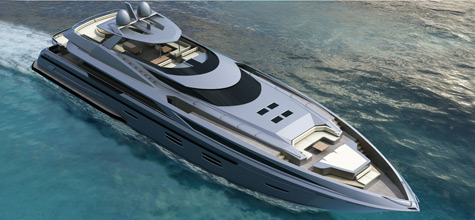 With open air interior main areas and minimalistic designs, the Meya Meya super yacht is spacious as it is luxurious. It's sleek futuristic exterior design will have heads turning when you come into port. You have an open air hot tub, so you can enjoy the ocean while relaxing in the jacuzzi. This is one of the most beautifully designed yachts ever made, and is sure to please even the person or couple who may have everything.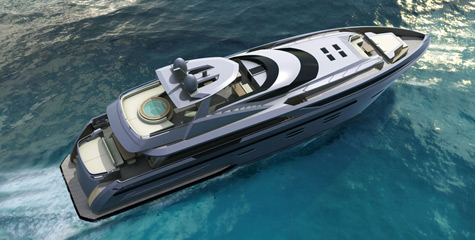 The naval Architect and structural design was developed by Ed Fry of Fryco-USA and Logos Marine. Logos Marine is a management team of Architects that combines over fifty years of experience in the industry. They make a variety of luxury yachts, some as small as just 12 meters. They also manufacture and design steel trawlers, charter fishing yachts, as well as composite cruisers for day trips. This company strives to combine luxury accommodations with the latest in electronics technologies. You get the best of both worlds in one convenient package.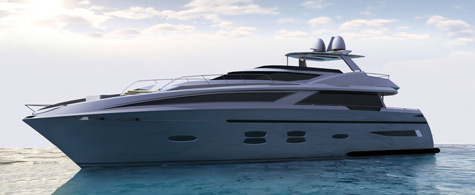 You can find out more information on the super yacht Meya Meya, the company Logos, as well as a plentiful amount of other yachting information online. There are a wide variety of websites to choose from.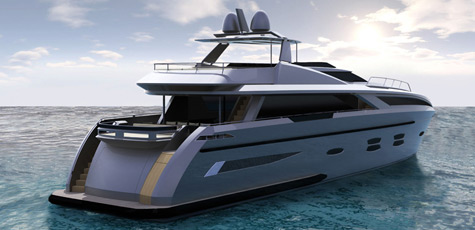 You can find out things like where the next yacht show is going to be held, and this year was in China. You can also find out how to purchase this luxury yacht to make your own, as well as a host of other examples to choose from. You can learn more about the companies and designers involved with the creation of some of the most magnificent yachts available, as well as catch a glimpse at some of the concept designs for what is to come.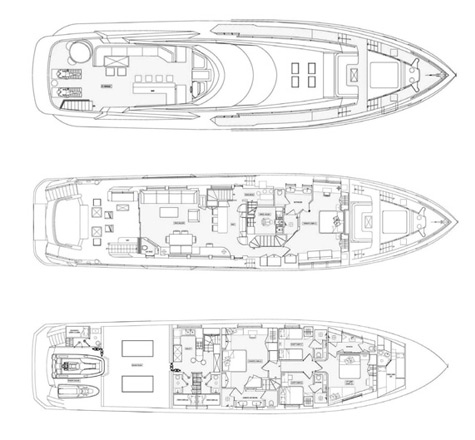 Specification of the Meya Meya:
Length Overall: 35.00 m/114.83 ft
Length Waterline: 30.40 m/99.74 ft
Beam: 8.00 m/26.25 m
Draught Max: 1.80 m/5.91 ft
Hull Material: GRP
Superstructure: GRP
Displacement: 155
Guests: 12
Crew: 7
Engine: 2xMTU 16V 2000 M93 2×2,400 HP/2×1,790 KW
Max Speed: 25 knots
Cruise Speed: 22 knots
Fuel Capacity: 16,000 l/4,227 gal
Water Capacity: 2,500 l/661 gal
* * *
Related links:
Logos Marine
Fryco-USA
H2 Yacht Design
Photo: logosmarine.com