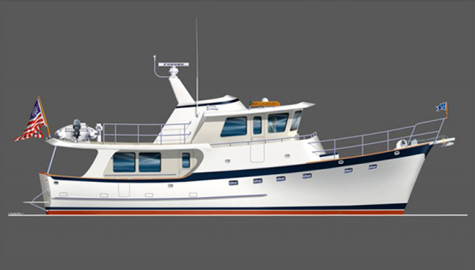 Kadey-Krogen Yachts recently and rather quietly announced the exciting addition of the Krogen 52′ yacht, another model in its line of pure full displacement trawler yachts. Following the great success of the Krogen 58′, the fifty-two foot model offers much of the same impressive architectural elements featuring roomy living areas and a raised pilothouse.
The Krogen 52′, like every other yacht made by Kadey-Krogen during the last two decades, will be built in Kaohsiung, Taiwan at the Asia Harbor Yacht Builders Co., LTD.
Kadey-Krogen, headquartered in Stuart, Florida with satellite sales offices in Maryland and Washington states, took a very different approach to announcing their new yacht. Plans were taken to the yearly Trawler Fest in Fort Lauderdale, Florida and within a little over a week of its exposure, five hulls were quickly reserved and the first is expected to be completed and in the United States by the summer of 2011.
The Krogen 52′ will be available in either single or twin engine configurations and both will feature the company's exclusive and innovatively designed counter-faired keel, which first made its debut on the Krogen 58′. The keel utilizes a counter rotation of flowing water forced into the ship's propeller, which results in a straighter outflow of water that in turn, improves the forward thrust and creates more economic fuel consumption than conventionally designed keels.
In the Krogen 52′ with the standard engine, power will come from a John Deere 6068AFM75 231 hp engine and the dual engine model, the yacht will be powered by two John Deere 4045TFM75 engines each producing 121 hp. The yacht will be capable of holding 1,400 gallons of fuel and boast a range of more than three thousand miles cruising at seven knots with a top speed of 9.5 knots.
Upon first boarding the Krogen 52′ luxury living will be evident to guests. The aft deck is completely covered and leads the way to the large saloon accessible through welded aluminum doors that are weather tight. Moving starboard, guests will enter the spacious gourmet galley that will be complete with full sized Jennair refrigerator and a Viking range.
Heading portside from the galley are the stairs leading to the pilothouse that feature a solid banister for safety. In the pilothouse visitors will find two helm chairs, a first for a yacht of this size that allows both the ship's captain and their first mate optimal visibility.
Owners of the Krogen 52′ will have their choice of either a two or three cabin arrangement based on their personal preferences and both options will feature the master stateroom forward. With the two cabin layout, owners will enjoy a dedicated office space, and both layouts will feature two heads each with an enclosed shower making the Kroger 52′ an elegant, functional, and architecturally magnificent yacht.
Krogen 52′ Specifications at a Glance:
Length on Deck: 52'2″
LOA (including swim platform): 54′-0″ LOA (including swim platform & pulpit): 57'0″
LWL: 47'0″
Beam (molded): 17'3″
Beam (over rubrail): 17'9″
Beam (waterline): 16'0″
Draft at Keel (half load, single eng): 5'3″
Displacement (half load): 70,000 lb approx.
Fuel Capacity: 1,400 gal.
Water Capacity: 400 gal.
Top Speed (estimated): 9.5 knots (at Half Load)
Cruising Speed (estimated): 8 knots (at Half Load)
Main Engine (single): John Deere 6068AFM75 M1, Tier 2, 231hp @ 2300RPM
Main Engines (twin): John Deere 4045TFM75 M2, Tier 2, 121hp @ 2500RPM
Reduction Gear (single engine): ZF Marine model ZF286 with 2.917:1 reduction
Reduction Gears (twin engine): ZF Marine model ZF220 with 3:1 reduction
Range at 7 knots (w/ 10% reserve) 3,000 nautical miles
Generator: (1)Northern Lights 12 kW, with sound shield
Ballast: 5,300 lb approx
* * *
Related links:
Kadey-Krogen Yachts
Photo: kadeykrogen.com