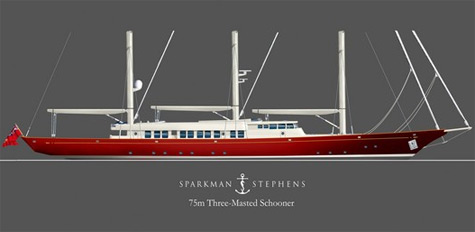 Sparkman & Stephens (S&S) has developed a new 75 meter (246-foot) Bermuda rigged schooner.
Since the establishment of Sparkman & Stephens, the firm has successfully completed over 2600 designs and related assignments in the pleasure, commercial and military sectors. The company is best known for the design of sailing yachts.
"While we maintain the elegance and beauty of a classic gentleman's yacht above the water, we strive to design efficient underbody shapes to maintain performance in all sailing conditions," – said Bruce Johnson, President and Chief Designer at Sparkman & Stephens.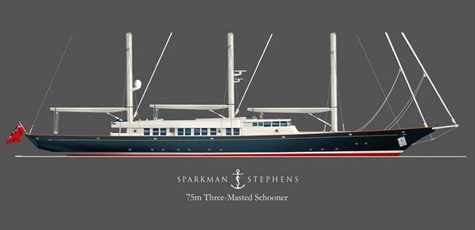 The canoe-body shape of the 75m Bermuda rigged schooner is representative of current ideology in cruising yachts and appendage shape has been focused on reducing wetted surface area.
The new schooner easily accommodates 10 guests in 5 staterooms. The vast master suite is located aft; four comfortable staterooms have convertible beds that can change from queens to twin's beds. Crew cabins are located forward of the engine room.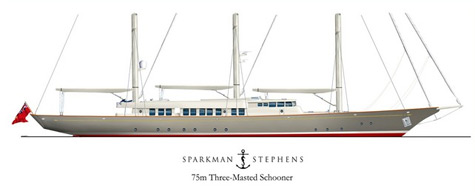 The full beam main saloon is very light and spacious thanks to the large deckhouse windows. There are two different alfresco dinning areas: one is located on the main deck; second is located on the flybridge deck with outdoor cooking facilities.
The two-tier engine room houses the diesel-electric propulsion system, along with the rest of the ship's machinery. All electronic components are located in the special control room which has 270° views of the machinery space.
"From the very beginning of each project, by working with the project manager or build captain, we dedicate a lot of time to the design of the system and machinery spaces. Not only is the crew happier on a yacht that can be easily maintained, but the owner is as well, because it minimizes downtime which can affect personal vacations or charter revenue," – said Bruce Johnson.
* * *
Related links:
Sparkman & Stephens
Photo: sparkmanstephens.com