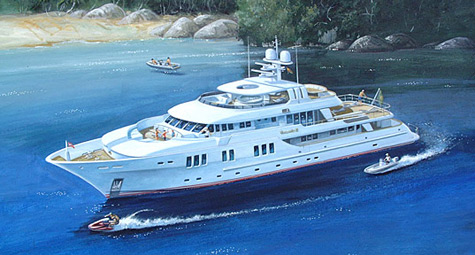 If you could design your ultimate dream vessel – what would that be? Currently under construction in Brazil, with a completion date of early 2011, the Veronika II (135 Global Explorer Yachts) will rival the competition. This 135 foot yacht can do what most other yachts can't, travel long distances, in a variety of conditions, and still be luxurious to live on. You can go from the warm waters of the equator, to the cold channels of Alaska, all the while looking good when you come in to resupply.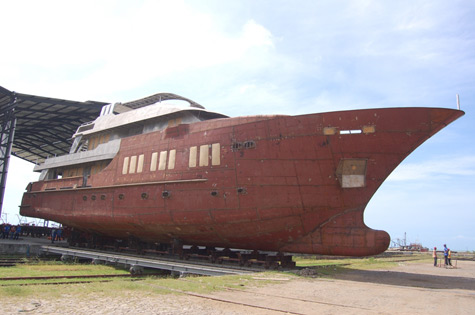 Some of the achievements with this yacht is the master suite. Taking up almost a whole deck, there is plenty of room to move around. There are his and hers bathrooms, a private and separate dressing area for her, and a full study. There is a grand master galley, as well as an entrance to a private forward deck, and opening into the main dining and lounge area. This will also open to a exterior dining area, as well as a swimming platform.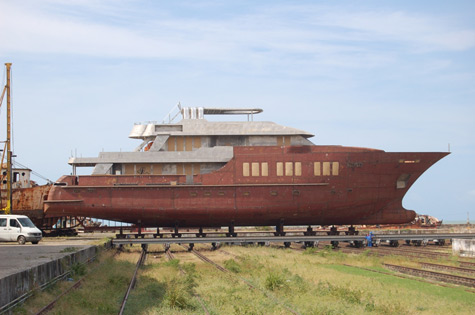 There will be enough room to accommodate up to twelve guests, as well as 8 crew people, each with their own private rooms. Keeping in mind that the guests and owners are only as happy as the crew is, the crew quarters are roomy and accommodating, with the engineer and the captain having their own separate quarters as well. There will be four main guest cabins, two with double twin beds, and two with queen sized beds, all with separate shower and bathrooms. There is an optional fifth guest suite, which will double as a gym. The crew sleeping quarters will have bunk beds and separate shower and toilet facilities as well.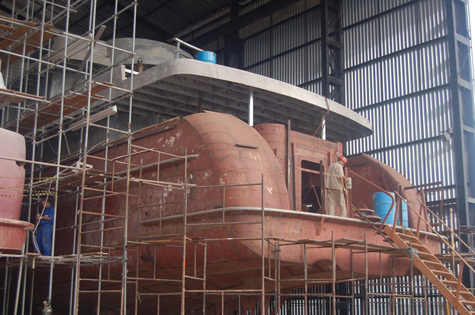 There are many extras with the Global Explorer 135, including two tenders, one of which has a diesel jet motor, so you can go longer distances away from the main ship. With ample seating and even a hot tub, there is no limit to the possibilities with this yacht.
Some of the general specifications include twin Cat C32 motors, with 1100 hp each, and a fuel capacity of just over 20,000 gallons. They have a top speed of 14 knots, and cruise at 12.5. This means that you have to ability to go 4,500 nautical miles without refueling, and it is estimated that if you were to run at a reduced speed of just 10kn, you could realistically go up to 7,000nm one a single tank. It can store up to 2800 gallons of clean drinking water without refiling, and can even make it's own water, 2,600 gallons per day. This means that you can go longer without having to take on more supplies.


With naval architecture by Overing Yacht Designs and an interior by Michael Kirschstein Designs the Veronika II Explorer superyacht is being built at Inace Shipyard in Brazil. You can find out more about the spectacular Global Explorer Yachts series at many online websites. You can find out the exact specifications, see concept pictures, as well as real time construction photos as the project is being completed. You can also find out about other luxury yachts that are offered by Global Explorer Yachts. There is wealth of information about the general manager, Darren Nightingale, from his history growing up in an a yachting family tradition in Australia, to his early days in the petrol industry, to the reasons why he became the head manager. You can learn about the company's construction facility in Brazil, as well as a great deal of other things.
Specification of the Veronika II (135 Global Explorer Yachts):
LOA: 41m/135ft
Beam: 8.38m/27ft 7in
Draft: 2.4m/7ft
Crew: 8
Guests: 12
Certified: BV and MCA
Potable water tankage: 10,800 liters/2,850 gals
Diesel tankage: 79,500 liters/21,000 gals
Range: Contractual 4,500 nm at 12.5 knots, tank test calculations estimate 7,000 nm at 10 knots
Speed: Top 14 knots, cruise 12.5 knots
Engines: 2 x Cat C32 1100 hp each
* * *
Related links:
Global Explorer Yachts
Overing Yacht Designs
Michael Kirschstein Designs
Inace Shipyard
Photo: globalexploreryachts.com