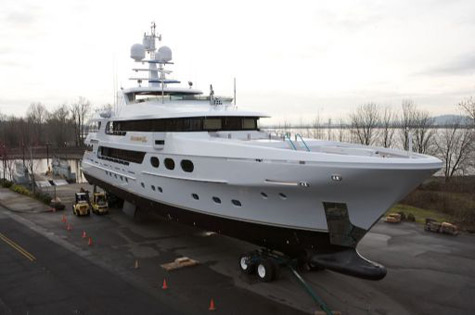 "Remember when" isn't just a phrase we use when we're being nostalgic. Instead, Remember When is the moniker for the new 162-foot megayacht launched recently from the Christensen Shipyard in Vancouver, Washington.
Built by the same people who built the luxury yacht Nice N' Easy, it will be available for charter, according to its owner, John Rosatti, who also owns the Nice N' Easy.
Remember When has a lot of new features to live up to her luxury status. With an integrated dynamic positioning system, she can maintain a fixed position no matter the conditions, such as wind or current. This makes her safe and efficient to operate – and is no doubt more comfortable for passengers, too.
Designed by Carol Williams & Associates, Remember When is luxuriously appointed inside and out. Six state rooms can hold up to 12 guests, and includes amenities like fine marble inlay and stonework, sleek walnut walls and cabinetry, air conditioning for all the levels, and under-floor heating. With a Sea Tel satellite Internet dish for uninterrupted Internet access and two Sea Tel TV satellite dishes as well, "at home" amenities are readily available on the open water, too.
Its navigation system, too, sets it apart from other contemporary yachts. It has forward facing and standard sonar, one X-Band radar, a pair of 96-nautical mile S-Band radar systems, and two FLIR infrared cameras, with split screen capability so that 180 degree views are possible.
The super yacht's power extends to its speed as well. She can attain a maximum speed of 17 knots, a transatlantic range of 4,300 nautical miles at 11 knots, and can have a cruising speed of 14 knots.
This Christensen yacht, like its 157-foot "sister", the Nice N' Easy, was built for speed, luxury, class, and safety, but with even more amenities than its sister ship. Owner John Rosatti has stated, "I'll take her to every port in Mexico… She is being built to the highest standard for class and safety and can be used for commercial charters anywhere in the world. She will be the best Christensen built up to date."
Specification of the Remember When superyacht:
Length Overall: 49.38m/162.01ft
Length Waterline: 43.56m/142.91ft
Beam: 9.00m/29.53ft
Draught Max: 2.40m/7.87ft
Hull: GRP
Superstructure: GRP
Engines: 2xMTU 12V 4000 M90 2×1,770 HP/2×1,320 KW
Max speed: 17 knots
Cruise speed: 14 knots
Range: 4,300 nm at 11 knots
Fuel Capacity: 58,780 l/15,000 gal
Guest Cabins: 1 Master, 1 VIP, 2 Double, 2 Twin, 4 Pullman
Guests: 16
Crew: 11
* * *
Related links:
Christensen Yachts
Photo: christensenyachts.com