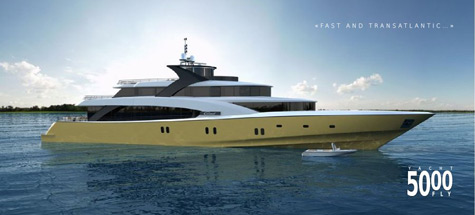 Since the year 1895 the Chantier Naval Couach (CNC) has built a worldwide reputation for building some of the most luxurious of yachts in all the industry. With an agency and showroom in Cannes the French company continues to serve discerning clients who wish to experience the entire yacht making process from start to finish. One such notable project is the Couach 5000 Fly superyacht, collaboration between CNC and renowned interior designer Jean Pierre Fantini.
The Couach 5000 Fly will be equipped with the very latest in state of the art equipment to give owners and guests all of the best possible comforts and amenities. The superyacht will feature two Portuguese bridges located in the wheelhouse for maneuvers, accommodations for up to a 6.50 meter tender, a garage for jet skis and all cabins will be equipped with a high fog fire fighting system for added safety.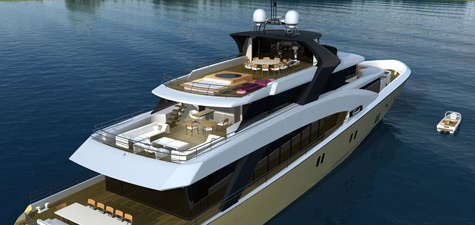 Able to cross the Atlantic Ocean in just 10 days, the Couach 5000 Fly will be capable of reaching an impressive speed of 30 knots thanks to its first of its kind construction. The entire hull and superstructure of the yacht is reinforced with glass Kevlar carbon, which increases its durability, makes it lighter than yachts of similar sizes, and gives it the ability to cut effortlessly through the ocean waters.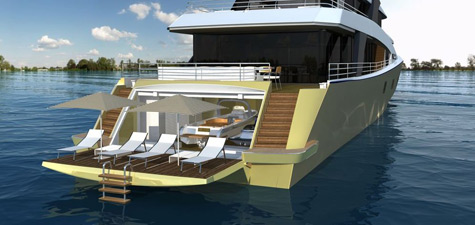 The 50 meter Couach 5000 Fly superyacht will also be able to cruise at speeds of 12 knots with a transatlantic range of 4,000 nautical miles.
Couach 5000 Fly Specifications at a Glance:
Overall length: 49.50 m
Hull length: 49.00 m
Beam: 9.30 m
Draught: 2.60 m
Light displacement: about 260 tons
Fuel capacity: 30,000 l
Extra capacity tanks for transatlantic range: 35,000 l
Fresh water capacity: 8,000 l
Holding tank: 1,500 l
Grey Water capacity: 1,500 l
2 x MTU 20 V 4000 M93 5300 HP
2 x MTU 20 V 4000 M93 LP 5800 HP
* * *
Related links:
Chantier Naval Couach
Jean Pierre Fantini
Photo: couach.com