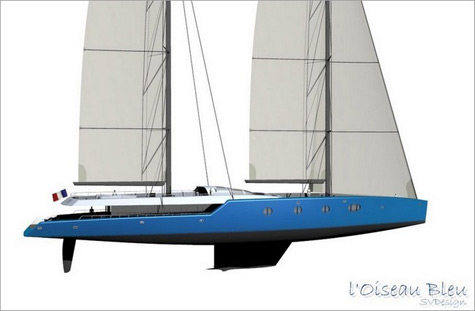 Sylvian Viau from SV Design presented new sailing yacht concept Oiseau Bleu. The new ketch will be ideal for sailors keen on big boats with a deck arrangement close to racing maxis, but with all comfort at anchorage.
Oiseau Bleu consists of three decks. The aft part of the top deck is intended for sailors and has a helm and winches for main sails and genoa. There is also a small deck saloon under the mizzen. The Middle deck offers a sun area.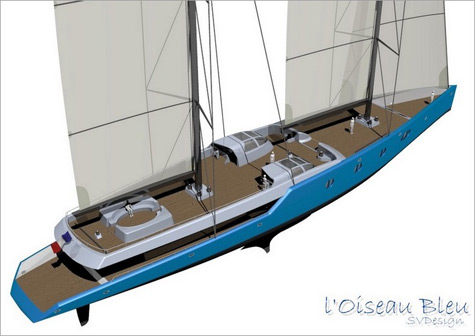 The main deck is fully used as a sleeping and living area. The owner's suite occupies forward part and has panoramic portholes on ship sides and top windows oriented forward to give more natural lighting.
The galley and the wardroom are sheltered under the aft superstructure. They are located in the aft part while two or three VIP cabins are located in the middle. Aft deck offers large sun area which can be used to store tenders.
The lower deck is dedicated for crew quarters and different technical rooms.
At the first look the design of Oiseau Bleu seems to be simple, but it is not. The yacht has a sort of "dynamic" hull. This hull can provide a very good "grip" upwind, and this allows to reduce appendage wetted area.
* * *
Related links:
SV Design
Photo: sylvain.viau.free.fr