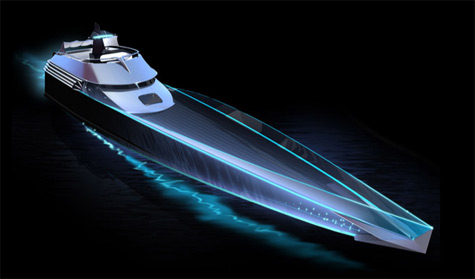 UK yachting company Weyves presents the Couture collection of superyachts, designed by the world's most renowned fashion designers. The first superyacht in the Couture collection is the Gentry Eagle (GE112).
The Gentry Eagle, the fastest yacht in the world, is reborn through the vision and tremendous creativity of internationally acclaimed French fashion and perfume designer, Thierry Mugler.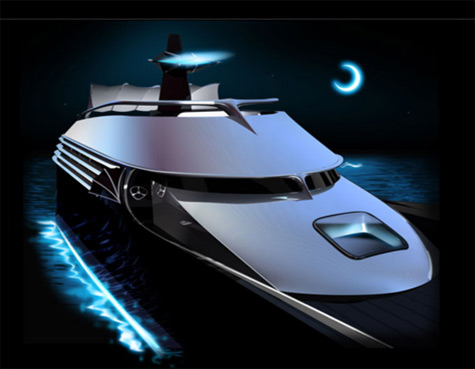 The superyacht was originally built in 1988 by racing legend Tom Gentry. The 34.1 metres boat has a top speed of 63 knots. Thierry Mugler was working on the project in close cooperation with Weyves Yachts interior designer Eva Cadio.
"Blue is the colour of the intangible", Thierry Mugler explained, why the main colour of the new superyacht is blue,  "Blue is the colour of imagination, the colour of the intangible and the unpredictable."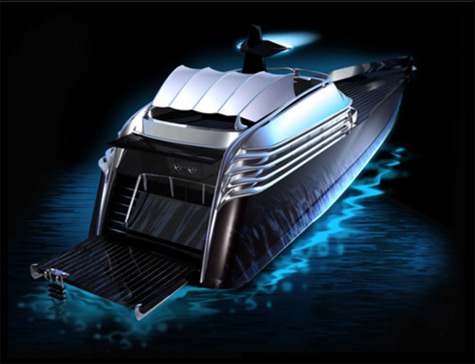 Gentry Eagle is not the only yacht in the Couture project. Several more superyachts will undergo certain changes. Weyves has partnered with Agent de Luxe President Donald Potard who represents over 80 of the world's leading fashion and interior designers including Jean Paul Gaultier to coordinate these enviable pairings.
The delivery of each unique superyacht is presented with a ceremony and a fashion show.
Specification of the GE112:
Length: 34,1m
Beam: 7,3m
Max Speed: 63 knots
Engine: 2×3480 HP MTU + 4500 HP Turbine
Hull: Aluminium
Cabins: 2
Built: 1988 by Vosper Thonycroft Ltd
transformed in 1992 – Designer: Peter Brikett
Interior design: Thierry Mugler
Exterior design: Weyves couture by Thierry Mugler
* * *
Related links:
Weyves
Thierry Mugler
Photo: weyves-couture.com