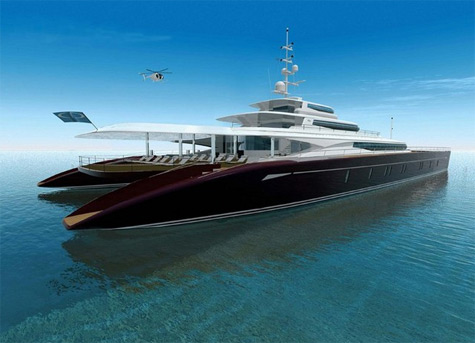 Coste Design & Partners and Blue Coast Yachts created concept of the new giant catamaran. The Event Cat is 62 metres (203 feet) long and has the superwide beam.
Designed by Jean-Jacques Coste and Blue Coast Yachts, the catamaran will be made from high-grade, light weight composite materials, such as Kevlar, Carbon and Epoxy Resin. These highly recyclable materials provide extraordinarily strong and light structures and increased lifespan of the boat.

Jean-Jacques Coste said: "We are currently developing low emission propulsion with hybrid and fuel cell solutions. We believe these technologies will provide the cleanest, most cost-efficient methods of generating power and weight distribution without loss of speed. We strive to minimize our carbon imprint."
The company that commissioned the design was looking to market the concept as a charter yacht suitable for large parties and events. The new catamaran will satisfy all requirements. The Event Cat's beam features a helipad, swimming pools, home cinemas, diving equipment chambers and large entertainment spaces indoors.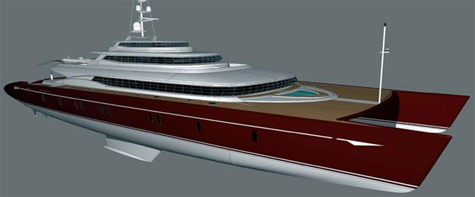 The interiors of the Event Star are light and spacious. The interior accommodations can be customized according to the owner's wishes: dual level loft arrangements can be easily transformed in the full width master cabin or three generous guest suites.
Specification of the Blue Coast 203 Event Cat:
Lenght LOA: 62 m/203′
Lenght WL: 22 m/72′
Construction: Sealium marine aluminium
Propulsion: Diesel-electric
Architecture/Design: Coste Design & Partners
* * *
Related links:
Coste Design&Partners
Photo: costedesign.com