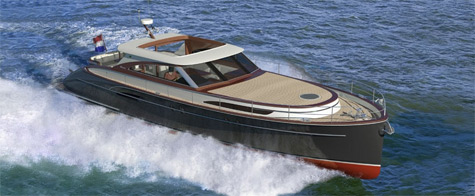 Mulder Shipyard finished the first hull of the Mulder Favorite 1500 and has started the construction of the first Mulder Favorite 1400.
Mulder Shipyard was established in 1938 by Dirk Mulder. The yard has decided to breathe new life into the Mulder Favorite to celebrate the 70th anniversary. Originally introduced in the 1950s, an all-new aluminium version will be launched in 2010 and be produced in a limited edition.
Mulder Favorite will be available in three types – 1400, 1500 and 1600. All models will be developed in close cooperation with Guido de Groot and Vripack Naval Architects.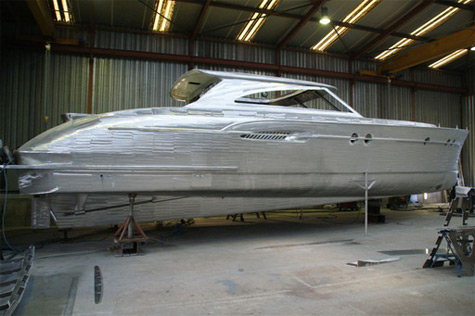 The Mulder Favorite 1500 will be available with a round bilge hull or a chine shaped hull with a conventional propeller shaft system. The yacht will be powered from 2x 150 hp to 2x 435 hp Volvo motors according to the owner's wishes. The top speed varies from 12 to 27 knots. The materials, colours and detailing are chosen on the basis of the customer's personal wishes.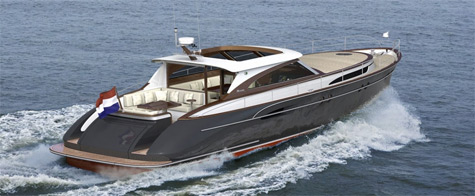 The interior layout of the Favorite 1500 is well thought through. The wheelhouse is spacious and consists of a large seating area with a table. The kitchen is located one level below and has all necessary equipment.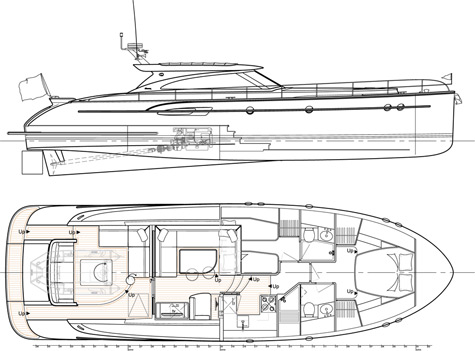 Specification of the Mulder Favorite 1500:
Length: 15.00 metres (hull), 15.60 metres (total)
Beam: 4.70 metres
Draught: 1.20 metres
vertical clearance: 2.70 metres
Top speed: 12-27 knots ( depends choosen engine)
Displacement: ca.18 tons
Diesel: 1.500 litres
Water: 720 litres
Black water: 600 litres
Naval architect: Vripack
Design: Guido de Groot / Mulder Shipyard
Interior design: Guido de Groot / Mulder Shipyard
The Mulder Favorite 1400 will be available with round bilge hull or a chine shaped hull with spray rails. The yacht will be giving a top speed of approximately 35 knots when powered by 2x Volvo IPS 600 435 Hp.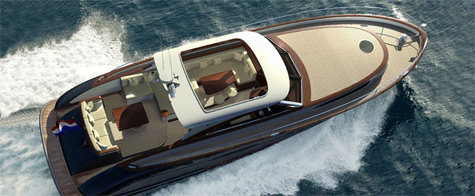 The new Mulder Favorite 1400's interior is spacious and light. Port side has a cabin for two people in the fore-part of the ship with a large double bed measuring 2.00m x 1.60m. The spacious restroom area is located on the starboard side next to the kitchen. The steering position has an excellent view over the ship's bow.
Specification of the Mulder Favorite 1400:
Length: 14.00 metres (hull), 14.50 metres(total)
Beam: 4.70 metres
Draught: 1.20 metres
Vertical Clearance: 2.70 metres
Top speed: 12-35 knots ( depending enginechoice)
Displacement: 18 tons
Diesel: 2.500 litres
Water: 720 litres
Black water 640 litres
Naval architect: Vripack
Design: Guido de Groot / Mulder Shipyard
Interior design: Guido de Groot / Mulder Shipyard
* * *
Related links:
Mulder Shipyard
Vripack
Guido de Groot
Photo: jachtwerfmulder.nl