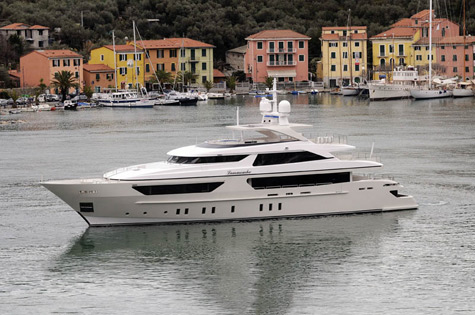 Italian yacht builder Sanlorenzo has recently launched the latest addition to their impressive portfolio, the new 44 meter Steel, a tri-deck yacht made with an aluminum superstructure and a steel hull, a very first for the builder.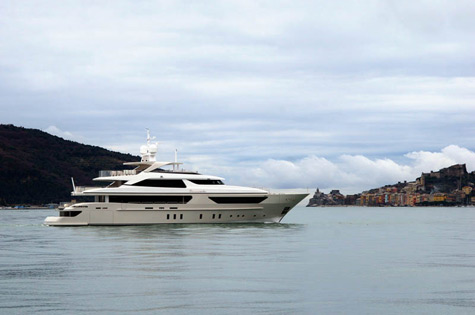 Powered by two CAT 3512B engines, the Sanlorenzo 44 Steel is capable of maximum speeds of up to 17 knots and a cruising speed of 15 knots. Weighing in at just under 500 tons in order to meet SOLAS (Safety of Life at Sea) standards, the 44 Steel's most notable feature is its extra deck located below the lower deck, a feature that hasn't yet been seen on a yacht of this size.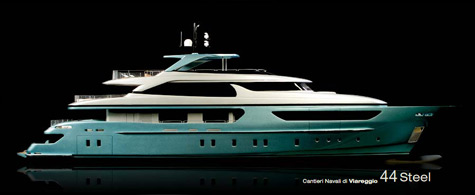 Beyond its performance, the Sanlorenzo 44 Steel offers a spacious interior with plenty of light, multiple amenities, and also a distinctive, elegant exterior design. The large stern area features a beach club consisting of gym and spa equipment and its own bathroom along with a separate bathing platform directly opposite of the beach club.

The beach club is easily accessed two different ways, either via a stairway near the cockpit or inside the yacht's saloon, allowing for entry from the main deck. The 44 Steel's upper deck houses the guest cabins which are purposely and quietly situated away from the yacht's inner workings.





The engine room of the Sanlorenzo 44 Steel has its own separate entry allowing the captain private access without disturbing guests. A rather unique feature seen on a boat of this size is its underneath lower deck, located, obviously, below the lower deck. This part of the yacht features an ample sized central tunnel which runs the entire length from stern to bow to allow for easy maintenance. The tunnel also includes service areas with three washing machines and three dryers, an ironing board, cold storage rooms, refrigerator and freezer.
The yacht's technical equipment such as its stabilizer fins and bow thruster are also housed on its lowest deck. And, the 44 Steel also features a tender garage with a large door starboard side that can house a tender as large as twenty feet long.
Sanlorenzo 44 Steel Specifications at a Glance:
Overall length: 44.0 m
Overal beam: 9.0 m
Moulded depth: 4.8 m
Max draft at full load: 2.5 m
Displacement full load: 345.0 t
Stateroomfor owner and guests: 5 (10 persons)
Crew cabins: 1+4 (9 persons)
Hull: High tensile steel
Superstructure: 5083 aluminum alloy
Engine: 2 CAT 3512B x 2.04 hp
Maximum seed: 17 knots
Cruising speed: 15 knots
Range at cruising speed: 1,900 nm
Range at 12 knots: 4,000 nm
Fuel capacity: 45,000 l
Extra capacity: 60,000 l
Fresh water capacity: 17,000 l
* * *
Related links:
Cantieri Navali Sanlorenzo
Photo: sanlorenzoyacht.com