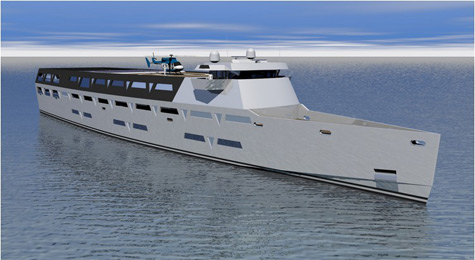 The new, massive 89 meter superyacht concept Private by renowned French designer Sylvain Viau of SV Design is the latest but very different addition to a burgeoning list of innovative concept yachts.

Although Private, upon first glance, appears to be an industrial frigate, with her relatively simple geometric shapes, she is actually designed to save money while still becoming a large, luxurious yacht boasting reasonable building costs. Private also aims to be an environmentally friendly superyacht thanks to its reduced power consumption, which will result from utilizing the very latest in technology including solar power.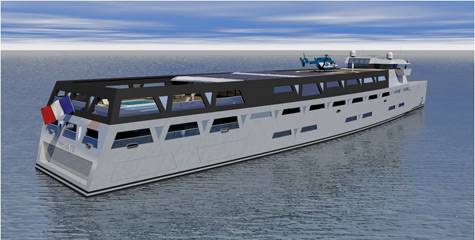 Solar panels will be used aboard the yacht for creating hot water, the "green" air conditioning system is created to be highly efficient, as well as using both diesel and electric generators help to cut down on operating costs.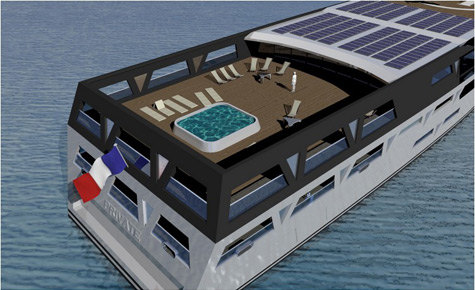 Atop the well organized yacht is an ample helipad along with the adjacent wheelhouse, which dominates the view of the ship. Private's top deck houses the owner's suite which includes a spacious accommodation area that opens up to a sheltered sun deck complete with jacuzzi and large, wide windows. These specially designed windows may give Private her name as they block the outside view of the sundeck and partially obscure the jacuzzi area.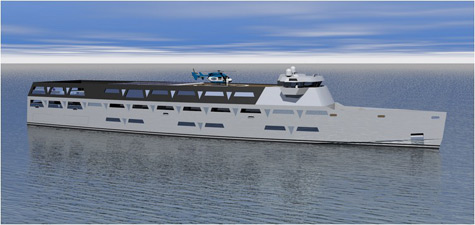 On the main deck of Private you will find the VIP cabins along with its receiving lounges. The lower aft deck houses a lazarette complete with expansive doors that open in three different directions to create a fully equipped bath area.

The lower forward deck of the Private superyacht concept contains the crew's quarters along with all of the boat's technical equipment.
Private Superyacht Specifications at a Glance:
Length : 89.00m
Breadth : 17.00m
Propulsion : diesel electric
Speed : 18kts+
* * *
Related links:
SV Design
Photo: sylvain.viau.free.fr