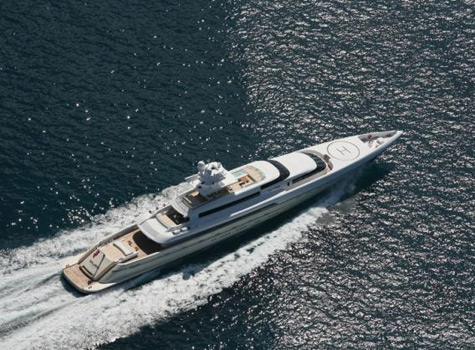 The new Silver Zwei superyacht holds several great distinctions with the first being that it is the world's fastest conventionally powered motor yacht, and second, it is also the longest yacht made from all aluminum measuring in at 73 meters.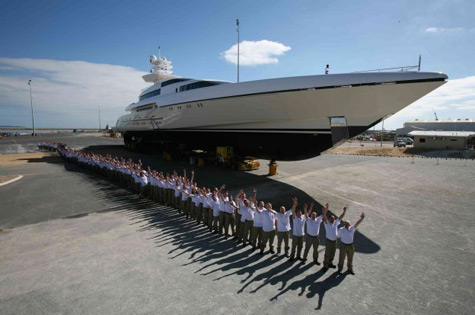 The Silver Zwei continues to make headlines in the yachting world as it will be the largest yacht ever to be on display at the upcoming 2010 Dubai International Boat Show (DIBS) held from March 9 – 13 at the Dubai International Marine Club.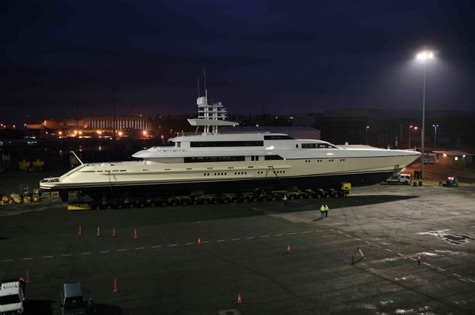 DIBS, which is done by consulting firm BehneMar, a maritime division of Behne Middle Ease Investment Holding, is known around the globe as one of the most prestigious events of its kind, and in its 18 year history, no other boat of this great size has ever made an appearance. This year will feature more than 400 boats including 25 superyachts, but none as large, efficient, or as visually stunning as the Silver Zwei.

Reaching speeds of up to 27 knots, the lighweight, aluminum Silver Zwei is extremely agile while cutting through the waters and is capable of covering over 4,500 nautical miles at speeds of 19 to 22 knots using only 425 liters of fuel per hour.

The Silver Zwei was custom built for Guido Krass, a German entrepreneur and industrialist, by Australian yacht builder Hanseatic Marine. The shipyard is located 30 kilometers south of the city of Perth in the Australian Marine Complex at Cockburn Sound and has frequently been called one of the absolute best marine facilities in the entire world.

Featuring two 85 meter halls for boatbuilding, an interior fit-out shop, a separate engineering hall, and design offices for naval architects, Hanseatic Marine boasts both traditional craftmanship that has withstood the test of time along with the finest of modern technologies and equipment to create aluminum superyachts of superior quality.


The yacht builder also often collaborates with renowned Norwegian superyacht designer Espen Oeino who is responsible for the Silver Zwei's elegant design.


Silver Zwei Specifications at a Glance:
Designer: Espen Oeino
Length overall: 240.5 ft/73.3 m
Waterline Length: 221.5 ft/67.5 m
Beam: 32.8 ft/10.0 m
Draft: 7.8 ft/2.4 m (50% load)
Hull: Aluminium
Superstructure: Aluminium
Displacement: 600 t
Engines: 2 x MTU 16V 4000 M71
Power: 2 x 2465 kW at 2000 rpm
Range: 4,500 nm at 18 knots
Fuel Capacity: 110,000 l
Fresh water: 30,000 l
Berths: 18 Guest/16 Crew
Classification: Lloyds Maltese Cross 100A1, SSC Yacht (P) Mono G6 LMC SOLAS up to 35 passengers
* * *
Related links:
Hanseatic Marine
Espen Oeino International
Photo: hanseaticmarine.eu