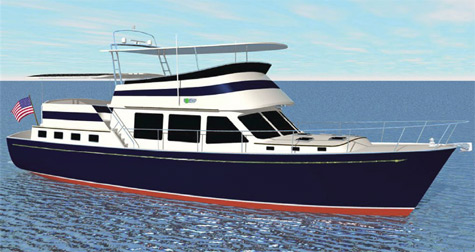 At the Miami International Boat Show 2010 HB Marine and Independence Green Yachts announced the future joint project Independence 60, the world's first "no compromise" sustainable yacht.
The Independence 60 is a new type of motor yacht, developed to be a totally green vessel. The new yacht uses solar and water energy.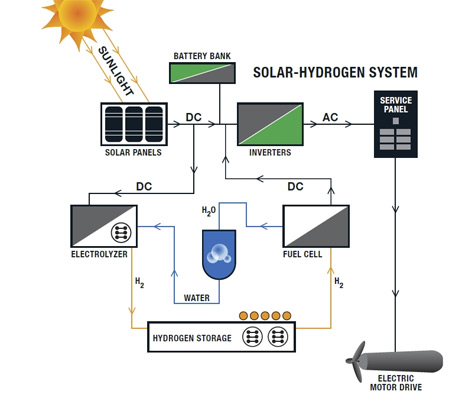 First of all the energy from the Sun is collected with a solar array that is mounted on the top of the boat. Then this energy is sent to the electrolyzer/generator to generate hydrogen and oxygen from filtered water that the vessel is sitting in. The hydrogen is then converted to DC electrical power for further needs. This is the first source of stored energy.
A secondary source of stored energy is a large battery bank that can be charged directly from the solar array or the fuel cell. And a third source of operation is to use the electricity from the solar array to power the propulsion motors or house loads directly.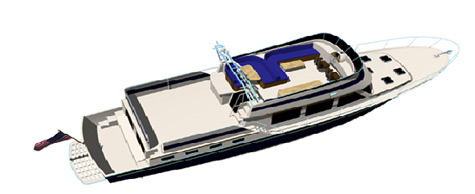 Independence 60 is capable to cruise for extended distances at a good turn of speed in all weather conditions. The specially designed hull is easily driven and provides a top speed much higher than the other vessels of this length.
The hull and superstructure materials are either renewable resources or recycled stuff.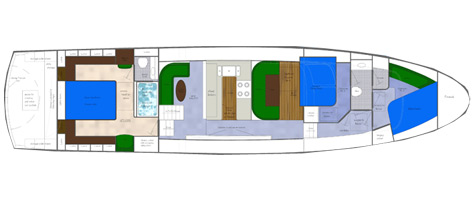 Bruce Wood, Managing Director of HB Marine said:
"The unique design of the Independence 60 effectively integrates the best of clean energy marine power and propulsion technologies, which will open a new era of simple, clean, quiet, reliable and sustainable yachting".
Specification of the Independence 60:
LOA: 59′ 5″
LWL: 53′
Beam: 14′
Draft: 4′
Displacement: 61,000 lbs
(2) 75 KW 480 V AC external azimuthing submersible electric motors
Fuel: Water
Energy source: The Sun
Fresh water: 200 USG
Black water: 84 USG
Grey water: 300 USG
Top speed: 13 knots*
Cruising speed: 8 knots*
Range at cruise: 600 nm*
Range at 6 knots: 1200 nm
* * *
Related links:
HB Marine
Independence Green Yachts
Photo: independencegreenyachts.com