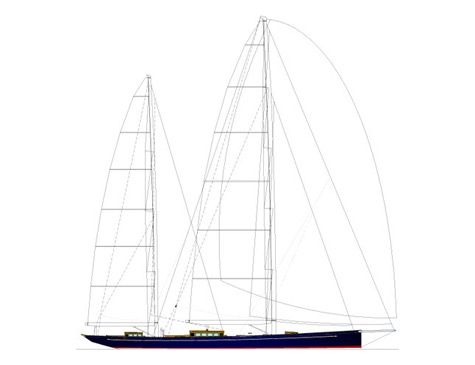 Royal Huisman Shipyard presented the Spirit of Tradition, an elegant 47.8m on deck (53.75m with bowsprit) ketch which offers strong design references to the early working sailers.
The new vessel will be built in collaboration with Dykstra & Partners (naval architecture and styling) and Rhoades Young Design (interiors).
Dykstra & Partners managed to combine classic traditional lines with a lightweight construction for high performance sailing and fast passage making. The Spirit of Tradition ketch features plumb bow, elegant counter stern, gentle sheer, open deck space, neatly-proportioned deckhouses and skylights, above the waterline and a modern, easily driven hull shape below. The new sailing yacht will also have a fully-ballasted lifting keel, deep carbon spade rudder and low wetted-surface areas.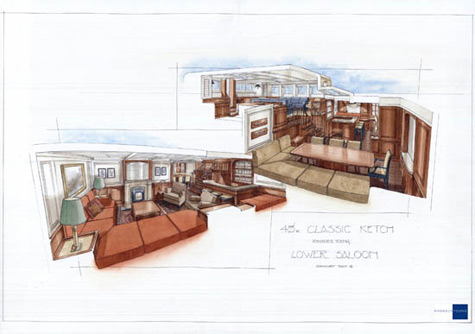 To create perfect interior layouts Rhoades Young have worked closely with the owner. The aim was to design classic interiors, easy to live during the cruise. The main deckhouse containing the upper saloon will flow seamlessly into the lower saloon and dining area to create an open, airy atmosphere.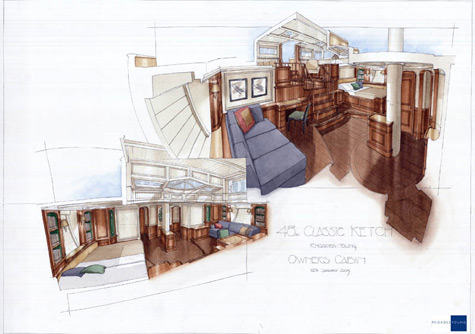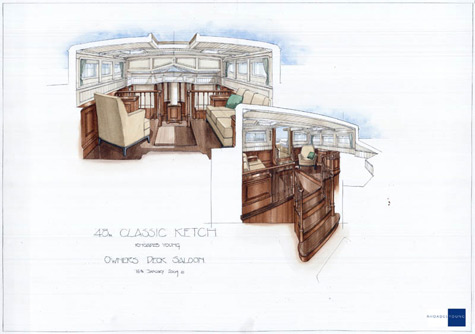 Two guest cabins and the owner's suite will be situated in the aft of the ketch. The Owners cabin has a full beam dimension and a large pitched skylight. The crew cabins will be located in the forward area of the yacht.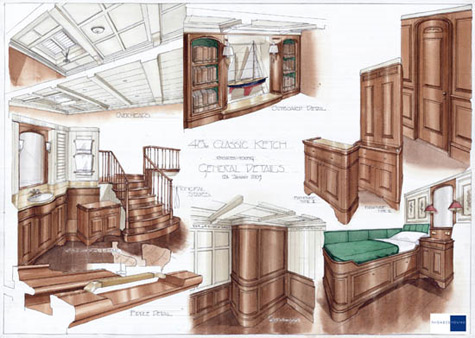 The Spirit of Tradition is a perfect yacht for global cruising and yacht racing regattas. The yacht is scheduled for launch in 2012.
Specification of the Spirit of Tradition:
LOA: 47.85 m/157.00 ft
LWL: 41.22 m/135.24 ft
Beam max.: 9.07 m/29.76 ft
Draft: 6.50 m/19.70 ft
Displacement: 270 tons, fully loaded, half tanks
Hull speed: 15.60 knots
Type: Classic ketch
Designer: Dykstra & Partners Naval Architects
Interior: Rhoades Young Design
Delivery: 2012
* * *
Related links:
Royal Huisman
Rhoades Young Design
Dykstra & Partners Naval Architects
Photo: royalhuisman.com, rhoadesyoung.com