The initial concept of the Shining, a 63 meter semi-custom superyacht was born from two Croatian companies, 2Pixel Design Studio and Navtec Marine who came together to create an innovative idea to take the world of yachting by storm.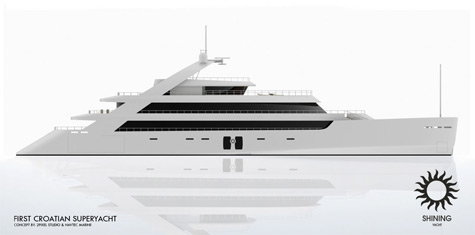 With its modern appearance, the very latest in technology, and the ideal functionality, the Shining aims to provide the ultimate yachting experience. This transoceanic superyacht would be able to deliver speeds of up to 30 knots while accommodating a 20 member crew along with 12 passengers, all of whom would be enjoying the open air decks that gave the yacht her name.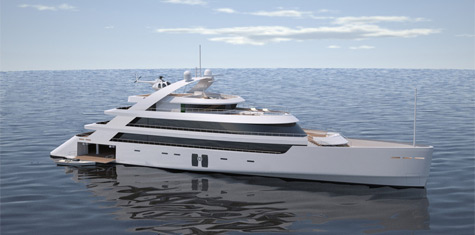 The four decks of the Shining are adorned with glass walls and large windows that add to the open air experience, and all are connected together via an elevator and a circular staircase for quick access all around. The Main Deck of the yacht houses a cinema, dining room, a galley and a saloon, and each of these areas also feature plenty of natural light and open spacing.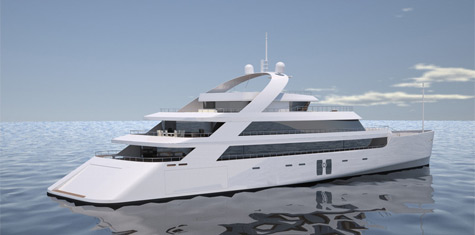 The Owner's Deck is sure to satisfy even the most discriminating of yacht owners as it epitomizes both luxury and convenience. Home to a large bedroom with a full bath complex, a private dining room and lounge area, an office, and even an equipped gymnasium, the interior Owner's Deck can also be designed completely different from the rest of the yacht to suit the owner's exact tastes.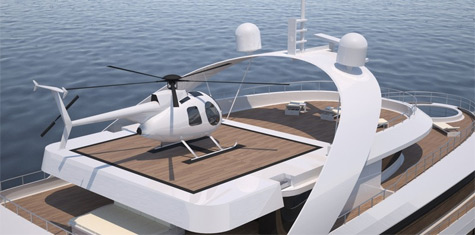 The Shining 63m semi-custom superyacht's spacious VIP apartment also boasts an impressive view of the pool area.
The four guest rooms aboard the Shining will feature sea level windows that reach from the floor to the ceiling and all of the rooms are to be equipped with state of the art bathrooms. Near the guest rooms are ten cabins each with two bunk beds as well as a common mess hall area for the crew members.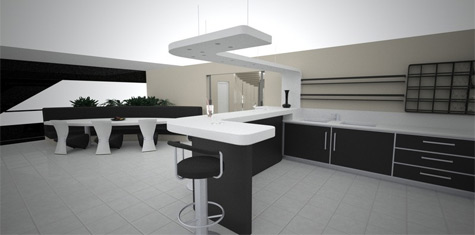 On the uppermost closed deck lies the Command Deck where the captain on board will have access to all of the yacht's most vital functions. Also situated here is the Captain's Cabin, the radio room, and the boat's sickbay.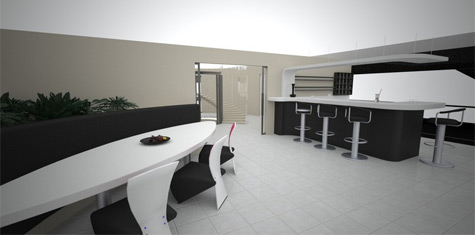 Within the yacht's bilge are the ballast tanks, the engine room, laundry area, storage rooms, and workshop. The engine room alone extends onto the Lower Deck where you will find a garage capable of holding one car and two 7 meter power boats.
If the project comes to fruition and reaches the production stage, the plan is to create the Shining in a Croatian shipyard, ensuring that the designer's wishes of it being an all Croatian yacht are fulfilled.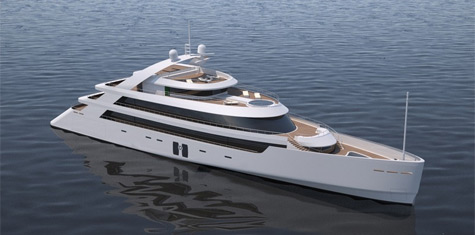 Specifications of the Shining 63m semi-custom superyacht:
Concept: 2Pixel Studio
Technical elements and documentation: Navtec Marine
Interior and exterior: 2Pixel Studio
Yacht typology: motor yacht
Lenght all out: 63 m
Lenght at waterline: 62.10 m
Width: 13.8 m
Material: steel / aluminium
Guests: 12 max charter
Crew: 20 max
Engines: 2 x electro
Max speed: 35 knots
* * *
Related links:
2Pixel Design Studio
Navtec Marine
Photo: 2pixel.hr