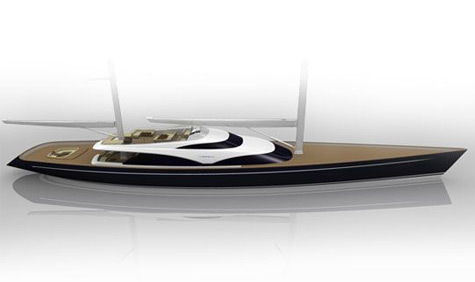 Twizzle is a first  flybridge sailing yacht from Royal Huisman.
The new 57.5m project was created in cooperation with Redman Whiteley Dixon, Todhunter Designers (interiors) and Ed Dubois (naval architecture).
The owners of the ketch took an active part in the designing of the Twizzle by bringing their own ideas (particularly in technology and design) and significant experience to the process, adding challenge and momentum.
Royal Huisman's idea was to create a high-performance sailing yacht with the comfort and amenity of a motor yacht. To achieve this object Dubois have reduced wetted surface and set a swing keel within the 3.8m draft fixed keel. Lightweight composite materials are widely used in the rig and in components above the waterline. The optimized beam and 120 tons of internal ballast secure stiffness and stability.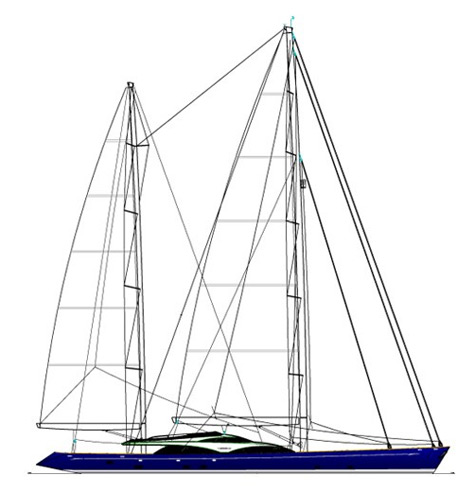 The interiors of the yacht were designed by Justin Redman and Emily Todhunter groups. The owners' and the guests' accommodation is abaft the engine room and a crew cabin is forward. A central dining area and saloon are situated amidships above the engine room with the main galley on a mezzanine deck and the pilothouse on a raised deck.

A strong linear element to the design connects outside areas with the saloon areas and breaks down dimensions between interior spaces. Natural linens, silks and hand painted fabrics create a relaxed and refined atmosphere.
Twizzle will be launched in summer 2010.
Specification of the Twizzle:
LOA: 57.5m (188.64ft)
DWL: 48.99m (160.73ft)
Beam (maximum): 11.58m (37.99ft)
Draft – CB up/down: 3.8m/10.8m (12.47ft/35.43ft)
Displacement: 550 tonnes TBC
Engine: 1 x Caterpillar C32 ACERT – 970kW/1300hp@2100rpm (B-rating)
Construction: Aluminium (ALUSTAR)
Fuel capacity: 44658 lt
Fresh water capacity: 11679 lt
Builder: Royal Huisman Shipyard
Naval Architect: Dubois Naval Architects
Exterior styling: Redman Whiteley Dixon
Interior styling: Redman Whitely Dixon
* * *
Related links:
Royal Huisman
Redman Whiteley Dixon
Todhunter Designers
Ed Dubois
Photo: royalhuisman.com, rwd.co.uk