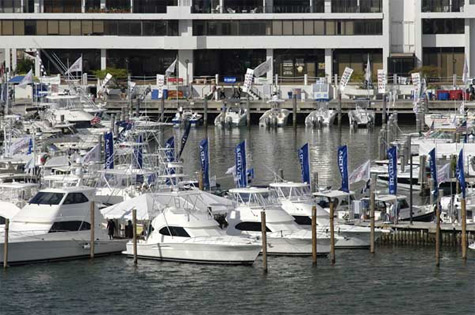 The 69th annual Miami International Boat Show & Strictly Sail Miami starts on the 11th of February and will run until the 15th of February 2010. There you will find everything from sportfishers, sailboats and megayachts to engines and the newest electronics.
Tens of thousands of visitors visit the Show every year. More than 2,000 exhibitors from around the world fill the Miami Beach Convention Center and Sea Isle Marina & Yachting Center with thousands of boats and hundreds of booths showcasing the latest gear and accessories.
Miami International Boat Show 2010 will feature many premieres and special events.
If you are interested in the big boats, you should go to the Sea Isle Marina then head over to Bayside Marina (free water taxi is available). You will find some of the largest sailboats and catamarans featured at the show: Lagoon, Leopard, Prout, Seawind Catamarans.
Two legendary performance brands, Mercedes AMG and Cigarette Racing Team will unveil a custom Cigarette boat and SLS AMG, on Thursday, February 11, 2010. The display of both the Cigarette boat and SLS AMG will be open to the public from Friday morning, February 12 through Monday, February 15, 2010.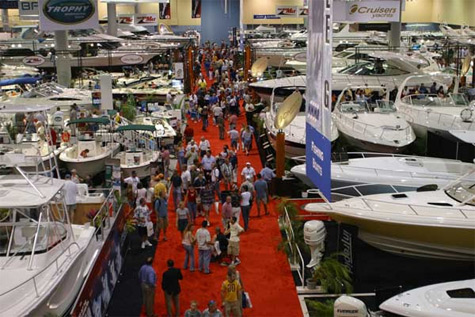 Venture Marine will reveal the new Venture 39' – comfortable and safety boat with the ability to customize it to the owner's wishes.
Marlow Yachts, first time at the Miami International Boat Show, will introduce a series of new yachts rendering today's heavy displacement cruisers obsolete in form, function, capability and style.
Another debut at the 2010 Show is Phenomenon II, the fastest vessel in the world. This boat was built to break the world's propelled speedboat record of 220.5 mph.
"With thousands of products to choose from in one of the best boating destinations, the Miami International Boat Show is the destination to find out why life is better with a boat, continuing to give boaters something for every lifestyle and budget", - said Cathy Rick-Joule, vice president of southern shows.
Show information:
Location:
Miami Beach Convention Center
1901 Convention Center Drive, Miami Beach
Sea Isle Marina & Yachting Center
1635 North Bayshore Drive, Miami
Show hours:
Thursday, Feb. 11 (Premier Thursday): 10 a.m.-6 p.m.
Friday, Feb.12-Sunday, Feb.14: 10 a.m.-8 p.m.
Monday, Feb.15: 10 a.m.-6 p.m.
Admission:
Premier Day (Feb. 11): $30
Adults: $16
Two-day adult pass (valid Feb. 12-14): $30
Five-day adult pass (valid Feb. 11-15): $75
Youth (ages 13-15): $6.00
Children under 12 get in free
* * *
Related links:
Miami International Boat Show
Photo: miamiboatshow.com