Andrew Winch began his career in designing pleasure boats and yachts with his wife, Jane in 1986. Andrew Winch Designs has grown and gained national attention for the persuasive way that he has with bonding nature and people together with breathtaking models that are considered Custom by Andrew Winch.
The motor yacht Carcharias Pershing 115 is one of the latest in Winch's presentation of a complete authentic design. Created for speed and a state of the art computer controlled lighting system, the Carcharaias stands up to it name with respect of the swift moving shark. Unlike the sleek underwater torpedo, though, the Carcharaias, which is a baby white shark, will leave the shark on the sandbank at amazing 52 knots.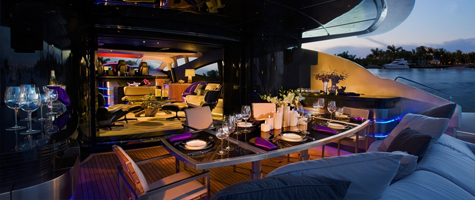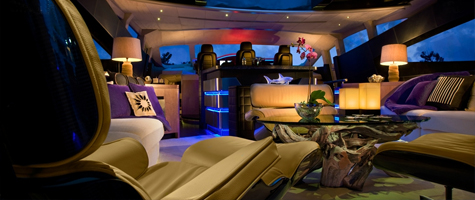 The luxurious semi-yacht does not just represent a James Bond speed but also the inclusive class and style that only a Custom Winch can possess. With the silver tipped nose and eye-like windows roaring through the seas, people stop and stare as the Carcharaias Pershing 115 takes command of the open water while wondering who is aboard such a marvel.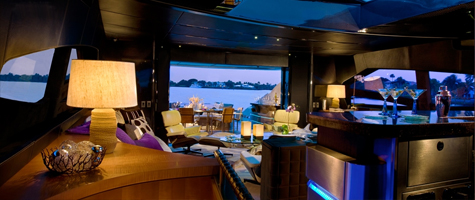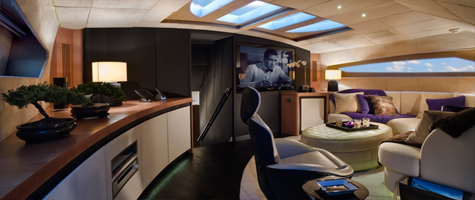 Inside, no eminence is left out. The flexible sliding roof is said to be the quickest opening with the touch of a switch. A rare multi-colored lighting system brings life to any section of the boat whether inside or out. The outdoor bar is a delight to sit at and relish the nature that surrounds you. Never at a loss for just the right flair of light for nighttime pleasure, the Carcharaias also has oversized windows to catch the moon's beam on clear evenings.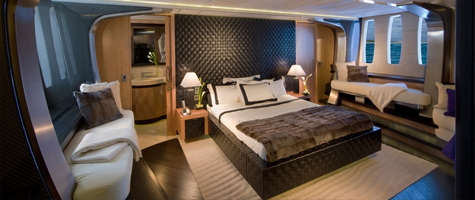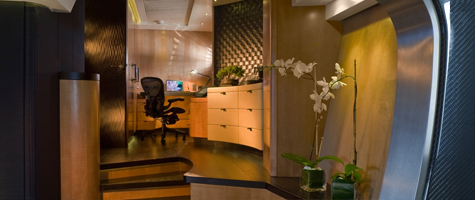 The 116-foot cruiser has premium leather and metallic stripping that outline the wood interior that is highlighted with dark, luscious colors. The Carcharias extends the outdoors theme with the area below but adding comfort as foremost. Prepare for a climate of the most up to date modern living with a giant stateroom below, a private office and two guest suites. Short-listed for the Andrew Martin 2009 Awards and featured in Architectural Digest of January 2010, the Carcharaias Pershing 115 is a dream come true.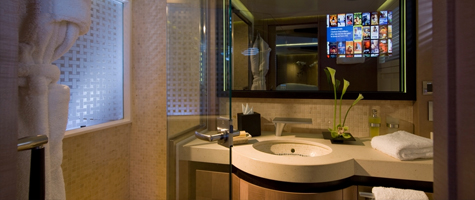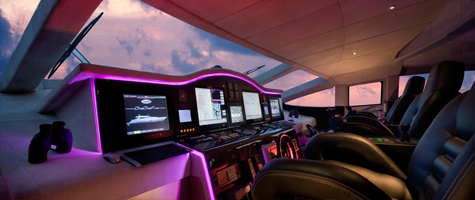 A full galley kitchen in white and featuring stainless steel and bright blue countertops makes you feel right at home. A modern bathroom and separate sink and makeup area extend off of the lounging area that is complete with modern stereo and sound system and a huge wall mounted flat screen TV. Skylights allow for the sunshine to pour into the living area, never being away from natural elements.
Adventurous, fast, luxurious and a beauty to withhold at night with high technology lighting, no guest will be left wondering if there is any other model worth visiting.
Specification of the Carcharaias:
Based concept: Pershing 115
Length Overall: 35.37 m/116.04 ft
Length Waterline: 28.04 m/91.99 ft
Beam: 7.20 m/23.62 ft
Draught Max: 1.44 m/4.72 ft
Hull Material: GRP
Superstructure: GRP
Gross Tonnage: 189
Displacement: 140
Engine: 2xMTU 16V 4000 M90
Total HP: 7,400
Total KW: 5,518
Max Speed: 41 kts
Cruise Speed: 37 kts
Range: 480
Propulsion: Twin Waterjets
Fuel Capacity: 16,500 l/4,359 gls
Water Capacity: 3,000 l/793 gls
* * *
Related links:
Andrew Winch Designs
Photo: andrew-winch-designs.co.uk