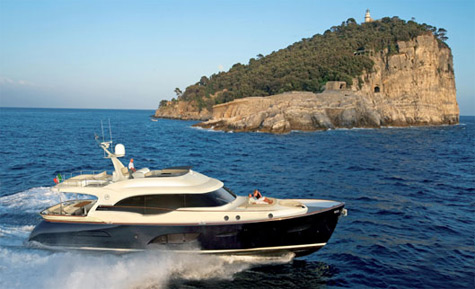 Mochi Craft, a brand of Ferretti Group presents the innovative project of the new planning line flagship, Dolphin 74' Cruiser. The new motor boat satisfies the most exacting demands of the strictest clients.
Dolphin 74' Cruiser was designed by architect Brunello Acampora from Studio Victory Design, in close collaboration with Norberto Ferretti and the AYT (Advanced Yacht Technology) and combines the elegant shapes of the hull and the typically maritime taste of the interiors.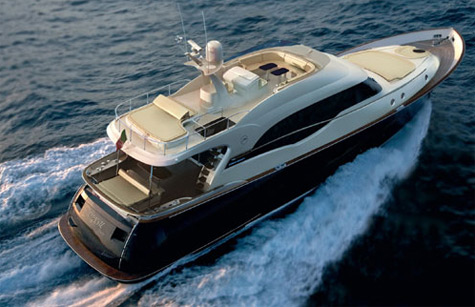 The new vessel has four distinctive features: the new concept for the flybridge, which extends to cover the entire cockpit and offers new open-air spaces; the main bridge, split into two comfortable, separate areas – lounge and dining; a spacious, separate galley providing access to the crew area, enabling the crew to move freely from the service areas to the garage, through the engine room, thus protecting the owner's privacy; a sophisticated, elegant design which brings together history and innovation.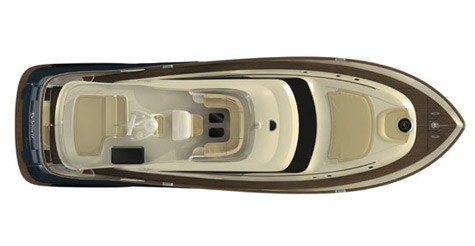 The cockpit is is completely shaded by the flybridge and is very spacious, featuring a large fixed table, three folding armchairs and a comfortable bench sofa which can be transformed into a sundeck.

The surface area of the Upper Deck (about 20m) is unfolded between the salon, the luncheon area, with a separate galley, pilot station and dinette. The galley is isolated from the living area be means of a wall with a sliding door.
The pilot area is completely isolated. The helm station features an integrative navigation system, HD radar, Gi8 monitoring system with touch screen display, "Autotroll" and "EasiDock" SmartCommand functions.

The lower deck is intended for the sleeping area and features spacious and light master suite, the VIP cabin, tree guest cabins and a crew area. There is also a utility room, located astern. This room is for storing both diving equipment, and items which are necessary for mooring operations.
Dolphin 74' Cruiser is powered by twin, last generation 1550 HP MAN Common Rail engines, which drive the yacht to a cruise speed of 28 knots and a top speed of 31.5. On-board comfort and stability are guaranteed by the Deep V hull, with variable geometry and an average deadrise of 19° with spray rails.
* * *
Related links:
Mochi Craft
Studio Victory Design
Photo: mochicraft-yacht.com