Boat International Media is delighted to present the finalists for the World Superyacht Awards 2010. Over 100 nominations were received for the 5th edition of the World Superyacht Awards. Boat International Media's editors studied each individual nomination for two days and refine the list to a group of outstanding finalists.
The resulting Finalists will be judged under the scrutiny of jury which is composed of 13 seasoned superyacht owners and two industry professionals.
The 5th Annual World Superyacht Awards will take place on Saturday 22nd May 2010 at London's Guildhall.
World Superyacht Awards 2010 Finalists:
Best Displacement Motor Yacht of 1,300GT and above (approx. 60-85m+)
Name: Northern Star
Length: 75.40m
Builder: Lürssen Yachts
Naval Architect: Lürssen Yachts
Exterior Styling: Espen Oeino
Interior Design: Pauline Nunns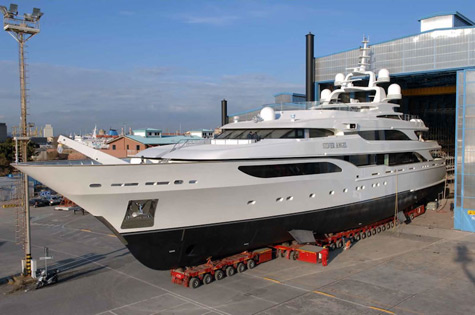 Name: Silver Angel
Length: 64.50m
Builder: Benetti
Naval Architect: Benetti
Exterior Styling: Benetti
Interior Design: Argent Design
Name: Trident
Length: 65.22m
Builder: Feadship – Royal van Lent
Naval Architect: De Voogt NA
Exterior Styling: Donald Starkey
Interior Design: Donald Starkey
Name: Vibrant Curiosity
Length: 85.47m
Builder: Oceanco
Naval Architect: Oceanco
Exterior Styling: Nuvolari-Lenard
Interior Design: Nuvolari-Lenard
Best Displacement Motor Yacht of 500GT to 1,299GT (approximately 50m – 62m)
Name: Arkley
Length: 60.00m
Builder: Lürssen Yachts
Naval Architect: Lürssen Yachts
Exterior Styling: Espen Oeino
Interior Design: Mark Berryman
Name: Candyscape II
Length: 61.80m
Builder: Viareggio Superyachts
Naval Architect: Espen Øino
Exterior Styling: Espen Øino
Interior Design: Candy & Candy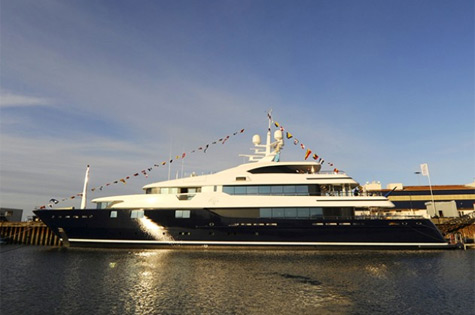 Name: Cloud 9
Length: 60.00m
Builder: CMN
Naval Architect: CMN
Exterior Styling: Andrew Winch Designs
Interior Design: Andrew Winch Designs
Name: Elandess
Length: 60.00m
Builder: Abeking & Rasmussen
Naval Architect: Abeking & Rasmussen
Exterior Styling: Donald Starkey Designs
Interior Design: Bannenberg & Rowell
Name: Hurricane Run
Length: 53.50m
Builder: Feadship – Kon. De Vries
Naval Architect: De Voogt NA
Exterior Styling: De Voogt NA / Terence Disdale Design
Interior Design: Terence Disdale Design
Name: Leo Fun
Length: 53.90m
Builder: Proteksan Turquoise
Naval Architect: Paolo Caliari / Proteksan Turquoise
Exterior Styling: Paolo Caliari
Interior Design: Jean-Guy Verges
Name: Slipstream
Length: 60.00m
Builder: CMN
Naval Architect: CMN
Exterior Styling: Andrew Winch Designs
Interior Design: Andrew Winch Designs

Name: Unity (ex-Addiction)
Length: 52.30m
Builder: Amels
Naval Architect: Amels
Exterior Styling: Tim Heywood
Interior Design: Laura Sessa Romboli / Novolari Lenard
Best Displacement Motor yacht of below 500GT (30m to approximately 49.9m)
Name: Blind Date
Length: 47.00m
Builder: Heesen Yachts
Naval Architect: Heesen Yachts
Exterior Styling: Omega Architects
Interior Design: Keech Green
Name: Kathleen Anne
Length: 39.00m
Builder: Feadship – Kon. De Vries
Naval Architect: De Voogt NA
Exterior Styling: Guido de Groot
Interior Design: Bannenberg & Rowell
Name: Katya
Length: 46.03m
Builder: Delta Marine
Naval Architect: Delta Design Group
Exterior Styling: Delta Design Group
Interior Design: Delta / Jean-Claude Canestrelli
Name: Loretta Anne
Length: 40.00m
Builder: Alloy Yachts
Naval Architect: Dubois Naval Architects
Exterior Styling: Dubois Naval Architects
Interior Design: Donald Starkey Designs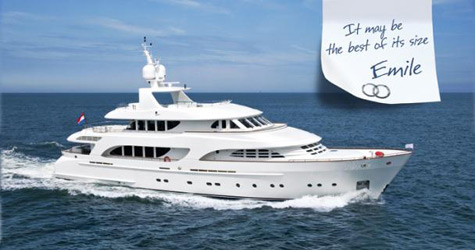 Name: Northlander
Length: 38.16m
Builder: Moonen Shipyards
Naval Architect: Stolk Marimecs
Exterior Styling: René van der Velden YD
Interior Design: Art-Line Interiors
Name: Odessa
Length: 49.50m
Builder: Christensen Yachts
Naval Architect: Christensen Yachts
Exterior Styling: Christensen Yachts
Interior Design: Armani Casa / Lowden & Phillips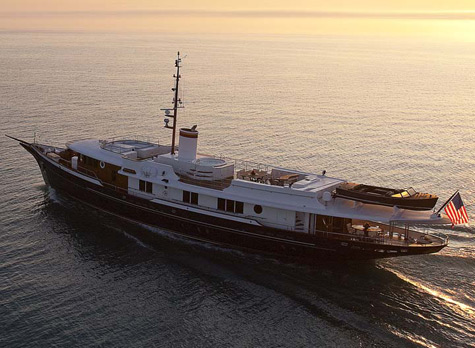 Name: Sycara IV
Length: 46.10m
Builder: Burger Boat Company
Naval Architect: Bruce King / Burger
Exterior Styling: Burger Design Team
Interior Design: Ken Freivokh / Burger
Best Semi-Displacement or Planing Motor Yacht in the 40m+ size range
Name: Blind Date
Length: 48.90m
Builder: Trinity Yachts
Naval Architect: Trinity Yachts
Exterior Styling: Trinity Yachts / Owner
Interior Design: Patrick Knowles
Name: Blink
Length: 41.00m
Builder: Cantieri di Pisa
Naval Architect: Cantieri di Pisa
Exterior Styling: Carlo Galeazzi
Interior Design: Cristiano Gatto
Name: Celestial Hope
Length: 47.00m
Builder: Heesen Yachts
Naval Architect: Heesen Yachts
Exterior Styling: Omega Architects
Interior Design: Intarya
Name: Cover Drive 2
Length: 41.10m
Builder: Palmer Johnson
Naval Architect: PJ Engineers
Exterior Styling: Novolari-Lenard
Interior Design: Novolari-Lenard
Name: Flying Dagger
Length: 41.00m
Builder: Cantieri Navali Codecasa
Naval Architect: Andre Bacigalupo
Exterior Styling: Andre Bacigalupo
Interior Design: Studio Porfiri
Name: Miss Michelle
Length: 40.00m
Builder: Westport
Naval Architect: W. Garden / Taylor Olson
Exterior Styling: Taylor Olson/Westport
Interior Design: Westport
Name: My Petra
Length: 44.00m
Builder: Heesen Yachts
Naval Architect: Heesen Yachts
Exterior Styling: Heesen Yachts / Omega Architects
Interior Design: Omega Architects
Name: TaTii
Length: 40.50m
Builder: Tamsen Yachts
Naval Architect: TSMM
Exterior Styling: TSMM / Tamsen Yachts
Interior Design: Julia Tamsen
Best Semi-Displacement or Planing Motor Yacht in the 30m to 39m size range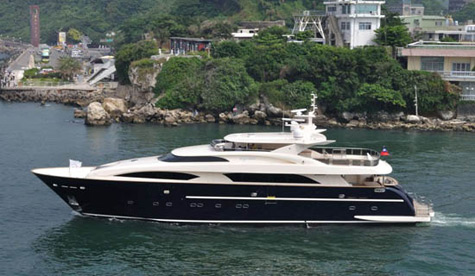 Name: Espresso
Length: 37.18m
Builder: Horizon Group / Drettmann
Naval Architect: Horizon Yacht
Exterior Styling: JC Espinosa
Interior Design: Guido de Groot Design
Name: Evil Zana
Length: 38.62m
Builder: Sunseeker International
Naval Architect: Sunseeker International
Exterior Styling: Sunseeker International
Interior Design: Design Unlimited
Name: FX
Length: 37.19m
Builder: Sanlorenzo
Naval Architect: Sanlorenzo
Exterior Styling: Francesco Paszkowski
Interior Design: Francesco Paszkowski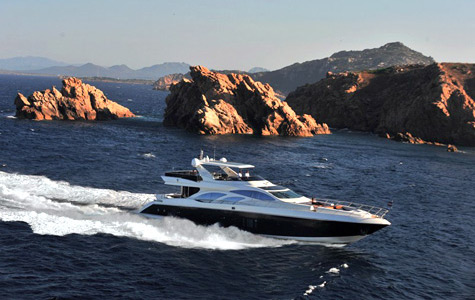 Name: Leonardo
Length: 30.75m
Builder: Azimut Yachts
Naval Architect: Azimut Yachts
Exterior Styling: Righini Designs
Interior Design: Azimut Yachts
Name: Musa
Length: 36.20m
Builder: AB Yachts
Naval Architect: AB Yachts
Exterior Styling: AB Yachts
Interior Design: AB Yachts
Name: Nena
Length: 36.13m
Builder: Cantieri di Pisa
Naval Architect: Cantieri di Pisa
Exterior Styling: Carlo Galeazzi
Interior Design: Cantieri di Pisa
Name: Phoebe
Length: 30.15m
Builder: Moonen Shipyards
Naval Architect: Stolk Marimecs
Exterior Styling: René van der Velden YD
Interior Design: Rhoades Young
Name: Toby
Length: 31.10m
Builder: Cerri Cantieri Navali
Naval Architect: Cerri Cantieri Navali
Exterior Styling: Cerri Cantieri Navali
Interior Design: Arch. Mariangela Calisti
Best Sailing Yacht in the 45m+ size range
Name: Baracuda
Length: 50.00m
Builder: Perini Navi
Naval Architect: Perini Navi / Ron Holland Design
Exterior Styling: Perini Navi
Interior Design: John Pawson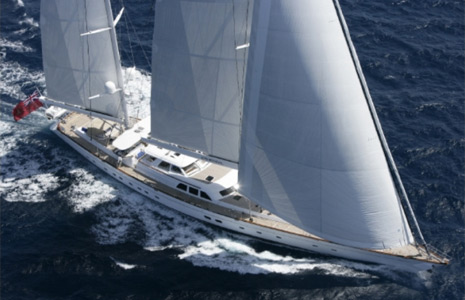 Name: Ethereal
Length: 58.04m
Builder: Royal Huisman
Naval Architect: Ron Holland Design
Exterior Styling: Pieter Beeldsnijder Design
Interior Design: Pieter Beeldsnijder Design
Name: Nazenin V
Length: 52.00m
Builder: RMK Shipyard
Naval Architect: Sparkman & Stephens
Exterior Styling: Sparkman & Stephens
Interior Design: Redman Whiteley Dixon
Name: Riela
Length: 56.00m
Builder: Perini Navi
Naval Architect: Perini Navi / Ron Holland Design
Exterior Styling: Perini Navi
Interior Design: Rémi Tessier
Name: Salperton IV
Length: 45.07m
Builder: Fitzroy Yachts
Naval Architect: Dubois NA
Exterior Styling: Dubois NA
Interior Design: Adam Lay
Best Sailing Yacht in 30m to 44m size range
Name: Bliss
Length: 36.80m
Builder: Yachting Developments
Naval Architect: Dubois NA
Exterior Styling: Dubois NA
Interior Design: Design Unlimited
Name: Chrisco
Length: 30.48m
Builder: CNB
Naval Architect: Luca Brenta
Exterior Styling: Luca Brenta
Interior Design: Wetzels Brown Partners
Name: Cinderella IV
Length: 39.00m
Builder: Vitters Shipyard
Naval Architect: Tripp Design NA
Exterior Styling: Tripp Design NA
Interior Design: Donald Starkey Designs
Name: Hanuman
Length: 42.10m
Builder: Royal Huisman
Naval Architect: G Dykstra & Partners
Exterior Styling: G Dykstra & Partners
Interior Design: P Beeldsnijder Design
Name: Indio
Length: 30.50m
Builder: Wally Yachts
Naval Architect: German Frers
Exterior Styling: Wally Yachts
Interior Design: Wally Yachts
Name: Jazz Jr.
Length: 32.89m
Builder: Makinel Construction Co Inc
Naval Architect: Hoek Design
Exterior Styling: Hoek Design
Interior Design: Hoek Design / Owner
Name: Liara
Length: 32.00m
Builder: Southern Ocean Marine
Naval Architect: Dixon Yacht Design
Exterior Styling: Dixon Yacht Design
Interior Design: Dixon Yacht Design
Best Refitted Yacht
Name: Freedom
Length: 31.70m
Refit Yard: McMillen Yachts
Naval Architect: John Trumpy
Interior Design: Elizabeth McMillen Designs
Name: Juliet
Length: 43.58m
Refit Yard: Royal Huisman
Naval Architect: Ron Holland Design
Interior Design: P Beeldsnijder Design
Name: Necker Belle
Length: 32.00m
Refit Yard: Azzura Shipyard
Naval Architect: One2three NA
Interior Design: J Duddington / Azzura
Name: Pegasus
Length: 52.25m
Refit Yard: Feadship-De Vries
Naval Architect: De Voogt NA
Name: Shenandoah of Sark
Length: 44.20m
Refit Yard: Orams Marine Services
Naval Architect: Orams Marine Services
Interior Design: Theodore Ferris
Name: William Tai
Length: 40.68m
Refit Yard: Royal Huisman
Naval Architect: Ted Hood Design Group
Interior Design: Andrew Winch Design
* * *
Related links:
World Superyacht Awards
Foto: worldsuperyachtawards.com