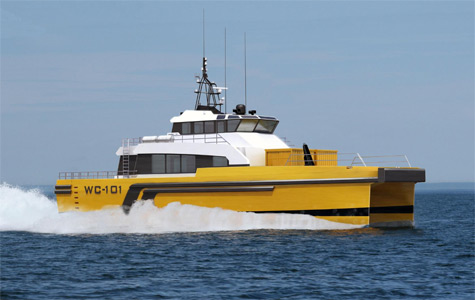 Vripack revealed plans for a high speed catamaran, named the Windcat MK4. This catamaran is going to be different than most products designed by this company and assigned by Windcat Workboats. Instead of being mostly for millionaires, and charter services, this model will used as a work horse to transport crew and supplies to and from off shore facilities. It will be a vital link between land and oil/gas rigs, and ocean wind farms.
The Dutch company Vripack has been a leader since 1961, in full service design. They are an engineering and brokerage firm, specializing in naval architecture. They have always aimed for high standards, and long term relationships with all their customers, whether it is naval yards, other architects and personnel, or those in the private sector. They have designed some of the greatest ships and luxury yachts, including the 138′ Kingship, and the 60M Expedition motor Yacht, just to name a few.
Many different companies have helped in the design and creation of this craft. Both Morrelli & Melvin, as well as Bloemsma & Van Breemen have been working on this high speed catamaran, which is due to be launched sometime in July of this year. Even though this vessel is meant for work, there are still many great things about it.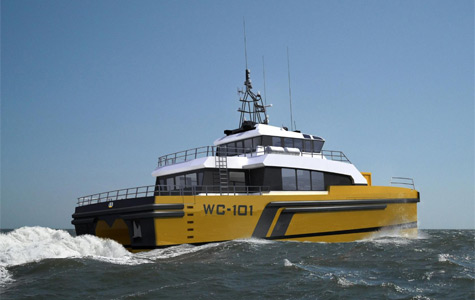 It will be able to run up to fifty people to a distance of 300 nautical miles off shore. The lower deck will have two cabins, each with a double berth. The main deck will have many different features that will make traveling to and from your destination more comfortable. Their will be a roomy and and air conditioned lounge area, with many entertainment options. There will be Wi-Fi, computer terminals, and even video gaming platforms, to keep passengers happy.
The main deck will also have the galley, fully equipped with all the modern conveniences. There will be an extra bathroom, as well as facilities for taking showers. The upper deck will have the wheel house and engineers quarters. The fore deck has been reinforced, and can accommodate a variety of different things. There is room for a twenty foot cargo container, or two ten foot containers. It will also hold generators, or other cargo.
Vripack has also kept safety in mind when it comes to this ship. There is an integrated ultra fog/watermist system, for both the technical spaces, as well as for the passenger area. This is one catamaran that can be relied upon when it comes to safely transporting crew and supplies wherever is needed on the high seas. With it's twin 980 horse power MTU V8 engines, it can travel at a maximum speed of 32knots, and cruise at 30 knots, making it one fast catamaran.
Specification of the Vripack Windcat MK4 catamaran:
LOA: 27 m/89 ft
BOA: 9 m/30 ft
Depth: 3.7 m/12.3 ft
Engines: 4x 8v2000CR-M72 each producing 720KW (965.5HP)
Speed max: 32 kts
Speed cruise: 30 kts
Class: DNV – HSC 200 nm
Tonnage: 260 GT
Fuel: 15.3 m3
Designer/engineer: Vripack
Builder: Bloemsma & Van Breemen
Naval architect: Morrelli & Melvin
* * *
Related links:
Vripack
Bloemsma & Van Breemen
Morrelli & Melvin Design & Engineering
Photo: vripack.com