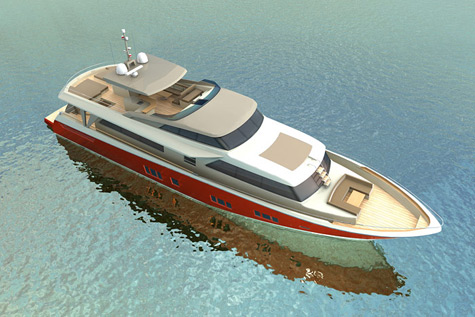 Bluereef, a new brand at the motor yacht market, unveiled the first motor yacht of the range – the Blue Reef 87.
Blue Reef was established in June 2009 by CDR Yachting and Sunreef Yacht, the specialist in the constructing of luxury catamarans. The new brand will be specializing in medium-sized monohull power yachts.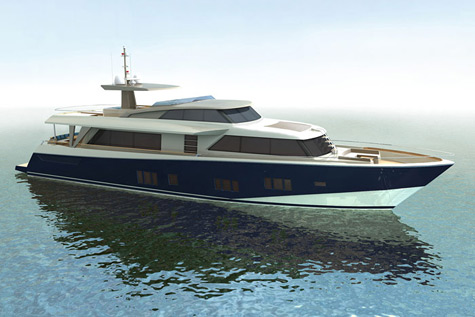 Both partners share the same vision for creating and providing an ideal yachting experience thanks to their extensive exchanges with clients during their business activities. Both companies are pursuing the ambition of giving back to the client the true pleasure of private, independent navigation.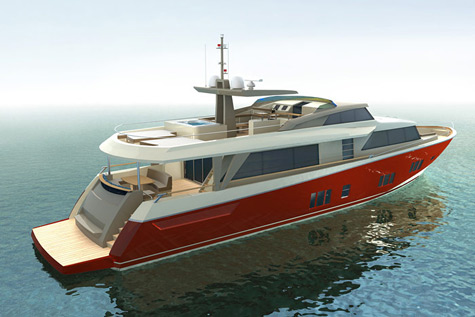 The Blue Reef 87 has three spacious guest cabins, a huge beam-wide owner suit and will accommodate 8 guests and 2-4 crew members.
On the main level the yacht will have a large salon, dining room, day kitchenette and the owner's suite. The lower decks will house three guest cabins and crew quarters with a galley and lots of storage space. On the exterior, guests will be able to enjoy either the shady cockpit with a dining area, or the sunny flybridge with a helm station, dining table and leisure area and a cocktail area on the bow.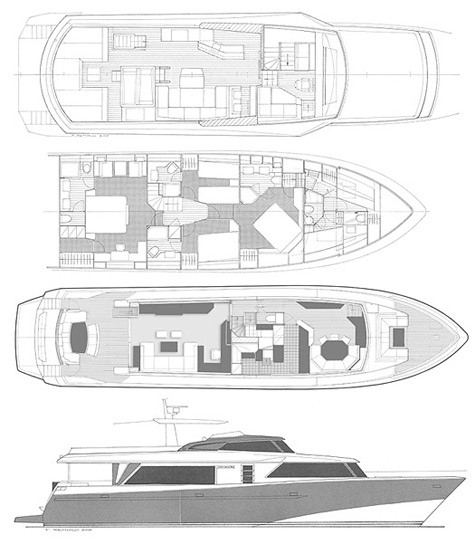 In comparison with other yachts of the same size, the new yacht will have reduced fuel consumption by 30% when cruising at the speed of 20 knots.
The Blue Reef 87 is the perfect choice for the Mediterranean Sea with limited space in marinas and many small picturesque ports where huge superyachts cannot be accommodated.
The first Blue Reef 87 will be launched in the 2010/2011 winter season.
Specification of the Blue Reef 87:
Year of construction: 2010
Construction material: Advanced composites
Length: 26.55m/87ft
Beam: 5.97m/19.58ft
Draft: 2.10m/6.90ft
Light Displacement: 62 T
Engines: 2 x Caterpillar C18 – 1150 HP or 2 x MAN 1200 HP
Gears: 2 X POD ZEUS 4000
Soft coupling
Under water exhaust
Max Speed: 28 knots
Fuel tanks: 12,000 L/2,642 Gal
Water tanks: 2,000 L/3,170 Gal
Black water tanks: 500 L
Gray water tanks: 500 L
Guests: 8
Crew: 2-4
Design: CDR Yachting
Construction: Sunreef Yachts
* * *
Related links:
Blue Reef
Photo: bluereef-yachts.com