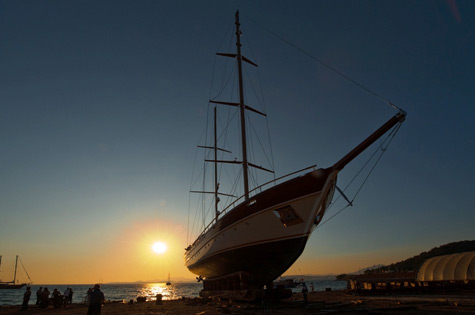 The Barka Shipyard has recently launched the amazing 39 meter Don Chris. The Barka Shipyard is known for being part of the amazing group called "Begum Yachting". It is located just a half hour away from Bodrum International Airport, Turkey. The shipyard itself is located in close proximity to Icmeler Mevkii. In the year of 2005, the need was discovered to have a quality shipyard based on European demand. It was determined that the Bodrum peninsula was the best location for such an establishment. This is when the Barka Shipyard came into existence.
In the area of Bodrum, it is considered a region tradition building boats. In recent years, the construction of luxury yachts and motor yachts has become more abundant. It has been established that the area has been known to construct boats of various shapes and sizes for well over 2,500 years! This means that the individuals in the region have a broad knowledge base when it comes to innovative water vessel construction! On October 7th of the year 2009, the highly trained technicians of the Barka Shipyard launched the 39 meter Don Chris. This water vessel is considered to reflect the most traditional gulet, but definitely has its own style.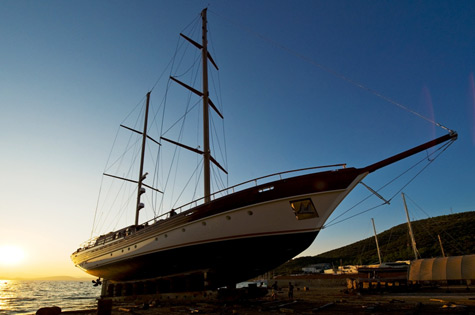 The Don Chris is considered to be a short range yacht. It is identified as a "C-Hull Mach Ych" but professionals in the yachting industry. The beam of the yacht measures in at 8.60 meters total while the draft comes in at 3.20 meters. The overall tonnage is 180 tonnes in total. There are a total of two engines that make up the propulsion system of the Don Chris. These each have a horsepower range of 651. The average speed of the Don Chris is 12 knots, so it makes the perfect vessel for cruising in the open waters.
If you examine the top deck of the Don Chris, you will notice that it provides plenty of space for sunbathing and socializing. In addition to this, the navigational area is fully surrounded by beautiful windows that allow individuals a wide view of the space around them while traveling. The yacht is extremely long and it sits deep into the water. This means that there is ample room among the cabins in the boat to accommodate guests, the owner, as well as the crew. The interior is exquisitely designed to accommodate travelers in luxury, style, and comfort.
If you are in the market for a beautiful cruising yacht, the Don Chris should appeal to you in numerous ways!
* * *
Related links:
Barka Shipyard
Begum Yachting
Foto: barkashipyard.com