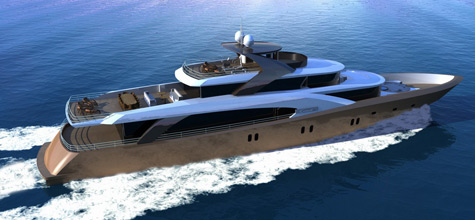 Yachts are luxurious vessels that are associated with the affluent. Most of the rich and famous have one. It is a status symbol. The French have a reputation for building the most luxurious models. One of the most established companies in this industry is the Chantier Naval Couach (CNC), which has been in operation since 1895.
It is currently modernizing its workshops and industrial tools. These modernization efforts will assist it meet the current and ever changing demands of its clientele. Its main shipping yard is on the Atlantic coast overlooking the Bassin d'Arcachon in France. It specializes in building super and mega yachts of varying dimensions. Its target clientele are the elite of society who order custom-made yachts. They offer top of the range products without compromising security in any way. In an effort to interact with their clients in a greater extent, they have opened an agency and a show room on the port of Cannes. Their clients now have an opportunity to experience the process of making an excellent yacht from scratch to finish.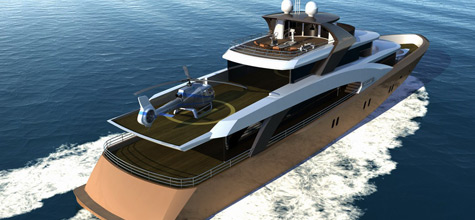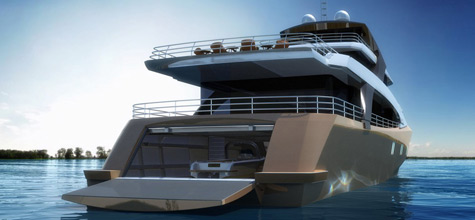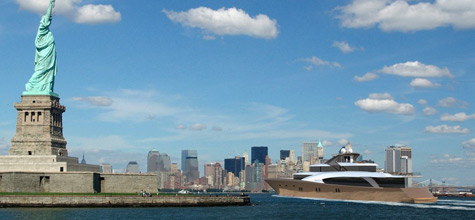 Currently CNC are collaborating with the world famous interior designer Jean Pierre Fantini to make a Super yacht Couach 5000 Fly. JP Fantini is a well-known design brand having been in the industry for the last 15 years operating from the port of Cannes. They are building two units of this model. The first super yacht will be ready in the month of March 2011.
This yacht is made to very high standards. The superstructure of the entire vessel is reinforced with glass Kevlar carbon. It is the first such yacht to be built entirely with this material. Kevlar carbon facilitates the yacht to reach speeds of 30-knots. It can also cruise at 12 knots over a transatlantic range of 4000 nautical miles.
Two engines manufactured by MTU power the couach. The engine model number is 20v 4000 M93. The engines are quite powerful each having a capacity of 5226 horsepower. There combined strength amounts to a whooping 10,452 horsepower. It has a fuel capacity of 65000 liters and can carry 10000 liters of water. At speeds of 12 knots, it consumes 200 liters of fuel per hour.
The Couach 5000 Fly super yacht has an imposing structure having a length of 49.5 meters. The deck length is a massive 49 meters while its water line length is 43.5 meters. When complete it will have a gross weight of 500 tonnes. While on displacement, it will weigh 317 tonnes.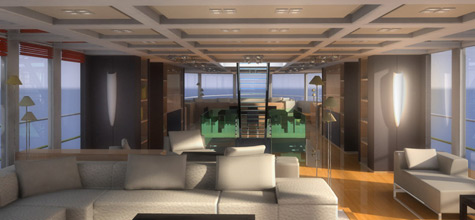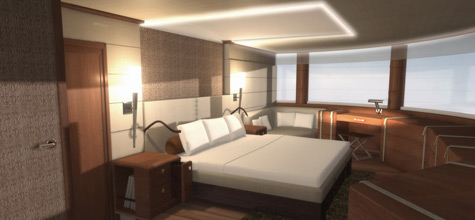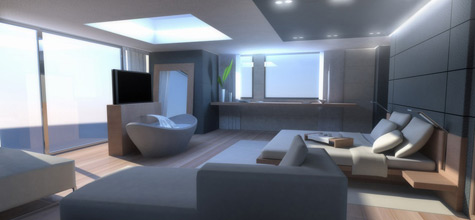 The yacht is spacious with a capacity to carry several guests. It will have the capacity to house a party of friends on the high seas. It will also be equipped with the state of the art in luxury equipment.
And finally, let's see a short video about the fast and transatlantic superyacht Couach 5000 Fly:
* * *
Related links:
Chantier Naval Couach
Jean Pierre Fantini
Photo: couach.com