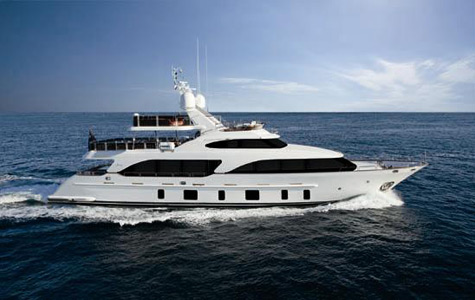 Benetti, a popular shipbuilding company, has recently permitted the plans associated with the Benetti Class to be released to the public. This class of luxury yachts will include a total of seven exquisitely designed super yachts: Tradition 105, Classici 121, Classic Supreme 131, Crystal 140, Vision 145 and Vision Supreme 164. The boats will measure from ninety feet to one hundred sixty four feet in length. The first luxury yacht to be officially released in this series of amazing water vessels is the Tradition 105.
It is scheduled to be released in the summer months of 2010. The external design of the yacht was made possible by Stefano Righini. The interior style which consists of both modern flair and classical elegance was made possible by Francois Zuretti.

One of the most distinguishable features when it comes to the Tradition 105 is the sheer amount of space that it has. In the front section of the main deck, you will discover a luxurious suite for the owner of the vessel. Contained within this deck is a beautifully designed bedroom and bathroom area. You will also discover a large, walk-in closet. If you proceed to the lower deck of the water vessel, you will find a total of four spectacular cabins that are designed for the guests. Additional double and twin cabins are also available, which assists in accommodating a large amount of guests.
The main deck of the Tradition 105 is an amazing area. Here, you will come across a delicately designed saloon area where individuals may gather for social gatherings. This saloon is conveniently attached to the dining room of the luxury yacht and the galley area. If a social event takes place on the yacht, there is plenty of space to mingle on the decks of the yacht. Many different types of outdoor entertainment may take place on this boat. There are even outdoor areas that are available for alfresco dining adventures! On the sun deck, you will discover a luxury Jacuzzi and a large number of outdoor sunning beds.
The Tradition 105 has two main engines that are identified as "CAT C18 1000HP at 2300RPM". The maximum speed of the luxury yacht is 15 knots. The overall length is ninety nine feet, with the beam measuring in at twenty three feet. The full displacement value comes in at one hundred fifty two tons and it has a fuel capacity of 20,000 liters. The water capacity of the ship is 4,200 liters. The Tradition 105 also comes complete with two powerful generators that can be used to power the vessel while traveling as well as during emergency type situations. The cruising speed of the Tradition 105 comes in at approximately 14.2 knots.
If you are interested in luxury yachts, this is truly one that will catch your eye!
* * *
Related links:
Benetti Yachts
Francois Zuretti
Foto: benettiyachts.it