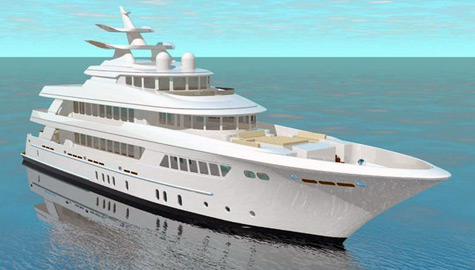 The Motor Yacht Project 415 by Diana Yacht Design has recently started making headlines. Diana Yacht Design is a Dutch yacht design company that specializes in creating innovative and uniquely designed luxury yachts. Currently, at the Hakvoort Shipyard located in Monnickendam the construction of the 160 foot superyacht identified as Diana 415 is taking place. The designers have quoted the water vessel as being: "Technologically advanced, stunningly elegant, and a masterpiece of form and function".
In evaluating the Diana 415, you will discover that the superstructure as a whole is composed of aluminum. The hull is created with highly durable steel. One of the best features about this particular yacht is that it has been created under the strictest of regulations. These regulations are often referred to as "Lloyd's Regulations". As a result of this, businesses and private owners may actually use the yacht in charters. This means that purchasing this particular yacht could result in a profitable business venture.
Glade Johnson designed both the interior and exterior area of the Diana 415. The motor yacht design has a very large and decorative deck for sunning. There is also a large area where guests traveling on the yacht may view their surroundings while traveling. This luxury yacht is being designed to accommodate at least sixteen guests. The motor yacht will have a total of four individual decks. Guests traveling on the water vessel will be able to access each deck through a technologically designed lift that will act much like an elevator system.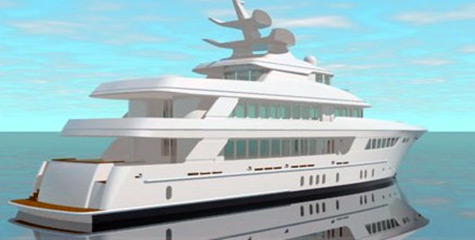 Currently, Diana 415 is being identified as "Atlantis". While it has all the accommodations of a luxury yacht, it is considered a motor yacht. The flag for this particular water vessel is the Cayman Islands.
There is one stateroom designed for the owner on Diana 415. There are a total of five cabins. These cabins are designed to accommodate up to ten traveling guests and may also accommodate up to nine crew members.
The waterline length in meters is 40.50. The beam measures in at 8.80 meters. The max draught of the motor yacht is 2.60 meters. It is located in the Netherlands at the Monnickendam port and is currently in the status of "outfitting". The total displacements of the water vessel comes in at 500. The max speed of the yacht comes in at 13.5 knots and the cruise speed is approximately 12.5 knots. The vessel has twin screw propulsion with two engines that are identified as the "MTU Type 8V4000M6OR". The fuel capacity in liters is 68,400. The water capacity in liters is 12,000.
This spectacular motor yacht design allows the individuals operating the vessel to have very low maintenance operations. For those that are seeking luxury accommodations in a motor yacht, Diana 415 is a winner!
* * *
Related links:
Diana Yacht Design
Hakvoort Shipyard
Foto: dianayachtdesign.com