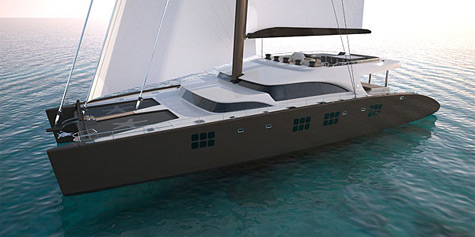 The first launches of new Sunreef catamarans are coming soon. The first superyacht to be launched in the end ofl this year is the Sunreef 102 Double Deck IPHARRA. And the second superyacht under construction is the Sunreef 114 CHE 2is.
The Sunreef 102 Double Deck IPHARRA is outstanding one-of-a-kind luxury vessel. The double deck concept was created especially for clients wanting to achieve extreme comfort with maximum space on deck. The characteristic feature of each Sunreef doubledecker is the additional, full-beam cabin in the front, with the panoramic view to the sea obtained thanks to the mast fitted on the enlarged flybridge. The flybridge is in the course of being covered with natural teak wood.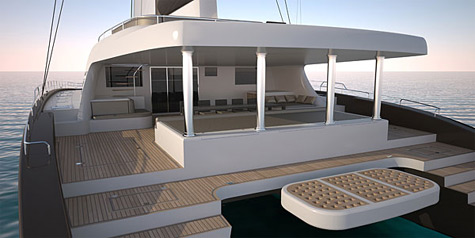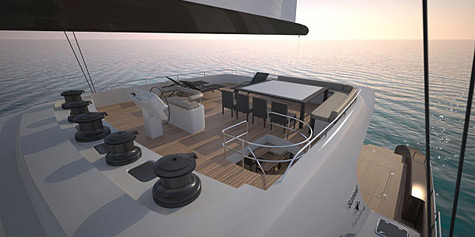 At present, all the cabin furniture has been installed and the ceiling is currently being fitted. Works in both engine rooms are close to completion. The surface of the two massive aluminium hulls has been filled and faired and is being prepared for the final layer of light gray paint. The launch is due for the end of November.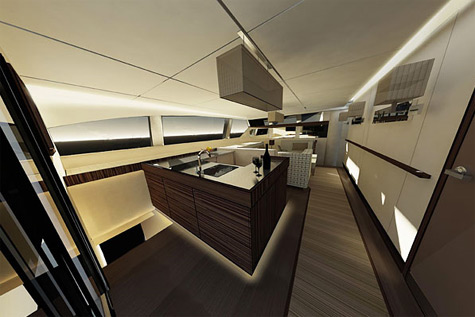 The Sunreef double deck is available in the CLASSIC or MODERN version where the flybridge is uplifted, making the salon space simply enormous and creating additional mezzanine space where the main navigation station and coffee lounge are located.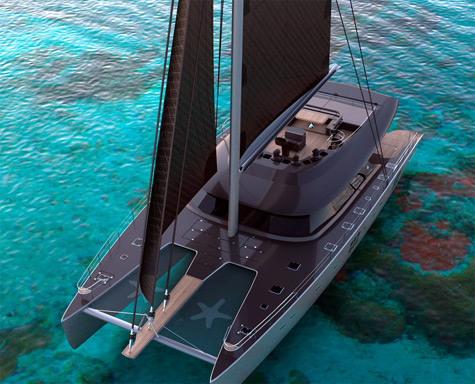 The second superyacht under construction is the Sunreef 114 CHE 2. It is the classic Sunreef single deck catamaran. The boat is very light and is the perfect option for sailing enthusiasts, who appreciate not only luxury, but faultless performance as well.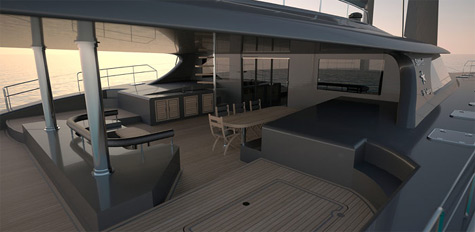 At present, the furniture is being installed in the cabins and the bathrooms are already fully assembled and waiting to be mounted. The fairing of the hulls, wet deck and the flybridge has been finished. Most electrical and hydraulic installations have been completed. Both engines have been fitted in the engine rooms and the shaft line has been aligned. The superyacht will be launched at the beginning of 2010.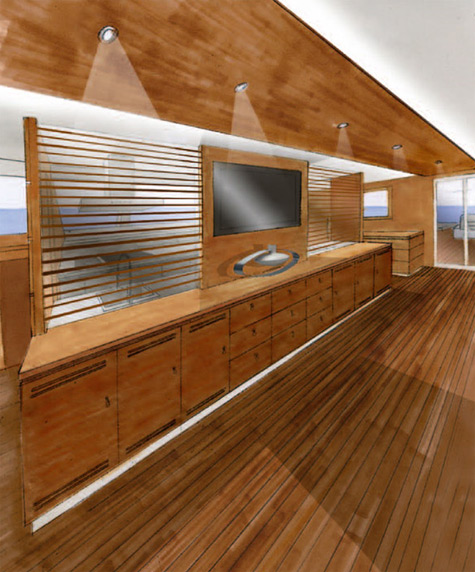 The new catamaran can be ordered in CLASSIC or MODERN layout version. The CLASSIC Sunreef catamaran version has mast fitted in the forward part of the salon. The MODERN version has the mast fitted on the flybridge instead of the bow, which has enlarged the flybridge area and created room for additional living space in the front of the yacht.
Specification of the Sunreef 102 Double Deck:
Construction: Aluminum
Length: 102.00 m / 334.65 Ft
Maximum Beam: 12.00 m / 39.37 Ft
Displacement: 120 T
Draft 3.10 m / 10.17 Ft
Main Engines: 2 x 455 HP
Fuel Capacity: 2 x 6000 l / 2 x 1585.03 US gal
Fresh Water Tank: 2 x 1500 l / 2 x 396.26 US gal
Main Sail: 285.00 m² / 3067.71 Ft²
Genoa: 185.00 m² / 1991.32 Ft²
Gennaker: 350.00 m² / 3767.37 Ft²
Solent: 90.00 m² / 968.75 Ft²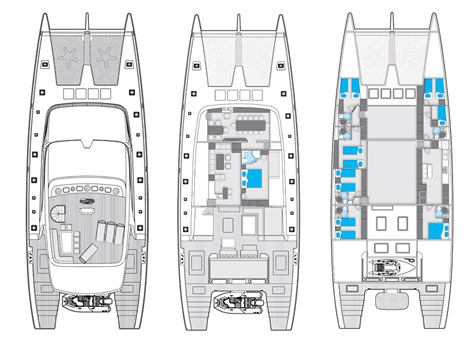 Specification of the Sunreef 114 single deck:
Construction: Aluminum
Length: 34.75 m / 114.01 Ft
Maximum Beam: 12.80 m / 41.99 Ft
Displacement: 120 T
Draft 2.50 m / 8.2 Ft
Main Engines: 2 x 455 HP
Fuel Capacity: 2 x 10000 l / 2 x 2641.72 US gal
Fresh Water Tank: 2 x 2500 l / 2 x 660.43 US gal
Main Sail: 335.00 m² / 3605.91 Ft²
Genoa: 210.00 m² / 2260.42 Ft²
Gennaker: 375.00 m² / 4036.47 Ft²
Solent: 115.00 m² / 1237.85 Ft²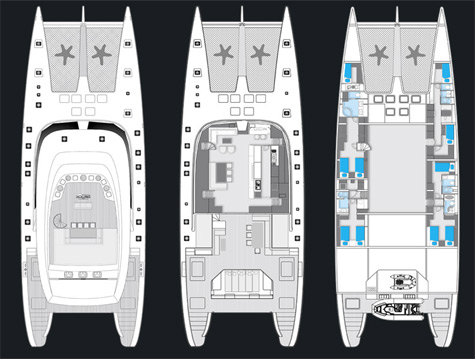 * * *
Related links:
Sunreef Yachts
Foto: sunreef-yachts.com