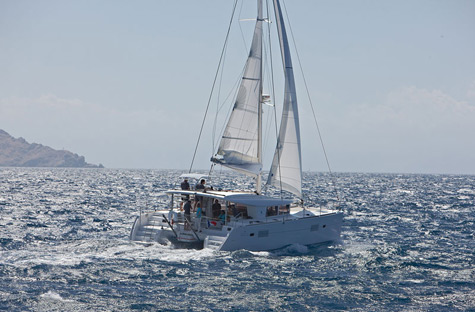 At the Genoa 49th International Boat Show (Oct. 3 to 11, 2009) Lagoon exhibited 3 new catamarans: the Lagoon 400, Lagoon 421 and Lagoon 620.
In 2003, Lagoon, a member of the Boat division of the Beneteau Group, became the world's biggest builder of cruising catamarans due to its production system, its distribution network and its users feedback. The Lagoon catamarans are reliable, innovative, fast, easy to handle and very comfortable.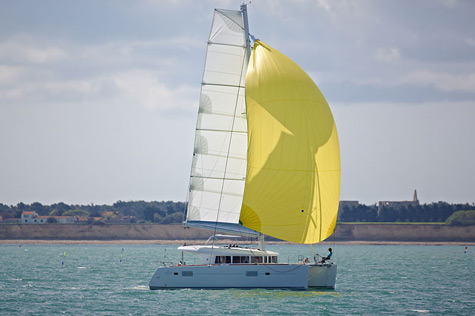 The new Lagoon 400 is the culmination of yard's expertise since 1984. The design of the catamaran can be described as "balanced": you can feel the balance between the volume of the hulls and the performance, the saloon and the cockpit, the cabins and washrooms, the accommodation and the outdoor areas. Remote engines and excellent soundproofing system preserve your relaxation from outside sounds. There is always a daylight in the saloon because of large windows. The deck space has some undoubtedly strong points: hard top bimini in line with the cabin top for a better protection from the sun; easy access to the dinghy via the transoms; a direct communication between cockpit and galley.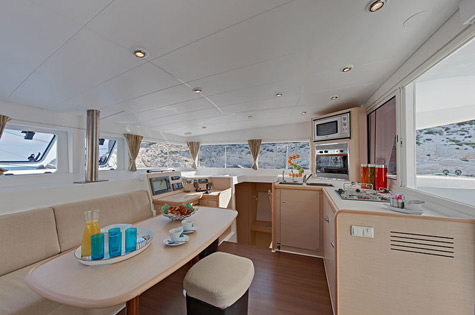 The Lagoon 421 represents a summary of the expectations of the users of this category of cruising catamarans. The new catamaran inherited the best features of its predecessor Lagoon 420: an outstanding comfort for a 42′ catamaran, a safe and comfortable deck layout, the famous "gull wing shaped" bridgedeck that prevents from slamming into big waves. Also Lagoon 421 features large number of improvements directly inspired from numerous owners' suggestions: more dynamic lines and a lowered profile with the same comfort, a new and lowered fixed bimini, optimized hull lines with a redesigned underwater hulls shape aft, some new light grey tinted windows and hatches. The Lagoon 421 is also available with the Hybrid (diesel/electric) propulsion system, developed by the Lagoon R&D department.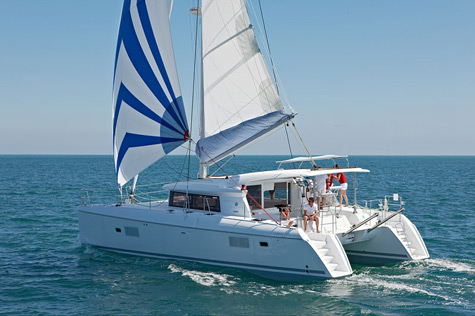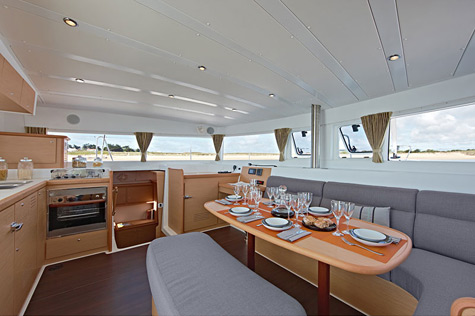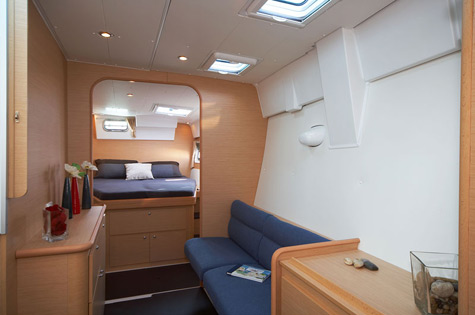 The Lagoon 620 brings innovative solutions to the new cruising concept. There are two steering wheels on the flybridge: for a perfect visibility when sailing or maneuvering. The catamaran has a large living area where one can retire along. Large hull portholes, sliding bay doors in the galley and in the aft starboard cabin provide natural light inside. The Lagoon 620 is designed for long distance cruising. It is a luxurious home that can be sailed around the world by a couple in great comfort.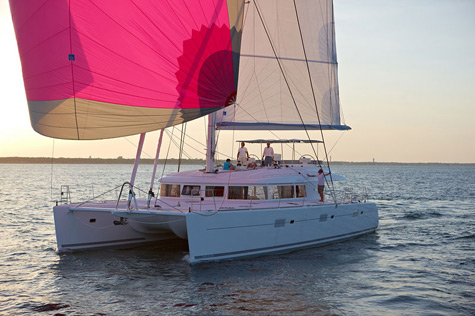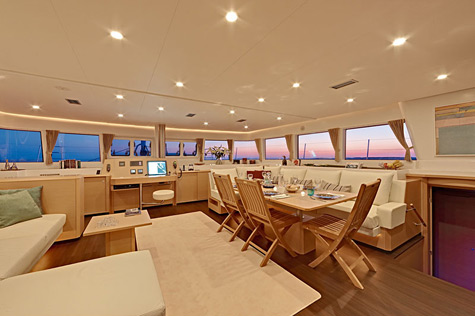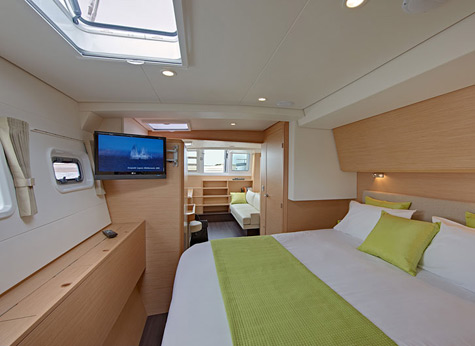 Specification of Lagoon 400:
Naval architects: Marc Van Peteghem/Vincent Lauriot Prevost
Overall length: 39'3″
Length on waterline: 37'7″
Overall beam: 23'9″
Draft: 4'00″
Mast clearance: 66'7″
Light displacement (EC): 22817 lbs
Full-batten mainsail: 603 sq. ft
Square top mainsail (optional): 651 sq. ft
Furling genoa: 301 sq. ft
Optional gennaker: 818 sq. ft
Fresh water capacity: 79 US Gal.
Fuel capacity: 2 x 53 US Gal.
Engine: 2 x 29 HP
Interior finish: Light oak alpi and non skid laminated wenge for the wood floor
EEC certification: A for 10 persons
Specification of Lagoon 421:
Naval architects: Marc Van Peteghem/Vincent Lauriot Prevost
Overall length: 41'4″
Length on waterline: 40'4″
Overall beam: 24'7″
Draft: 4'2″
Mast clearance: 64'9″
Light displacement (EC): 26835 lbs
Full-batten mainsail: 714 sq. ft
Square top mainsail (optional): 748 sq. ft
Furling genoa: 386 sq. ft
Optional gennaker: 753 sq. ft
Fresh water capacity: 2 x 46 US Gal.
Fuel capacity: 2 x 79 US Gal.
Engine: 2 x 40 HP
Interior finish: Light oak alpi and non skid laminated wenge for the wood floor
EEC certification: A for 11 persons
Specification of Lagoon 620:
Naval architects: Marc Van Peteghem/Vincent Lauriot Prevost
Overall length: 62′
Length on waterline: 59'9″
Overall beam: 32'10″
Draft: 5'1″
Mast clearance: 101'9″
Light displacement (EEC): 37639 lbs
Full-batten mainsail: 1496 sq. ft
Square top mainsail (optional): 1571 sq. ft
Furling genoa: 979 sq. ft
Furling staysail: 516 sq. ft
Optional spinnaker: 3228 sq. ft
Optional gennaker: 2044 sq. ft
Fresh water capacity: 4 x 63 US Gal.
Fuel capacity: 2 x 172 US Gal.
Engine: 2 x 110 HP
Interior finish: Light oak alpi and non skid laminated wenge for the wood floor
EEC certification: A for 14 persons
* * *
Related links:
Lagoon catamarans
Foto: cata-lagoon.com/Nicolas Claris