This year has turned out to be very successful for Quorning Boats from Denmark and their new boat – Dragonfly 28 trimaran. Since the launch of the prototype, the company has sold 20 of this model within 10 months.

The Dragonfly 28 is a brand new concept line in the Dragonfly range. Designer Jens Quorning and co-designer Steen Olsen developed this complex boat for almost 2 years. Dragonfly 28 combines all the benefits and features from a trimaran and super comfort from a sailing boat.

The unique Quorning SwingWing system allows the Dragonfly 28 to fold without using any tools within two minutes to berth folded in a marina with the outriggers upright and only the antifouling in the water. Advanced CAD design of the folding system allows the beams and outriggers to be recessed beneath the main hull when folded.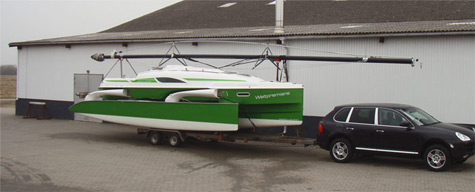 The Dragonfly 28 is remarkably spacious with five comfortable berths, each 2m long and a very big cockpit for the whole family The boat also has a standing headroom of 1.85 m in the main cabin as well as a generous galley space on each side. Imagine – all this in a trailable boat of 2.54 m folded beam only.


The Dragonfly 28 is offered in two versions, the Touring version wth a 12m alloy rig and the Sport version with a 13.5m carbon mast and high-tech sails.
The Dragonfly 28 will be displayed at the Salon Nautique in Paris from 4 to 13 December 2009 and at the boat show Boot 2010 in Düsseldorf, which takes place from 23 to 31 January 2010.
Specifications Dragonfly 28:
Length overall centre hull: 8.75m
Length waterline center hull: 8.60m
Length folded: 9.99m
Length sailing: 9.05m
Beam sailing: 6.50m
Beam folded: 5.24m
Draft: 0.40m
Watertank: 80l.
Engine outboard: 8-10 Hp
Max. Engine-Hp: 15 Hp
* * *
Related links:
Dragonfly
Foto: dragonfly.dk